First Friday art crawl of 2017 kicked off at Turchin
As a part of Boone's first Friday Art Crawl of the year, the Turchin Center for the Visual Arts took the opportunity to celebrate four new exhibitions recently unveiled in the Turchin's galleries.
The four new exhibitions included a sculpture composed of trash cleaned from the New River, organized by Appalachian State professor Tom Hansell and his graduate students, rural photography by Ken Abbott, and a collection titled "Studio Practices: Penland 9" by nine studio coordinators with the Penland School of Crafts, including handmade quilts by coordinator Susan Sharpe.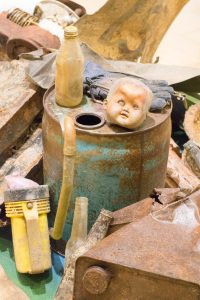 "Collective Vigilance: Speaking for the New River" features an expansive sculpture created from trash collected while cleaning the New River, a 320-mile long river stretching from the heart of the Southern Appalachians to Virginia, where it eventually joins the Kanawha and Ohio rivers to feed into the Gulf of Mexico.
One of the oldest rivers in the world and by far the oldest in the United States, the New River is a valuable source of water for much of the Appalachia, Hansell said. The river's value incited the founding of the New River Conservancy and its subsequent projects to restore and protect the river.
Partnering with the NRC to create this art exhibit, Hansell gathered a team of graduate students, whom he taught in his seminar "Sustainability and the Arts in Appalachia." Together, students and volunteers collected thousands of pounds of trash from the New River, some of which would be used to create this piece.
The seminar students rummaged through their findings, looking for anything important or interesting to include in the sculpture. At the Turchin Center, these unique pieces of litter were placed to represent the flow of a river, winding along the floor of the gallery room before trailing up a back wall. The sculpture included a dented doll's head, a refrigerator door, a tire and a miscellany of washed-out shoes.
Though the 91-foot long river of litter was composed of a confounding amount of trash, it was only a fraction of the amount of garbage collected during the multiple river clean-up operations, Hansell said.
"On one level it was fun to get outside and to work with other people to improve the environment, but on another level, it's a little depressing to see how much junk is actually in the river," Hansell said. "You're finding things that are incredibly visually interesting and fascinating, but you're also wondering what damage that's doing to the environment or why someone would think to throw it in the river in the first place."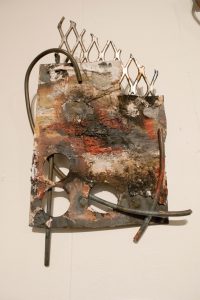 The decision to repurpose the litter collected from the river was made in an attempt to start conversation about sustainability. Hansell said that the project was designed to help people think about their connection to the river, hopefully encouraging them to think before littering and honoring those who make the decision to protect and maintain it.
Although Hansell felt as though art for art's sake may not be able to raise awareness, he said that "when art can be done in a way that supports these movements, amplifies their voices and expresses their issues and concerns, that's where art can help to support sustainability."
Abbott also found a connection to nature, and to rural life, in his photo series "Useful Work: Photographs of Hickory Nut Gap Farm." The series was composed of scenes and landscapes of daily life at Hickory Nut Gap Farm, just outside of Asheville.
Abbott found the farm while chaperoning on a field trip of his daughter's and immediately fell in love. Abbott spent the next five years photographing life on the farm, capturing a "sense of intactness and continuity with its past that was rare and notable," Abbott said in his artist's statement.
Abbott often takes the time to relate his photographs to the lives of Jim and Elizabeth McClure's, previous owners of the farm who made their home there in 1916. The captions accompanying the photos framed along the gallery's walls included details about the McClure's lives and history, like Elizabeth's experiences watching Monet paint hay bales from her classroom in Giverny, France.
Artist and Penland studio coordinator Amanda Thatch found a niche similarly focused in natural living. Thatch, though she explores a number of physical mediums, especially favors the use of textiles and natural dyes.
She discovered weaving during the course of her study at Penland School of Crafts in Bakersville, taking a comprehensive two-year study called the Core Program. Now, Thatch is creating weavings that incorporate elements of language, decorated with repetitive words, phrases and punctuation.
Thatch came into textiles after meeting teacher Catharine Ellis, who became her mentor. Her experience with book art has also influenced her, as her recent works have begun to play with and incorporate language into her weavings.
Thatch also prides herself in using primarily natural dyes. The pieces presented in the exhibition utilized natural dyes that included weld, indigo and madder. Using natural dyes has led Thatch to learn how to grow some of her own dyes and mix ingredients and reactants to make the colors she needs.
She also uses a floor loom, which adds another element of weaving's roots to Thatch's work. Many of the looms at the Penland school have been used since the 1960s.
"There's something very satisfying about knowing that I have touched and handled every inch of the thread that's going into these processes," Thatch said. "And being able to use my whole body while I'm weaving, my feet and arms, both of my hands, there's something about that full body experience that I really enjoy."
Thatch is one of nine studio coordinators at the Penland School of Crafts whose works have been featured in the "Studio Practices: Penland 9" exhibit. The studio coordinators collaborated with one another and the Turchin Center to create a gallery that would complement each of the coordinators' works, though the mediums differed greatly. Alongside Thatch's textiles were sculptures of metal, wood and glass, as well as paintings and prints.
Another exhibit, Susan Sharpe's "A Thousand Steps, A Thousand Stitches: Figurative Quilts," also utilizes textiles as a primary media. Sharpe has spent decades designing and sewing narrative quilts, and organized this exhibition with the Turchin Center to celebrate her retirement.
"I just love fabric. My mother made all of the clothes that my seven sisters and I wore," Sharpe said. "I learned to sew my own clothes by the time I was 12."
After an education in sculpture and drawing at Appalachian State, and classes in weaving and design at the Penland School, Sharpe came into quilting, which would eventually develop into the abstract quilts she sews today, which feature landscapes and characters that capture abstract and wild narratives.
She exhibited her first semi-abstract quilt, "Self Portrait as a Robot," with the Turchin Center at its opening when it put on a quilt show. After the exhibition, Sharpe created another quilt depicting a robot. From here the robot series was created, along with other series such as one entitled the "Leopard Sisters."
"It just turned into this process of discovery, responding to things in my environment and finding ideas to play around with and have fun with," Sharpe said.
The "Leopard Sisters," a series of quilts featuring two sisters bearing cattails and tiger stripes, is one of her more extensive series and started simply with a dress she found at a thrift shop, whose striped pattern incited the creation of her part cat, part girl sisters.
"As soon as I saw the sisters with the animal features, I realized that anyone could relate to them in a different way than if they were just strictly human," Sharpe said. "They're something no one's seen before so people accept them. If they were something people had seen, but weren't what people thought they ought to be, they may have not been accepted in the same way."
Sharpe plans to continue quilting and intends to expand upon the "Leopard Sisters" quilt series. She is currently planning a quilt in which the Leopard Sisters skate to church, sharing a pair of skates and linking arm and arm.
All four of these exhibits will be available for public viewing in the coming months, and two new exhibits, the 14th Annual Appalachian Mountain Photography Competition and "Pieces of the Puzzle," an exhibition of Turchin's educational outreach program, will be unveiled on March 3.
Photos By: Lindsay Vaughn, Staff Photographer