Men's Practice: 
For the App State men's basketball team, Monday could not come fast enough. The players were ecstatic about taking the court for the first practice of the 2017-2018 season.
After finishing a tough 9-22 overall and 4-7 in conference play, the Mountaineers only want to look forward and focus on this year. Since the end of their season, the team has worked endlessly to improve.
"We've been going hard since the season ended," senior forward Griffin Kinney said. "Most guys stayed here for both summer sessions. There really was no off season for us."
For a team that struggled last year and has several new pieces, but 10 players who were eligible from last season, leadership plays an important role in development. Kinney has been in head coach Jim Fox's program for four years, so naturally he knows what needs to be done.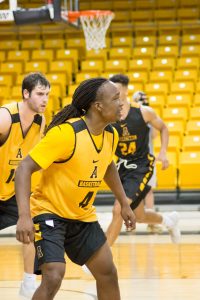 "Just trying to get the knowledge that I've learned over the past three years to them," Kinney said. "I'm trying to see some mistakes that they make and trying to get to them and correct it."
Along with a new season comes changes. Last year, Fox went to junior guard Ronshad Shabazz and suggested a move to point guard. This year, that move is being made official.
"I took the challenge," Shabazz said. "All summer I have been working on my ball handling, looking at videos, just trying to see how point guards operate."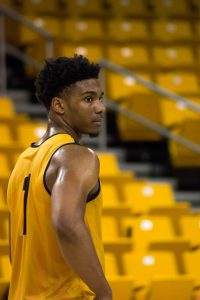 There are also some new guards who have recently transferred in. Although two of them will not be able to play, sophomore O'Showen Williams from South Georgia State College and lone freshman Justin Forrest bring physical play and better vision to the floor.
"It is always good that we have guys looking for other guys who are open," Shabazz said. "That takes pressure off guys who can't really create for themselves."
With all the new additions, the Mountaineers look to improve from last year. They have a balance of experience as well as young players who do not know Fox's system as well.
"We do have some young guys who are going to have to play for us," Fox said. "Obviously we made some decisions at the end of last year and what I told our staff is to make sure we get better."
Along with the position change of Ronshad Shabazz, Fox noted that forward Tyrell Johnson could play guard sometimes. Johnson played forward last year, but worked over the summer to become more of a wing player.
"Tyrell is good with his back to the basket, but he has really developed into playing that wing position," Fox said. "I think it really helps us in terms of mismatches."
To begin the year, the Mountaineers made goals for each individual and for the team. Fox and his staff made sure that the players had a way to be reminded of these goals daily, so they will be motivated to achieve them.
"Every one of us, coaches included, who use our phones too much, put all our goals into our phones," Fox said. "We have a lot of goals. We want to keep getting better and keep moving the program forward."
With all the hard work and new additions, Appalachian State looks to flip the page. This may be the best team Fox has had in his era with the Mountaineers. This year could finally be the year where they put all the pieces together.
"We've recruited very well. We have put our program in a position to be successful for a long period of time … This is the most talented team I have had," Fox said.
Story By: Eric Jackson, Intern Sports Reporter
Photos By: Lindsay Vaughn, Senior Staff Photographer 
Women's Practice:
Energy was definitely building in Varsity Gym for the Appalachian State women's basketball team on Monday. This is something that can be expected from a team with seemingly all new faces on the court with a sprinkle of veteran presence.
Monday was the first official practice for the team, and it was evident the team was eager to put last season behind them and focus on this season.
It was a busy offseason for the women's team. After losing several players to graduation and other attrition, the team really had to hit the recruiting trail, adding eight new players including three junior college transfers. The team even went outside the country landing players from Canada and one with Spanish roots.
The undoubted leader for the squad, senior guard Madi Story, looks to lead her team back to the Sun-Belt tournament and is hoping to move even further than the team's first round exit.
"I think it's the goal every year to win the Sun-Belt tournament and move on ever further," Story said.
Story has been on the scene since her freshman year, earning her starter minutes her sophomore year. After patiently waiting for her time to lead the team, she has her chance this year to lead a team with a ton of new faces. A lot of pressure? She said she is ready for it.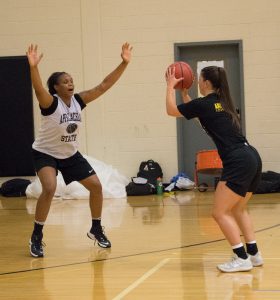 "I think it's our job to lead the team especially with a basically whole new team," Story said. "The returners for the team seemed to take lead in the practice, running the drills and really showing the new players how to run practice."
The new players have seemed to be fully invested into the culture of the team by running the drills at full speed and really pushing the pace.
"They always want to run the drills right," sophomore returner Armani Hampton said. "When they mess up, they want to do it again until they get it right."
With five freshmen on the team, the group came into practice with little knowledge on how things are run at the college level. Freshman forwards Dominique Jeffery and Lainey Gosnell had to get used to practicing at the college level, not only in practice, but in the preparation and in the mindset you must have to be ready every day.
"Going into the day it was something to look forward to, I didn't really know what to expect," Gosnell said. "We were all looking forward to it and nervous about it."
"I had a break where I could take a nap, but I was laying down and I was like 'I have practice!'" Jeffery said.
Although on a new team, the freshmen already feel as though the team has bonded together; they hang out together and eat together on a consistent basis.
"Especially the new players, we live together, we eat together and we go out on the weekends together," Gosnell said.
Head coach Angel Elderkin, now in her fourth season at App, has looked to improve this team chemistry. Elderkin says she employed a team breakfast at 7 a.m every day this week to get the team together early and starting their day off together.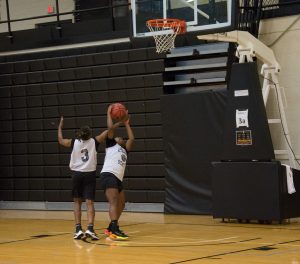 That does not seem to be all Elderkin has up her sleeve. To emphasize the team playing to the beat of the same drum, she played a little game with the team.
"I had them all pull out their phones and play their favorite song and everybody had a different song," Elderkin said with a smile. "I said if this is how we're going to play, we're not going to win, what we need is the same song. So we defined some words that are hanging up on the walls in the gym, I wanted to make sure that we were all on the same page."
With only one practice under their sleeve, the team has a long way to go to build the chemistry in order to be a championship team everyone aspires to be. Good news is that there are only four weeks until tipoff against Tusculum on Oct. 31.
Story By: Aman Hyrams, Intern Sports Reporter