The 2014 First Year Student Showcase, presented by Appalachian's Department of Theatre and Dance, will take place in the I.G. Greer Studio Theatre from Sept. 25 to 27 at 7:30 p.m. and on Sept. 28 at 2 p.m.
The showcase is a chance for freshman and transfer students to experience first-hand the exhilaration of a college-level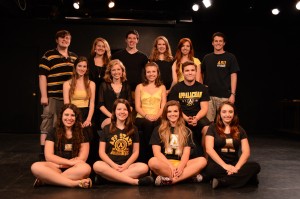 production, meet new people and get to know the department, said Shayne Henkel, a freshman theatre arts major and production stage manager.
"It really is a unique experience," said Trimella Chaney, the theatre director of the event. "The performers bond with people in their ensemble and they get a taste of performance at the college level."
Not only does the show allow the Department of Theatre and Dance to get a look at fresh talent, but it allows for new students to get an idea of the chaos and magic that is theatre and dance.
Henkel said she thinks the showcase is a great learning experience for those interested in theatre and dance.
"It's really helpful because you get an insight on how the department works," Henkel said.
The showcase, which is titled "Too Much Knowledge Makes the Baby Dumb," is an innovative show that combines theatre, dance ensembles and audience participation.
"We are borrowing from the neo-futurists' philosophy and style of theatre to craft improvisational sketches relating to first year experiences," Chaney said.
Stage manager and senior theatre arts education major Christian Underwood said he encourages spectators to arrive early as the showcase is predicted to be a major hit.
"It's tough to get a seat," Underwood said. "You won't get one if you don't jump on it quickly."
Tickets are $5 for students and $10 for the public. For more information contact the box office at 828-262-4046, or visit www.theatre.appstate.edu.
Story: Liz Flamming, Intern A&E Reporter