Focus shifts to spring for women's golf
Coming off a strong finish to their fall tournaments, the App State women's golf team looks to keep their momentum heading into the winter, and towards the spring.
The season started off with a big tournament hosted by the East Carolina Pirates in Greenville, North Carolina. The Mountaineers finished the tournament with a team score of 932 (+68) coming in 13th place.
"In tournament mode we lost a little confidence," head coach Heather Brown said. "Sometimes when we play a bigger event that tends to happen, but when we debrief ourselves at the end of it and we realize it was a matter of confidence that we can hang with anyone out there and I think that helps us moving forward."
The team struggled on the first day which set them back early, but play picked up with each player posting an 80 or better in the last two rounds of play.
"As a team we all have big goals," senior Emily Stinson said. "We tried hard in the first event to do really well and that kind of backfired on us because we put too much pressure on ourselves."
In the three tournaments they had remaining, the Apps posted three consecutive top-5 finishes including a runner-up finish in their final event in Rock Hill, South Carolina.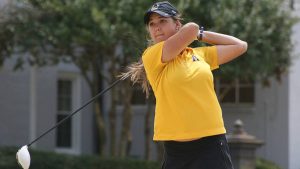 "We progressively got better every tournament which is what you hope for," Brown said. "We ended the fall on a good note and a positive attitude when we hit the spring and I look forward to continuing it."
With a much more experienced roster, five upperclassmen including three seniors on an eight-player roster, the team knows that good times are on the horizon.
"After each tournament we've gotten better and better," senior Hannah Craver said. "Our team dynamic this year is very good, we know our strengths and weaknesses and we're able to help each other out on the course."
Now the Mountaineers look to stay hot heading into a cold Boone winter, which can be tough for golfers to keep practicing in this weather.
"My focus for them is we go into offseason mode as soon as our last tournament ends," Brown said. "I'll stress to them that they have to keep the reps up going on when they go home for Christmas. My message to them is don't be lazy."
The seniors also look to send themselves as well as their team out on a high note come this spring.
"Go out guns blazing," Craver said. "For us it's a happy thing but also sad. It's what we have worked toward for our entire lives, playing high school golf college golf and moving on to the real world."
The expectations are high heading into the final leg off fall and winter play and a full slate of spring tournaments, as the Mountaineers look to pick up multiple tournament wins.
"We will continue our progress of getting better," Brown said. "I always like the spring. As soon as we get reps under our belt we get confidence and we play well and I'm looking forward to that showing up on the scoreboard."
Story By: Taylor Story, Sports Reporter