Foggy Pine encourages community engagement
Eight months ago, Appalachian State alumna Mary Prewitt was presented with the opportunity to own and operate a bookstore in downtown Boone and took it. Foggy Pine Books, located on 444 W. King St., is a small 425 square foot bookstore with books from a variety of genres to choose from. Along with current best-sellers, Pruitt has a large selection of books by local authors and independent publishers.
"I have always wanted a bookstore to be downtown," Prewitt said. "I had an opportunity to do that so I jumped on it."
Prewitt believes it is important for a bookstore to be a significant and visible part of the community. Being downtown helps Prewitt achieve this goal and keeps her actively involved.
"Being downtown increases accessibility for everybody in the community," Prewitt said. "It also increases accessibility here for the college students as a resource to buy books for their classes, do research and [it is] also a place to come chill and come around and look at books."
While most people were excited to see an independent bookstore open, there were some who were skeptical. Prewitt said that some people were surprised to see Foggy Pine open because they believed that all bookstores were going out of business.
"When you look at the statistics, the large box bookstores are closing, but the independent bookstores the past five years have increased over 15 percent," Prewitt said.
Prewitt believes that Foggy Pine being a local business has helped its success thus far. She thinks that residents respond well to people they know in the community, and that the appeal of local business is having a presence that does not exist in chain stores.
"I 100 percent believe in the power of local business," Prewitt said.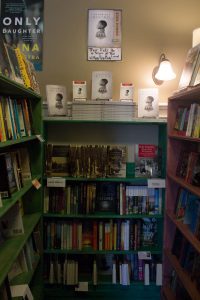 Along with selling books, Foggy Pine hosts a slew of events every month. One of them was an author signing and reading by Judith Richards, author of "Thelonious Rising," that took place on Feb. 16.
Foggy Pine hosts a book club in their store that meets on the last Saturday of every month at 7:30 p.m. There is no general focus of the book club. Prewitt said she is also working on starting another book club alongside their current one, which would meet at Hatchet Coffee off of Bamboo Road. The first book they are reading is the "Fantastic Beasts and Where to Find Them" screenplay.
Prewitt also partners with publishers to receive advanced readers' copies of books that people in the community can sign up to read and participate in. The advanced copies are free as long as the participant writes a review about the book in return.
"I really want Foggy Pine Books to be a literary community center," Prewitt said. "I want to be a place where people come to appreciate the literary arts."
In the future, Prewitt wants to host clubs that focus on social justice, activism, books and music, books and movies and activities for children. She also hopes to host a writers' group that meets monthly.
"Ultimately, I would really like to move to a larger space so I can house all of that," Prewitt said. "But, for the time being, we're just going to make it work with what we have."
Prewitt is proud of the progress she has made since opening Foggy Pine, but has ultimate goals that she is working towards.
"We really support the community and as many aspects of the community there are," Prewitt said. "We want to be here to reflect you."
Members of the community are welcomed and encouraged to request books and events that they want to see in Foggy Pine. She hopes to see the community become more involved and engaged in the bookstore and for it to become a focal piece of the High Country.
"It is a business, but I want to be here to serve the community," Prewitt said.
Boone resident Kay Blackburn likes shopping at Foggy Pine because of how willing Prewitt is to help. Along with the store's contemporary fiction section, Blackburn likes that the store has women's and children's book sections.
"I know it's cheaper on Amazon, but still, I like the friendliness there," Blackburn said.
Although Prewitt is the only employee of Foggy Pine Books, she is starting a program called Foggy Pine Ambassadors. Ambassadors help promote the store by writing reviews for books or the store itself and volunteering in at least one event every six weeks. In exchange, ambassadors will receive a 10 percent discount at the store and one advanced copy monthly. Prewitt hopes this program will further her goal of serving the town of Boone.
Shari Smith is a local author who also wanted to open an independent bookstore in Boone.
"The theater was being renovated," Smith said. "I worked with a lot of musicians and songwriters. I figured it was perfect and I could work with the theater."
However, Prewitt opened Foggy Pine before Smith was able to move to Boone. Smith said that she did not think Prewitt was happy to see her when she walked into the bookstore for the first time. Smith was hesitant about Prewitt at first, but grew to really like her after they met. Smith helps Prewitt bring authors to Boone and connect with other local independent bookstores as well as publishers.
"She's smart," Smith said. "She's hardworking. She wants to make a real success of it."
Smith believes it is very important to have an independent bookstore in Boone because it helps foster a community that is not present in chain stores.
"I think it says we read and we care about the art of the written word," Smith said. "The fact that we have a store and support it means we're a community that supports words and stories."
Foggy Pine Books is open 11 a.m. to 7 p.m. Tuesday through Friday, 12 to 7 p.m. on Saturdays and 12 to 6 p.m. on Sundays.