In 2013, former App State punter and place kicker Sam Martin became the second App State special teams player to ever be selected in the NFL Draft when he was picked in the fifth round by the Detroit Lions.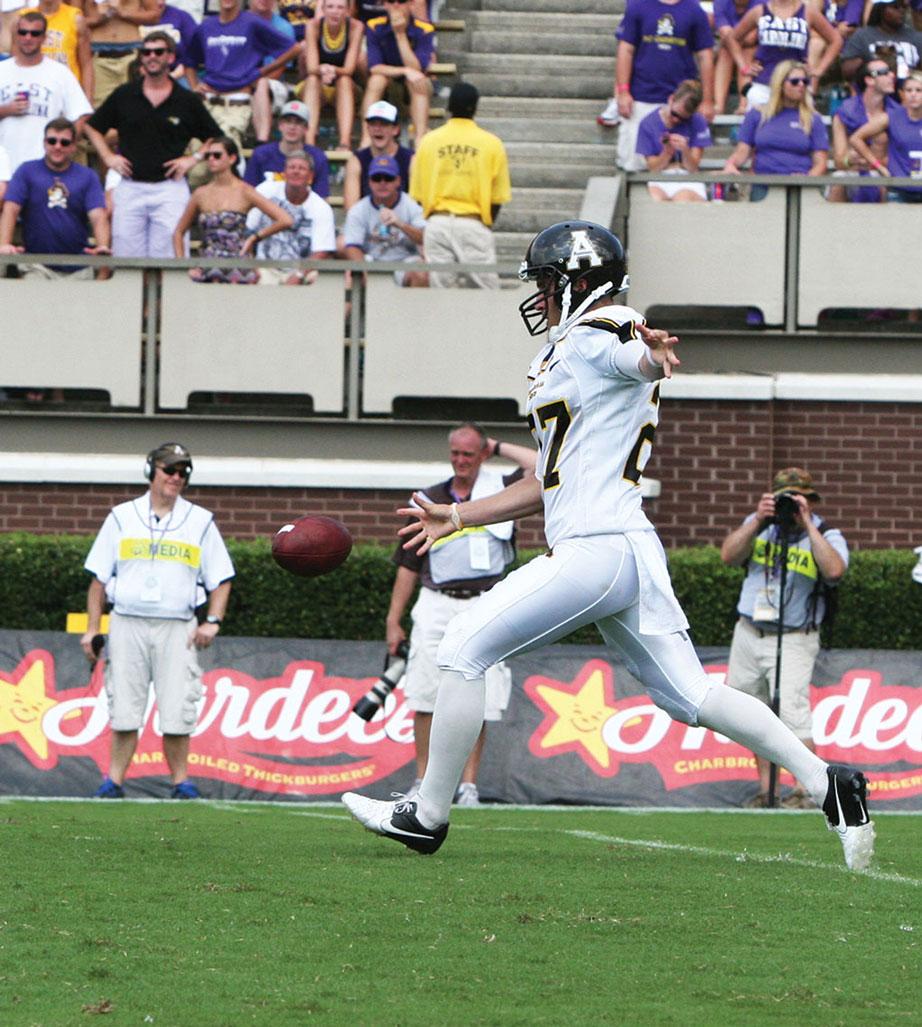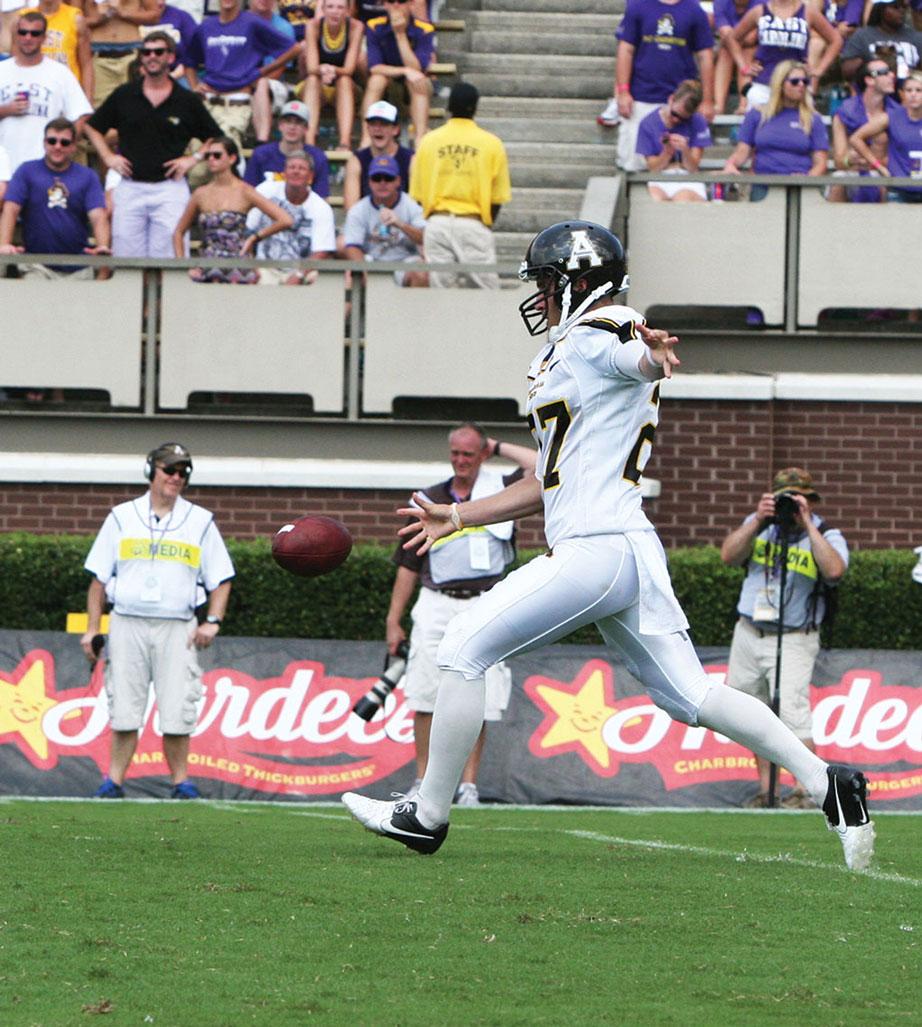 As a rookie for Detroit, Martin punted 72 times and averaged 47.2 yards per punt while being selected to the NFL All-Rookie team.
Martin ranks third in Mountaineer history with 226 punts and 9,397 punting yards. His 41.6 yards per punt average ranks him sixth in school history.
The Appalachian had a chance to talk to Martin over the phone and ask him some questions about what life is like for a Mountaineer in the NFL.
The Appalachian: What has been the hardest part about adjusting to the NFL game?
Sam Martin: Probably the biggest thing is there's a lot more pressure. You have a lot more people watching, a lot more at stake. Other than that, it's a longer season, you have to stay in shape, keep your body healthy and not overdo it. Near the end, you can feel a little toll on your body.
TA: App State is a fairly big market in the FCS, but not nearly as big as an NFL market. What's that been like for you to have more media exposure?
SM: It's kind of like a rollercoaster. You have a good game and everyone's happy and then you have a bad game and you should be cut. It's been a little learning this year also, being under a microscope, learning how to deal with that and focusing in on getting better, make sure you go out there and make the next punt. That's the one thing you have to tell yourself, is just take it one punt at a time. You hit a bad one and you just have to concentrate on making the next one.
TA: Which teammates or coaches have been most instrumental in helping you adjust?
SM: John Bonamego, my special teams coach, was huge as far as helping me get acclimated. He tried to make sure I was comfortable. David Akers and my longsnapper Don Muhlbach, those two were awesome. They've been around a lot of punters so they have a feel for what works and what doesn't. Those guys were huge for me, telling me what to do and what not to do and helping me remain focused.
TA: If you had to pick one or two Appalachian State teammates you miss playing with most, who would those be?
SM: I miss most of them. It does suck not having them out there with me. I definitely miss Saturdays in Boone. Actually, I just miss Boone in general.
TA: Do you keep up with Mountaineer sports still?
SM: Yeah, definitely, I followed football really close. Basketball a little bit, just from what I read on Twitter. Definitely football, I kept in touch with some of those guys.
TA: Are you looking forward to the Sun Belt transition?
SM: Yeah, I think people can say what they want about making the move, but it was an inevitable change. Coming off the year they just came off of and being able to play for something next season, I'm excited.
TA: What stadium did you most enjoy playing at this season and which ones are you most looking forward to playing at?
SM: Other than Ford Field, which is awesome, I'd say Lambeau Field. We were lucky enough to play there early so we had nice weather. But that stadium was just really cool with the views and architecture of it. Pittsburgh's stadium was awesome. We were in Chicago in November, which wasn't terrible, but it was windy, which was rough for me. I didn't like it much. I didn't like Philadelphia at all, we played in that game where it was a blizzard. It wasn't a lot of fun, definitely a stat killer.
TA: You got to play in Minnesota one last time before they tear their stadium down, what was that like?
SM: That was cool. It was cool to be a part of that, it was a cool place and it was loud. As a punter, I always like any dome.
TA: There are a lot of people who joke about how Boone winters prepare football players for cold, but did you actually find that to be the case in your first pro season?
SM: Kind of, I mean other than the Philly game, we didn't play in any bad, cold games. Our last four or five games were in domes. I know Chicago was pretty cold and it wasn't snowing. I wouldn't say it got me used to it, but I think having experience playing in that weather and knowing how to stay warm on the sideline was definitely beneficial.
TA: You already mentioned 14-year pro kicker David Akers, but talk more about how big of a mentor he was for you this season.
SM: He was influential for me in a number of ways. He did things like telling me when to start kicking, and when to start hitting balls and lifting. He helped me in the offseason, just stuff like that. I would shoot him a text and ask what he has done that leads him to pro bowl selections and he wouldn't tell me what was right or wrong, but rather what has worked for him. The other big thing was he helped me lay out a process during the week leading up to games. I modeled what he did for the most part in the weight room and in other areas. Even as far as specific stuff like kickoffs, he helped me fix stuff here and there because he used to be a punter, so he was a mentor and in some ways, a coach that helped me out. He was huge all across the board.
TA: You played in front of a few crowds of more than 20,000 at The Rock, but what was it like to take the field in front of more than 70,000 in an NFL stadium?
SM: People ask that a lot, and really, that's never been anything that really got to me. Whether it's 10 people or 100,000 people, you still have to perform. It's not like you have to do better if more people are watching. That never really bothered me for the most part. I think I'm pretty good at blocking all that out when I'm out there. You hear it from the crowd when you hit a bad punt, you might acknowledge that, but other than that it's not something I notice.
TA: Do you keep up with Daniel Kilgore, Armanti Edwards, Travaris Cadet or anyone else from App State in the NFL?
SM: I definitely follow them. I talk to Cadet and Kilgore sometimes. I was good friends with Kilgore at App State. Every now and then, I text with Cadet. I talk to De'Andre Pressley. I haven't talked to Edwards in a while, though.
TA: Obviously the Lions missed the playoffs by just a few games, but how excited does it make you to imagine taking the field in the NFL playoffs?
SM: I can't wait. It's unfortunate about this year, I think we all felt we were good, it's just unfortunate the way we finished the year. I think our team has a lot of promise and there's a lot of changes being made and I think this year and going forward, there's a lot to be excited about. We have the talent and I think it's just a matter of time. Hopefully, next year is our year, but I can't wait to be in my first playoff game. I didn't like watching the playoffs from my couch, that's for sure.
TA: Coming in to the league as a rookie under Jim Schwartz, you now have to undergo a coaching change with Jim Caldwell coming in as head coach. What's that going to be like for you going into your second season?
SM: I don't know, I was wondering the same thing. I've heard nothing but fantastic things about Coach Caldwell. I am really excited to get in and meet him and start working. It is going to be different because I just got down the system of last year, so it's pretty much like I'm going to have to redo it. The one thing that is really in my favor is that Coach Bonamego, who I work closely with, is coming back. As far as kicking, it should all be pretty similar.
TA: When you came into the league and you're punting to superstar returners like Devin Hester rather than college-level returners, did that intimidate you at all?
SM: Surprisingly, it didn't bother me too much. The first game we faced Patrick Peterson. I was a little nervous for that because he's one of the best. But I had probably my best game of the season in that game. So I think that was a boost to my confidence. It almost became second nature. This week we have Peterson, next week we have Devin Hester. I learned quickly that the returner for any team is typically really athletic, so you are facing the top 32 returners. So you're always going to be facing someone who is explosive. There comes a point when you hit a good punt with good hang time, and you don't have to worry about who is back there.
TA: Have you kept up with current App State punter Bentlee Critcher at all? He had a monster year as a freshman punter.
SM: A little bit, he looks good. He's keeping the specialist tradition going at App State.
TA: This question is from your former teammate Zachary Baker, who asks about the fake field goal in the Pittsburgh game when you ran the ball off of the fake and almost got the first down. What was going through your mind when that play was called and you knew you were going to take the ball?
SM: I was really excited, man. We had that in our arsenal for a while and I had been waiting for it to be called. We had experimented with it and it had been pretty successful. There was a breakdown on the backside and I tried to run off right. Surprisingly, I wasn't nervous at all. The hole was there but then I got killed. I got punched. It didn't work.
Story: Cory Spiers, Sports editor
Photo: File photo