The Women's Center and the Delta Sigma Phi fraternity formed a partnership this week in order to raise campus awareness of sexual assault.
Various events were hosted Feb. 2-5 for Sexual Assault Awareness Week, including panels, presentations and Red Flag training. On Wednesday, a panel of men talking about sexual assault was held in Rough Ridge of Plemmons Student Union from 7 to 9 p.m.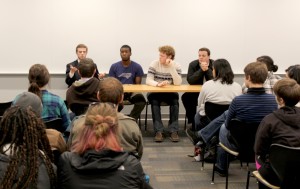 Four panelists were present, each representing a different university organization. Sam Murray, President of Delta Sigma Phi, Chukwuebuka Ibeziako, desk shift volunteer for the LGBT Center, Patrick Long, co-president of Amnesty International and Carson Rich, Student Body President were asked a combination of pre-determined questions from the Women's Center and audience submissions.
Melanie Weast, a graduate assistant for the Women's Center was the moderator. About 40 Appalachian State University students were present at the event.
To pave the way for the rest of the discussion, the first question asked the panelists to provide their definition of sexual assault. The four had similar definitions that stated both parties have to give a full and unquestioning "yes" as consent and if one party's decision waivers, consent is rescinded.
When asked if there is a rape culture promotion within Greek organizations, Murray said he definitely sees toxicity within the fraternities and was disappointed by his fraternity brothers' turnout for the events hosted.
"What can we do to change that?" Murray questioned. "We can do things like this, we can hold different programs, we can ask people to come out or make it mandatory, but the struggle is getting the word out on what these things are and what they mean."
Long said men need to begin stepping up and do what is right, as opposed to standing back.
"Men have to stop saying 'oh, I wouldn't rape somebody' and hold each other accountable," Long said. "Because of masculinity, men don't hold each other accountable for their actions. I think in these organizations, they need to have a mindset of what one member does affects the whole viewpoint of the organization and it affects the whole culture."
When discussing ways to make the university's male population more aware of programs that combat the issue, Rich said the rest of the university needs to step up and match the students and faculty already fighting against sexual assault.
"People need to start stripping the sugarcoating off the messages we use to males and just lay the facts in front of them," Rich said. "I think that when the statistics are that high and it affects that many people it's not time to sit down and try and beat around the bush in regards to the male population on our campus."
The panelists agreed that Appalachian does not teach its students to not sexually assault, but teaches students not to get sexually assaulted.
"I love Appalachian, sometimes I'll be talking about it and I get very emotional because both my parents went here, my sister went here, I've grown up around it," Murray said. "I really love this school, so I always like to think the best of it and the people that work for it, but I know that's not always true. I would agree that Appalachian kind of says 'don't get raped,' but we've kind of opened the window to 'don't rape' with a lot of the programs we have on campus and things like that."
After discussing their opinions on the media's portrayal of sexual assault and how often the media can desensitize its viewers to heavy topics, the panelists agreed the media does not assist much in the area of sexual assault awareness.
"I think it doesn't equip us to handle all scenarios of sexual assault," Long said. "A lot of things they cover are stranger attacks, which only accounts for a small percentage of all sexual assaults, the majority of sexual assaults are committed by people you know and I think it desensitizes us to the severe ones. But also, we don't have the social scripts, based off of media for how to handle when someone's been assaulted by one of their own friends."
Ibeziako added that mediated messages of sexual assault are influential to all, but can cause additional harm to children or the mentally ill.
"The people in the media as well kind of desensitize sexual assault because people who are in the media are famous and constantly trying to sell themselves to us and when famous people commit these sexual assaults and get away with it, it makes it seem like other people can get away with it," Ibeziako said. "It's around everywhere most of the time, there's sexual assault in films, in TV and stuff, and it has become more and more normal to see that kind of stuff."
STORY: Nicole Caporaso, Senior News Reporter
PHOTO: Emma Kovasckitz, Photographer