Freshman designated hitter Matt Brill has found success when it comes to hitting and taking on a leadership role for Appalachian State baseball this season.
Brill compiled the longest hitting streak of the season for the Mountaineers at 15 games, which started on March 5 against Campbell and ended April 16 against Wake Forest.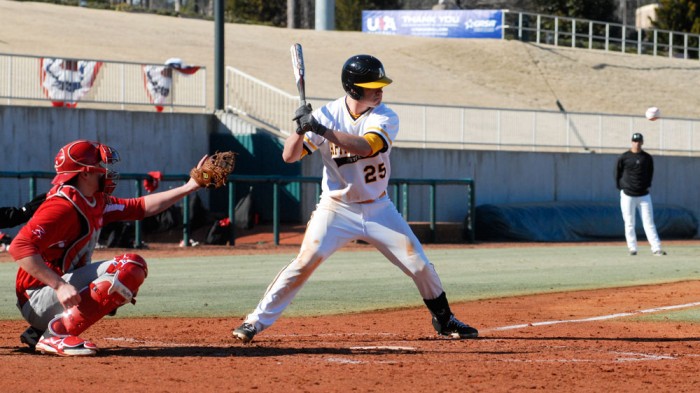 "It feels great to be hitting good lately," Brill said. "I started getting comfortable in the box, and it just got the ball rolling for me. I feel like I've been able to help out the squad a little bit, which is good."
Brill has compiled 31 hits and 15 RBIs in 20 games started this season. He was named Southern Conference player of the week during the week of April 7 after hitting .533 in four games.
"Sooner or later, it clicks for guys when you continue to work on the same things over and over," head coach Billy Jones said. "I think he has done a great job trying to relax over the plate and has been able to hit the ball the other way. With two strikes, he has cut down his swing to just put the bat on the ball."
Brill connected on at least one hit and one RBI in each of the games and capped off the excellent week hitting with a three-run home run en-route to a series clinching victory at home against The Citadel on April 13. Brill is the second-straight App State baseball player to be awarded the honor after sophomore shortstop Dillon Dobson did so the previous week.
"I feel really honored to be considered with some of the best players in the league like [Dobson]," Brill said. "I'm really grateful for that."
Brill, a native of Coal Valley, Ill., played baseball at Moline High School alongside fellow App State freshman pitcher Dallas DeVrieze.
As a pitcher in high school, Brill was named Quad-Cities area player of the year, as well as an all-conference honoree. He started nine games as a pitcher his senior year for the Moline Maroons while compiling a 1.76 ERA, 74 strikeouts and 26 walks over 47.2 innings.
"Being a designated hitter is a little bit different, I have never really done it full time before," Brill said. "Coming from a small town in Illinois, we had minimal guys, and I had to play a position when I wasn't pitching. I kind of like the position of designated hitter as you have time in the dugout to think about your next at bat."
For Brill, the main focus isn't about individual accolades but rather what role he can play in the success of the team overall.
"There is no question that he is a leader," Jones said.  "He has been a leader since day one and speaks his mind and leads by example. It doesn't matter that he is a freshman. He is talented athlete, one of our strongest players pound-for-pound, and fastest player for his size. His work ethic is off the charts, so if he does speak, people are going to listen, because he backs it up by the way he works and prepares."
In his senior year of high school, Brill was selected in the 24th round (716th overall) of the 2013 Major League Baseball Draft by the New York Mets to be a pitcher. Instead of going to play for Minor League team for the Mets, he decided to come to App State for three years to prove he could excel at pitching and hitting.
"He has helped us tremendously," senior infielder Tyler Zupcic said. "Driving in the runs has boosted us offensively. What goes unseen a lot is his leadership qualities. Being a freshman, a lot of guys come in timid, but not him. He really steps up and is a vocal leader and leads by his performance."
Brill's teammates and coaches said his future is bright both on the mound and at the plate for App State as he looks to continue his freshman year success for the Mountaineers in its final 14 games before the Southern Conference tournament begins May 20.
Story: Bryant Barbery, Intern Sports Reporter
Photo: Cory Spiers, Sports Editor