First day of welcome weekend welcomes more than 2,000 students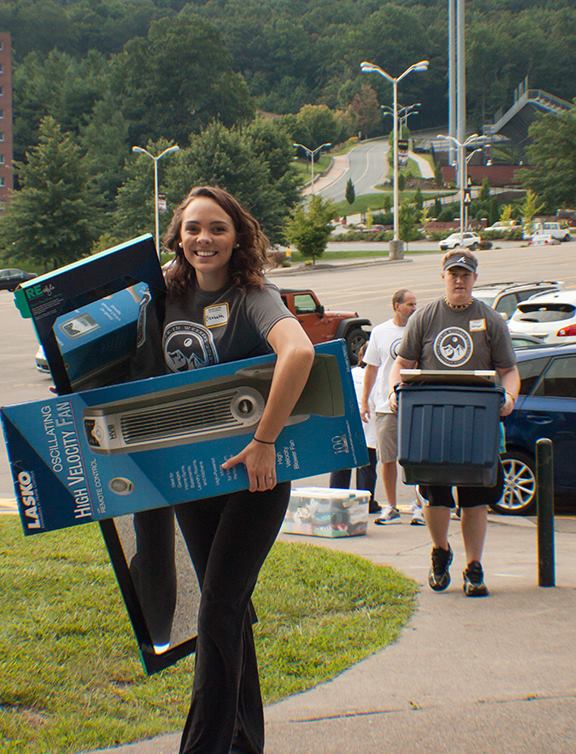 Hundreds of volunteers helped more than 2,000 students move into their residence halls Friday.
Dean of students JJ Brown said every Friday before classes start is Appalachian State University's main move in day with more than 2,000 students expected to move on campus.
"We have been lucky to have such favorable weather thus far as new students are arriving," Brown said. "It's one of my favorite days of the year."
The entire freshman move-in volunteer group had a system of organization. From different color shirts to distinguish student and parent volunteers to working two-hour shifts throughout the day, the volunteers were able to move each freshman into his or her dorm in approximately 10 minutes.
John Rogers, one of the many parent-greeters, has been a volunteer for the past six years. He said he believes that they can make a positive impact on both the student's and the parent's experience by helping new coming students from the first day they walk on campus.
"At orientation, the parents have been told about freshman move-in, but most of them don't believe it until they see it," Rogers said.
Parent Marianne Janiszewski said the move-in volunteers were very helpful.
"We moved in another daughter at [North Carolina State University] and we had to move everything ourselves," she said. "This is just very easy."
Director of parking and traffic Barry Sauls said that when moving such a large amount of students in one day, there is going to be traffic in the streets of Boone, which have to be carefully supervised.
Sauls said that although the streets around campus were experiencing normal levels of traffic for move-in day, he still had to stand near the intersection of Rivers Street and Stadium Drive to control the traffic light signals using the electrical box.
Appalachian State University Police Department increased cycling and foot patrols during the weekend as a precautionary measure, Captain Todd Corley said.
Multiple on-campus organizations helped the move-in day go smoothly by volunteering their time to help with the process. Groups such as Baptist Campus Ministry, greek organizations and the women's basketball, volleyball and softball teams were present.
Senior recreation management major Curtis Batten said he volunteered to help with move-in day through BCM. Batten said that while certain areas of campus were not as busy as others, it picked up throughout the day.
"At Hoey Hall I only helped seven or eight people over the course of two hours this morning," he said. "It looks like things will be getting busier as the afternoon goes on, though. It's a great way to meet new students so there really is not much to complain about."
Story: STAFF REPORTS
Photo: RACHEL KRAUZA | The Appalachian