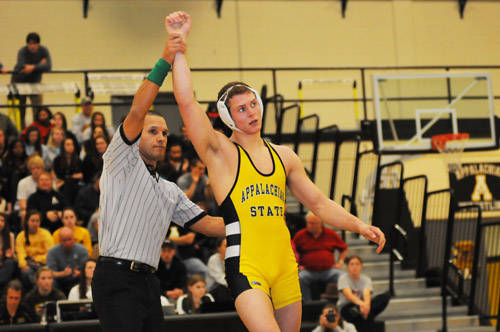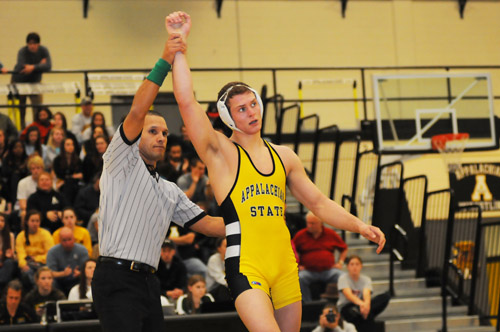 Redshirt freshman wrestler Zack Strickland has quickly become a star for his team behind a perfect record in duals this season.
The wrestling team now stands at 5-4 (3-1 SoCon) for the year, but Strickland has yet to lose a match for the Mountaineers, cruising to a 9-0 record in duals.
"He's got the tools to be an All-American," said head wrestling coach John Mark Bentley. "I think he believes it more and more every time he goes out there."
Strickland's name appears on numerous national rankings lists for individual wrestlers, including wrestlingreport.com, which ranks him as the 20th best 165-pound wrestler in the nation.
"Honestly, I'm not surprised by it," Bentley said. "We knew he was going to be good. I know how tough he really is. It's hard to do and the 165-pound class is one of the most competitive weight classes in the country."
Strickland said his goal is to be on the national championship podium in March.
"That's just a stepping stone to where I want to be," Strickland said of the notoriety. "Don't get me wrong, it feels great, but my goal isn't to get my name on paper, it's to be on the podium in March."
Bentley said making Strickland a national champion is a goal.
"We want him to be a multiple All-American, and we want him to win a national championship before he leaves Appalachian," Bentley said.
It's big talk for the redshirt freshman, but he's ready to live up to it.
"That's what I work toward every single day, so reaching my overall goal would be great," Strickland said. "All the hard work that I have put in would be worth it."
Strickland credits his teammates for making him a better wrestler.
"Having guys in the room that are able to push you every day is very important," Strickland said. "Each time I step in the room, I know that I'm going to be in a fight for every takedown. Staying positive and being confident in what you know and the training you've gone through make a huge difference."
Strickland and his teammates hit the mat again in Boone, Friday Feb. 1 at 2 p.m. when they take on Chattanooga.
Story: Jesse Ware, Sports Reporter
Photo Courtesy: Dave Mayo