From Manhattan to the mountains
Historically, App State has been considered a "run-first" football team. There have been a number of talented running backs who have come through the Mountaineers' program, such as Kevin Richardson (2004-07) and Marcus Cox, the school's all-time leading rusher (2013-16). Even the most talented quarterback App State has ever had, Armanti Edwards (2006-09) had only 12 more passing attempts than rushes in his career.
With stats like these, it can be easy to forget the wide receivers and the passing attack. But the 2018 Mountaineers have made the passing game an unforgettable part of their offense, in large part due to the two newest members of the group.
Redshirt sophomore Corey Sutton and graduate student Dominique Heath both come to App State by way of Kansas State University in Manhattan, Kansas, where they started their college football careers. Heath, a Charlotte native, was with the Wildcats for four seasons including a redshirt year in 2014. Between 2015-2017, he made 95 receptions for 947 yards and seven touchdowns before making the decision to transfer to App State.
"When I came up here on a visit, I just felt the love," Heath said. "It felt really genuine. I just felt the love, I could feel it in the air. I knew Corey (Sutton), I knew (Clifton) Duck from Charlotte. I just felt like it was a good fit for me."
The fit has been a success so far this season, with Heath currently second on the team in receiving yards and touchdowns. He is also tied for seventh in the Sun Belt in receiving touchdowns.
Corey Sutton leads the Mountaineers in receiving yards by nearly 200 and has the most touchdowns with four. He is currently tied for eighth in receiving yards and fifth in receiving touchdowns in the Sun Belt Conference. He also has the longest reception of the year for the Sun Belt, coming on his 90-yard touchdown catch against the Charlotte 49ers.
His stats with the Mountaineers come in stark difference from his numbers with Kansas State, where he appeared in 11 games, making four receptions for 54 yards and no touchdowns. While playing for the Wildcats, he never caught more than one pass in a game.
As a Mountaineer, he's made at least two receptions in four out of six games, including a career-high six catches against Penn State in the season opener. Corey Sutton said his decision to transfer to App State was heavily influenced by his parents, who are both alumni.
"I've been familiar with App for a long time, you know both my parents went here," Corey Sutton said. "I've been coming to the games since I was really little. My dad played with Coach Satterfield and Coach Ivey."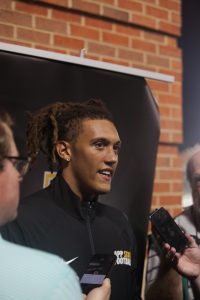 Clarence Sutton, Corey's father, was a safety at App State from 1993-95 before signing a contract with the Chicago Bears. In addition to Satterfield and Ivey, he also played with the Mountaineers' current co-offensive coordinator, Shawn Clark.
"I just wanted to come somewhere safe," Corey Sutton said. "Transferring, you don't want to go anywhere it might not work out, because then you're stuck. I wanted to go somewhere I was familiar with, where I knew the culture."
Justin Watts is in his fourth season as wide receivers coach and knows firsthand the differences Heath and Sutton have made on the field.
"Dominique is one of only two seniors in our group," Watts said. "He has a lot of experience. Corey is just a natural route runner. They've both played before in big time games and both bring dynamic speed to the offense."
Last season, the Mountaineers averaged 7.9 yards per pass attempt and completed approximately 60 percent of passes. So far this season, App State averages 8.55 yards per attempt an
d has completed 63 percent of their passes, a testament to the talent Heath and Corey Sutton have brought to the field.
But according to Watts, the key is not in their natural talent but in their dedication and work ethic.
"They're both smart, conscientious players that are passionate about the game of football," Watts said. "They come into meetings ready and prepared to learn and they've picked up on the offense well. They're a joy to coach."