From walk-on to standout
From being a walk-on freshman to a senior All-American, Denzel Dejournette is in the midst of his final season as an App State wrestler.
Persistent and hardworking are simple attributes to describe Dejournette throughout his career as a Mountaineer, on and off the mat.
On the mat, Dejournette has been on a climb to the top since he arrived to Boone. After placing in a few tournaments his freshman season followed by a 15-17 record in the 2013-14 season, Dejournette emerged during his junior season.
Bringing home the SoCon championship, two tournament victories and SoCon wrestler of the month for November and a 33-6 record, Dejournette was named an All-American.
Senior App State student Matt Millaway roomed with Dejournette when they arrived as freshman. Millaway recalls the hard work that Dejournette put in during that first season.
"What a hard working guy," Millaway said. "I remember him running stairs outside our dorm room after long and grueling practices. Right then I knew what kind of guy he was. It's hard to find a better all-around guy than Denzel."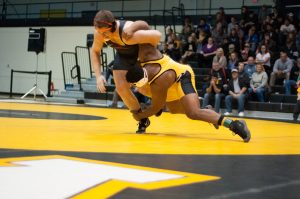 Dejournette is currently the No. 9 ranked heavyweight wrestler in the nation according to the NCAA Division 1 rankings. Although he is nationally ranked, Dejournette tries not to put much thought into it and focus on wrestling like he knows he is capable of.
"Last year I put a lot of pressure on myself when I was ranked No. 6 in the national tournament," Dejournette said. "I started wrestling like I had something to protect. Coach finally told me to stop wrestling like you're protecting something. At the end of the day it only matters what I think of myself and I want to be number one."
Head coach John Mark Bentley has coached Dejournette since he arrived as a walk-on freshman, giving him the opportunity to get to know Denzel as an athlete and person.   
"Denzel is an outstanding role model for our team and he always has been," Bentley said. "It's not only about how hard he wrestles and how he competes but also how he brings the same intensity in approach to school and life."
After years of experience with wrestling, Bentley acknowledges how unusual it is to have a person like Dejournette leading the squad.
"Very rarely do you get a guy like Denzel," Bentley said. "It's very fortunate for us because he is our best guy and he does all the right things off the mat. He leads by example and he does the extra work while always bringing intensity."
His hard work to succeed on and off the mat rubs off on the team as well.
"A lot of guys look up to him and it helps when he's doing the right things and living the right lifestyle," Bentley said.
Dejournette admits that he wouldn't be where he is today without all of the faith and work that Bentley has put into him throughout the past four years.
"Coach saw potential me in me even when I wasn't the highest ranked guy, I mean I was a walk on," Dejournette said. "He taught me that it's not where you come from, it's what you're doing and what you're moving towards and I really feel like he really believes in me. It's a very close relationship between me and him."
Despite all of the success on the mat, Dejournette understands that wrestling is only one aspect of his life. One of his main priorities in life is just to be compassionate and feel empathy towards people in every situation.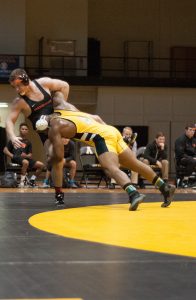 "I try to understand that not every individual came from the same situation that I did," Dejournette said. "I had the opportunity to grow up in a two-parent household with two loving parents that taught me right from wrong. I just try to let my positive attitude be contagious and spread love in a world full of hate."
With one more year of graduate school after he graduates, Dejournette's plans for the future are up in the air.
"I'm trying to see what opportunities I can give myself by working hard in the classroom and on the wrestling mat while being a good person," Dejournette said. "Hopefully someone will see the hard work I'm putting in and say that's a guy that I want to work for me."
Story By: John Robertson, Sports Reporter