Gameday grades: R+L Carriers New Orleans Bowl
Quarterbacks: B+
Redshirt sophomore Zac Thomas went 15-24 for 177 yards, three touchdowns and two interceptions. Sophomore wide receiver Malik Williams made a surprise appearance at quarterback and threw twice for 38 yards and two touchdowns. He played quarterback at Chester Senior high school in South Carolina. Thomas' two interceptions weren't necessarily his fault after the receiver bobbled the ball, but he did have a fumble and a slow start. Seven players caught passes from Thomas in the Superdome with the longest being 35 yards to sophomore Jalen Virgil.
Running backs: A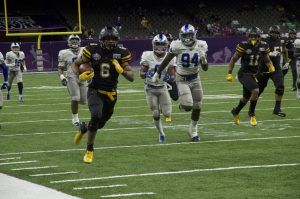 Against Middle Tennessee, the Mountaineers rushed for 233 yards and one touchdown. Redshirt sophomore Darrynton Evans rushed 14 times for 108 total yards with a 62-yard rush late in the second quarter. Freshman Camerun Peoples' made his fourth appearance and ran three times for 69 yards, the longest being a 63-yard run for a touchdown. Peoples run was the sole rushing touchdown for the Mountaineers with 34 runs. The Mountaineers averaged 6.9 yards per carry.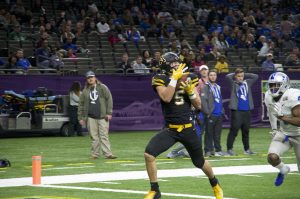 Wide Receivers: A+
The wide receiver group caught 17 passes for 215 yards and five touchdowns. Redshirt sophomore Corey Sutton brought in eight catches on 11 targets for 78 yards and two touchdowns. Sophomore Malik Williams caught one pass on one target for 22 yards, but passed to quarterback Zac Thomas for two touchdowns. Sophomores Thomas Hennigan and Jalen Virgil caught for 103 yards and one touchdown on five catches.
Tight ends: A
Tight ends were primarily used as blockers, but freshman Henry Pearson caught a one-yard touchdown on his only target of the game. Redshirt junior Devin Papenheim had three yards on his only target of the night.
Offensive line: A+
The offensive line protected Zac Thomas the best it possibly could have. They allowed zero sacks and zero quarterback hits and blocked for a rushing unit that went for 233 yards. This offensive line gave the quarterbacks time to pass for 215 yards and five touchdowns in 45-13 route of Middle Tennessee. 
Defensive line: A+
The defensive line played an incredibly physical game, spending a lot of time in the Blue Raiders backfield and holding the MTSU rushing attack to just 62 yards. They sacked the quarterback four times and also had eight tackles for losses. Senior defensive end Okon Godwin lead the way, coming up with two sacks and three tackles for a loss.
Linebackers: A
The linebacking corps had a solid outing, helping the front seven hold MTSU to less than 70 yards rushing. Junior outside linebacker Akeem Davis-Gaither lead both teams with 10 tackles and also had 1.5 tackles for losses while junior inside linebacker Noel Cook had six tackles and 1.5 tackles for losses.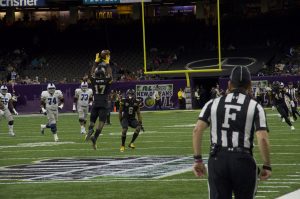 Defensive backs: B
The defensive backs had a solid day, holding the Blue Raiders to just one passing touchdown and intercepting MTSU quarterback Brent Stockstill twice, one each for junior safety Josh Thomas and senior cornerback Tae Hayes. However, they did allow Stockstill to complete nearly 70 percent of his passes and throw for over 300 yards.
Special Teams: A+
Sophomore kicker Chandler Staton was perfect, hitting all his PATs and one 22-yard field goal late in the first quarter. Redshirt freshman punter Clayton Howell had one punt for 60 yards that was downed at the one-yard line. Running back Darrynton Evans returned one kickoff for 21 yards and graduate student Dominique Heath had one punt return for three yards.
Overall: A
The Mountaineers played an all-around complete game, producing nearly 450 yards of offense and 45 points while holding the Blue Raiders to just 13 points and less than 400 yards. They played a clean game, with just 50 yards in penalties to MTSU's 89 and averaged over two more yards per play. It was a dominating end to another successful season.
Story by Brooks Maynard and Moss Brennan
Photos by Moss Brennan
Featured photo caption: App State enters the field for the R+L Carriers Bowl against Middle Tennesse State.