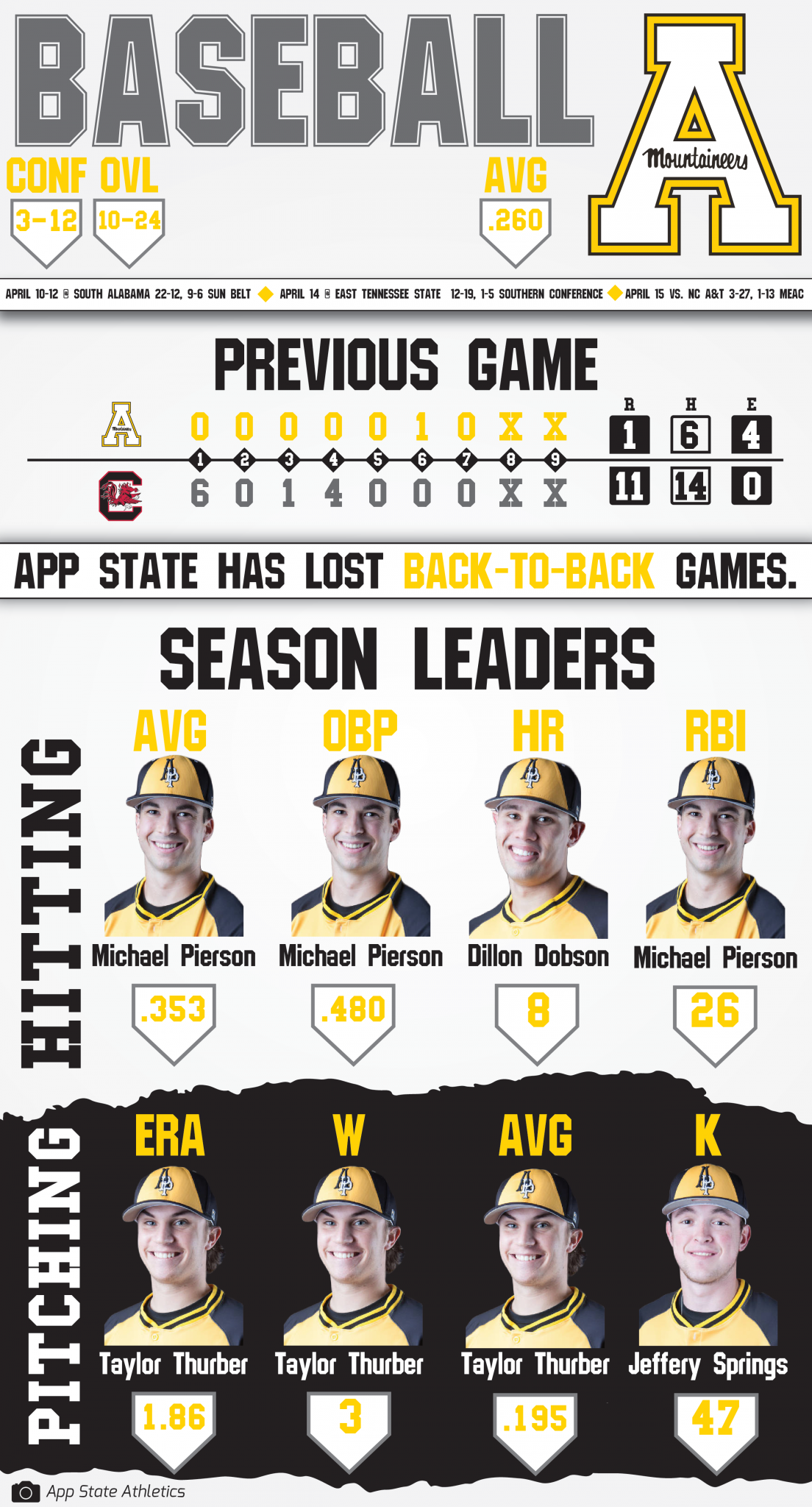 Forget USC, focus on what's ahead
The Mountaineers had a night to forget in South Carolina as a six-run first inning doomed the team to a second-consecutive loss.
It should be considered, however, that the Gamecocks are a talented SEC team, the Mountaineers were playing on the road and the game was shortened due to rain – all factors that should make that game one to quickly forget.
Prior to the debacle at USC, App State compiled a 3-2 mark over their previous five games.
With that said, a short memory will be key as the Mountaineers take to the road for four-straight games before coming home again.
Magic six
It's obvious to assume that more runs usually equals more wins for any team.
The magic number for the Mountaineers this season, however, seems to be six.
When scoring fewer than six runs this season, the Mountaineers are 3-23. On the other side, when scoring six or more, App State has lost only once, putting together a 7-1 mark.
Follow your hot hitter
As with most baseball teams, hitters for App State have ebbed and flowed this season.
For a long stretch, it seemed junior infielder Dillon Dobson couldn't be cooled off.
While Dobson's work continues to be good, senior infielder Michael Pierson has been the hottest App State hitter of late.
During App State's 3-2 stretch, Pierson put together a .562 batting average to go with seven RBI and five runs scored.
In the mid-season grind, it's important to follow your hot bats and right now, that is Pierson.
If Pierson and Dobson are both effective, scoring more than six runs might not be too hard to do.
Story: Cory Spiers, Sports Editor
Infographic: Malik Rahili, Visual Managing Editor