Rarely does a movie adaptation satisfy the majority of the original book's fans, but those in support of Gillian Flynn's best-selling novel, "Gone Girl," will not be disappointed by director David Fincher's immaculate reconstruction.
Fincher's famous dream-like and bone-chilling directing style runs parallel with the content and plot of the movie. As the director of multiple well-known films, including,  "Fight Club," "The Social Network" and "The Girl with the Dragon Tattoo," Fincher does not shy away from intense, gory and controversial film topics. His approach is made for suspense and thriller genre stories, and his direction only enhances Flynn's manipulative, stimulating story and script. Fincher takes her words and makes the film something encapturing – every shot, detail and direction holding a purpose.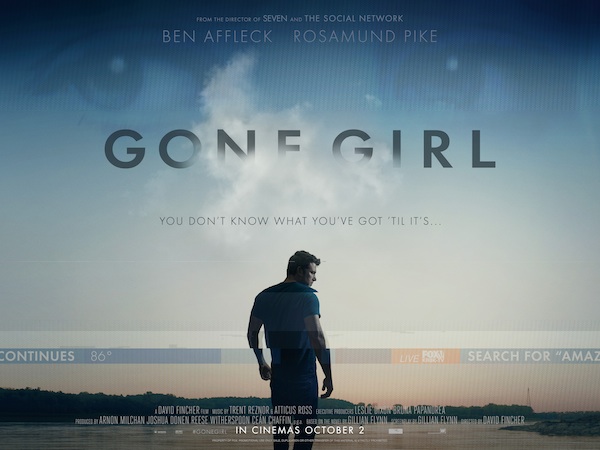 The plot is one of a complicated thriller, following a man whose wife goes missing after their fifth wedding anniversary as the media begins to suspect him as the culprit.
Actor Ben Affleck respectfully executes his role as the handsome, troublesome husband, Nick, while Rosamund Pike is even better as the multifaceted wife, Amy, in a role sure to be her breakout in Hollywood. Pike plays every emotion and scene with such conviction and dedication to her character that one cannot help but to be enthralled. Just when you want to hate Amy, she makes you want to root for her.
The supporting cast was also impressive. The film depends on the actions and reactions of others who manage to hold their own with a director known for his demands. Fincher also uses the setting to support the cast and plot by portraying Missouri as a place where dreams go to die and emphasizing the prominence of foreclosure signs and fast food labels throughout the film.
The details from the book that are missing from the movie are not glaringly obvious, and Fincher compensates for what is left out by putting more focus and attention into scenes elsewhere.
Fincher's "Gone Girl" is its own masterpiece, but Flynn's original is an even better accompaniment to the film, despite the fact that the novel was born first. By reading the novel one really experiences what's inside these characters' heads, something the film does not let on as easily. The book allows more space for narrative and points out the brilliance of the writer herself.
Ultimately the book stands alone as a great novel, and the movie stands alone as another must-see Fincher film. Whichever medium you choose, you will not be disappointed.
Story: Casey Suglia, Intern A&E Reporter