Graduating seniors leave Boone and local businesses employment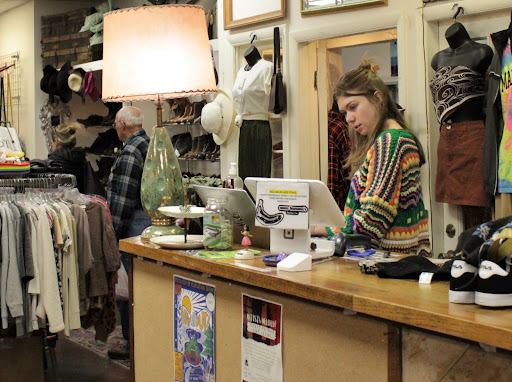 After taking their last final exams, finishing up internships and moving out of apartments, seniors not only leave Boone, but they also depart from jobs at local businesses.
Every year businesses lose employees because of graduation, causing a change in operation. Anna Banana's, Macado's, Lost Province Brewery Co. and other local businesses all employ seniors who are about to graduate or recently graduated. 
Macado's employee Nirali McColgin said they have many senior employees who are about to leave. She said it will be hard to see some go because they are great workers.
"We'll be very short staffed. People have to understand that there is only so much we can do," said McColgin, a sophomore hospitality and tourism management major.
Madison Taylor, a senior employee at Macado's who has worked there for over a year, said she plans to leave Boone after graduation. 
"I really appreciate this place because I'm able to work events here and meet a lot of people as well," said Taylor, a public relations major. "I think I'm definitely going to miss the people at Macado's and then definitely Boone as well."
Anna Banana's manager Ali Aita said they attempt to hire new employees prior to seniors graduating. 
Because summertime in Boone attracts tourists, Aita said Anna Banana's searches for people that can work during the summer. However, they still try to hire underclassmen, especially freshmen, because they will stick around longer. Aita said this "makes it easier in the long run."
"It definitely makes things difficult because then you have to retrain people," said Caleb Baleanu, Anna Banana's employee. "We've seen so many cycles of people coming and going."
Dan'l Boone Inn employee of three and a half years Matthew Hodnett said they experience the most difficulty in the fall due to a lack of trained employees. He said when seniors leave, most of the employees left working aren't very experienced, and they have to train the newer employees.
Hodnett said most employees usually stay for their entire four years gaining experience, and the quality of people working there "definitely goes down," when seniors leave.
Appalachian Tees Inc. employee Madison Cansler said their busiest time of the year is football season because it's "like a Black Friday." She worries when new people get hired, especially during the fall, the more experienced employees will have to multitask between helping train the new hires and tending to their own work.
"If they don't have retail experience, then it's going to be hard for the people who've been working here to try and, like, step out and help them and keep doing what they're doing," said Cansler, a sophomore apparel design and merchandising major.
Although leaving seniors can affect businesses by causing them to lose employees, My Phó of Boone employee Taylor Jones said they don't think employees leaving is much of an issue for them. Instead, she believes revenue will be impacted more. 
Jones said when graduation season hits, they get more customers because of people visiting for the commencement ceremonies. However, when graduation season is over and everyone leaves, she said business can be "dead."
"I actually think that we'll be okay in terms of, like, the piece of business that is, like, maintaining employees and stuff," said Jones, a sophomore journalism major.
Cole Britt, a senior employee at Blue Cross Blue Shield, an insurance company, said they have already started the application process for new employees. He said working at a Boone business has been "amazing" and helpful, and it's given him a lot of experience and prepared him for his future. Britt, who has worked there for 10 months, said leaving the job will be "bittersweet." 
"I wish I could stay there just because everybody's really cool, and I really like the job, but it's not like when we leave it's going to be over," said Britt, a computer information systems major. "There's going to be other students who can kind of come through the process just like I did."