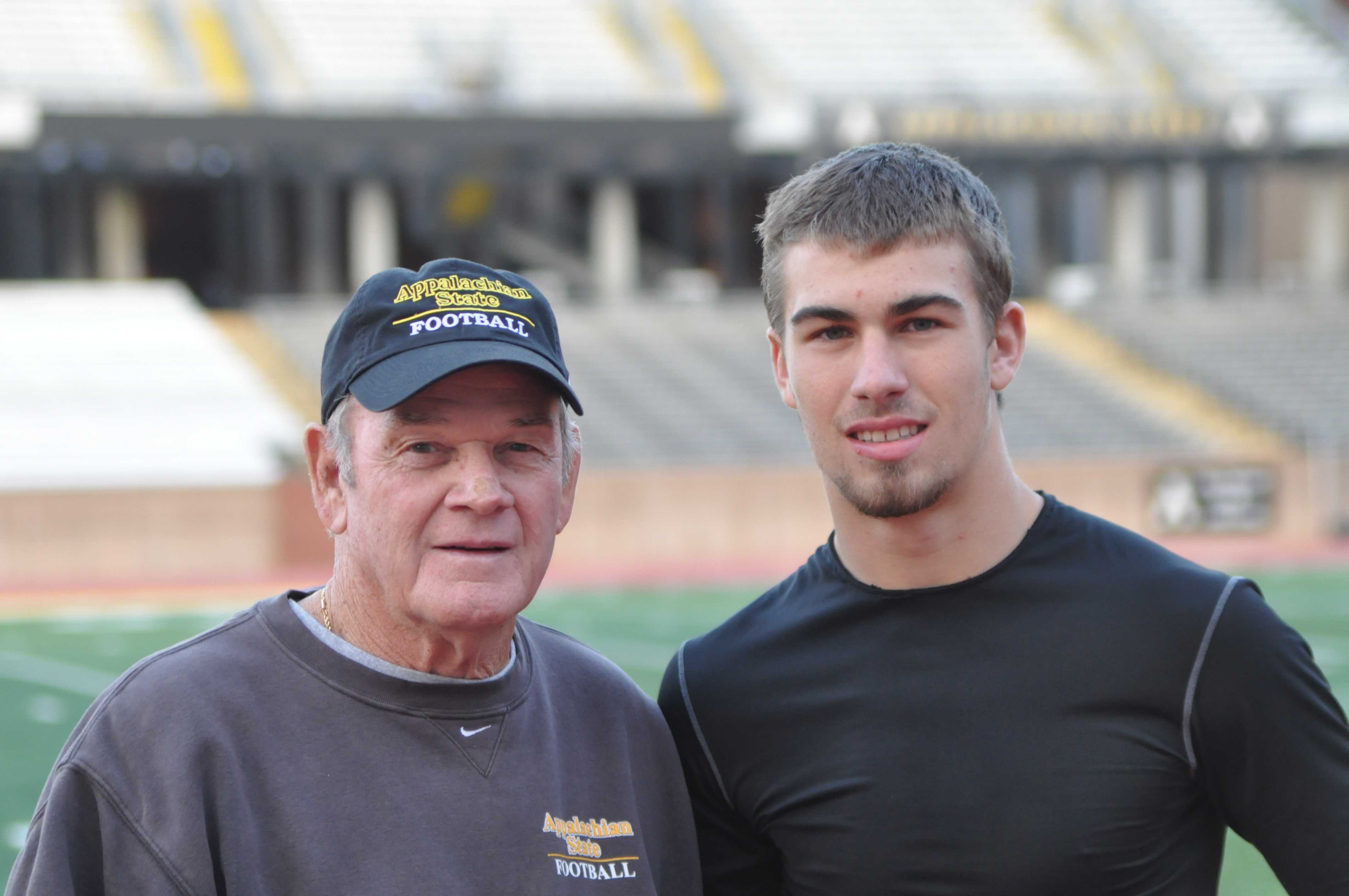 Redshirt freshman wide receiver Trey Kavanaugh attended his first Appalachian game when he was three weeks old.
He began playing football when he was four years old.
But he's always been Head Coach Jerry Moore's grandson.
"He's my coach who happens to be my grandfather, too," Kavanaugh said. "I love it, but I'm not going to go talk about it very much. I want people to know me for being a player here then finding out my grandfather is my coach."
Kavanaugh's football career started in Alpharetta, Ga., but following his parents' divorce, Kavanaugh moved to Boone.
"He's my grandfather, but he's also been my father figure since my parents got divorced," Kavanaugh said. "So, it's a cool relationship."
But the relationship is not dominated by football – the two men enjoy golfing and having catfish dinners together.
"I don't think we have the same conversations on the field that other football players do with him," Kavanaugh said. "It's 'what's for dinner?' and 'how's mom doing?' and all that stuff. It's unique and special, but at the same time, when it comes down to football, it's strictly coach and player."
Moore said the two don't talk very much at practice.
"We just kind of give each other a sign or something or motion to each other," Moore said. "I think he's very well accepted by players. I stay out of that. I would say a lot of them don't really know he's my grandson."
However, Moore said coaching his grandson is "a lot of fun."
"I've enjoyed every second of it with him," Moore said. "I had two sons that were athletes and he's kind of following in their footsteps."
When it came time for Kavanaugh to make a decision regarding college, he had a few offers from smaller schools in addition to Appalachian.
But ultimately, Appalachian was the school for Kavanaugh.
"I didn't encourage him one way or the other," Moore said. "I just thought that was his decision."
Kavanaugh is currently majoring in physical education and plans to follow in his grandfather's footsteps and coach football.
"He's a great role model," Kavanaugh said. "I always want to be like him. Being around him so much, I just want to be like the guy he is and the coach, too."
Story and photo: ANNE BUIE, Managing Editor