Hampton excels in college transition
Armani Hampton never intended to play basketball. Hampton was planning on just sticking with cheerleading, until she attended her first basketball practice.
"I actually started [playing basketball] in the sixth grade. I was a cheerleader prior to [playing], but somehow I went to a practice with my best friend," Hampton said. "I actually didn't want to play, but my friend's coach said 'you're tall you should play.' I said didn't want to play, but he got a hold of my mom. My mom made me go to practice and for the first year I hated it, but began to like it, and I got better."
Since that first practice, Hampton has come a long way. As a freshman on Appalachian's women's basketball team, Hampton has played in all but three of her team's games, and has played a big role in those games for the Mountaineers. Hampton has made the most of her minutes vacated by upperclassmen on the injury-plagued Mountaineers roster.
Before Hampton arrived at App State, there was quite a bit of work and a few stops along the way. Hampton started playing basketball through the Amateur Athletic Union organization, and then when she started high school she chose to play at Atkins High School in Winston-Salem.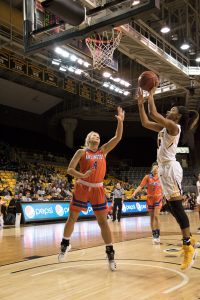 "Atkins is a [Division] 1-A school, so they are very small school. They only had a 2-66 record in the time before I got there," Hampton said.
Despite Atkins' poor reputation before Hampton arrived, the school swiftly become a regular in the playoffs, and Hampton led the team on one of the deepest playoff runs in its school history.
"We got to the third round my senior year, which was our deepest playoff run, before we lost," Hampton said. "It was a great experience to see how far the team had come."
Even though Hampton found a lot of athletic success on the basketball court at Atkins, she never played any other sports.
"I only focused on basketball. I didn't run track, or play volleyball. I just played basketball," Hampton said.
That laser-like focus on basketball paid off for Hampton, who used her high school success to become a highly rated basketball prospect with several attractive scholarship offers.
When Hampton visited Appalachian, something unique in App State's team stood out to her.
"I'd heard of Appalachian before. My grandpa told me about it, and I had a best friend whose dad ran track at App," Hampton said. "So, I knew about Appalachian but when I got recruited here, I visited and I saw how close the team was. That reminded me of how close my high school team and my AAU team were. I wanted to be a part of a team like that again."
After arriving at Appalachian, Hampton found a teammate in senior forward Bria Carter, who had a very similar skill set to hers and who has helped her develop her game, and is excited by the progress she has made this season.
"On the court, I see a lot of me in her. It's like I'm looking at myself four years ago," Carter said. "She's a very good rebounder, and does a good job at getting putbacks. I know her game will grow, but I think she's doing really well as a freshman."
That type of compliment from a senior leader is something that is rarely received by a freshman, and the coaching staff was even impressed by the player to player comparison. The complement is also impressive because Carter is another player who came in with similar skills as a freshman, and then worked her way into becoming one of the Mountaineers' most important players.
"That compliment just shows how much confidence Carter has in Armani to succeed on the court and continue to grow her game," assistant coach Kate Dempsey said. "We hope that she'll put in more work in the offseason, so that she can become a double threat similar to Carter."
While the coaching staff and Hampton's fellow players see a lot of potential and talent in Hampton, she admits the high school to college transition hasn't been easy.
"My schedule changed because I wasn't used to having practice in the morning or before class," Hampton said. "Now I have a lot more on my plate because I used to just have one practice and school. Now I have weights and a lot more to do, and time management was a big issue, but now I finally feel like I've got that under control."
Despite having to go through an adjustment period, Hampton has made the most of her time at Appalachian by working to improve her game to better suit the college game.
"Armani is an incredible hard worker, and she does everything that she does at full capacity," Dempsey said. "She's a really nice kid, and has worked to grow her game and get her game to where it currently is. She's a product of her own hard work. She's been able to adapt, fix her footwork and be able to really impact that game when she's on the court."
Hampton's hard work has allowed her not only to adjust and become more comfortable at the college level, but also become a regular contributor to the team's success.
"She's one of our more efficient players when she's on the floor, and whether that is two minutes or 10 minutes, she has a great nose for the ball," Dempsey said. "When the ball is in play she's going to do everything she can do to get it. Having Armani out there setting the tone has made her teammates better maybe more than they've made her better."
As the Mountaineers near the Sun Belt conference tournament, they will need Hampton's efficiency and contributions more than ever.
Appalachian has five seniors listed on this year's roster, so it's likely Hampton will continue to gain experience quickly and be an impactful contributor for rest of her time her at App State.
"Armani already plays at a high caliber speed and has great athleticism that has helped her transition to the college game," Dempsey said. "I can't wait to see what she will do."
Story By: Colt Jensen, Sports Reporter
Photo By: Halle Keighton, Photo Editor