Tucked away in the heart of the Blue Ridge Mountains, a short drive from Appalachian State University's campus, is a coffee shop that is serving more to the Boone community than just coffee.
Hatchet Coffee began as a dream fostered in the kitchen of Stick Boy Bread Company by former bakers and co-founders, Jeremy Bollman and Jeremy Parnell. The two friends shared a mutual love for West Coast-styled coffee and wanted to share this style of roast to the community of Boone. What started out as playing around with a small roaster bloomed into a demand for retail bags, resulting in time spent roasting in Bollman's basement. In August 2015, after purchasing Chattanooga's Velo Coffee Roaster, Bollman and Parnell started to sell wholesale in a warehouse in Boone.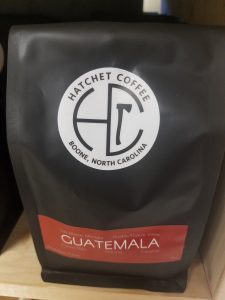 "This has all been an organic type growth," Parnell said. "It began as small thing, just an interest."
This interest, now Hatchet Coffee, provides coffee to many local businesses such as Melanie's and Ransom Café in Boone, New Public House and The Speckled Trout in Blowing Rock, Mountain Grounds in Banner Elk and Bohemia in West Jefferson, with around 30 wholesale accounts.
Hatchet recently celebrated its one-year anniversary in September, and though Bollman and Parnell's dream has been transformed into a reality, the duo is still dreaming of bigger things. Around the beginning of 2018, the pair plans to buy and move a larger roaster into its own roasting facility, while expanding the retail section to forage both a café atmosphere and a place of community.
In the past, Hatchet was heavily involved in the Triple Crown Bouldering Series, a competitive event that promotes the sport of bouldering and the climbing community, while also raising funds for the Southeastern Climbers' Coalition and the Carolina Climbers' Coalition. Being a climber himself, Parnell expressed his personal love for the outdoors and has plans for Hatchet to make another appearance at the event this year.
Along with being heavily active in the climbing community, Parnell said he has plans for Hatchet to continue being involved in the cyclist community. In the past, Hatchet has participated in events such as Blood, Sweat, and Gears. This desire for involvement within the cycling community was started by Hatchet employee Alan Garvick, a Boone local who serves the company with roasting and photography and is also an active cyclist.
"Any time there is an [outdoor] event around Boone, we try to be there," Parnell said.
[embedyt] https://www.youtube.com/watch?v=thldVtCWLc4[/embedyt]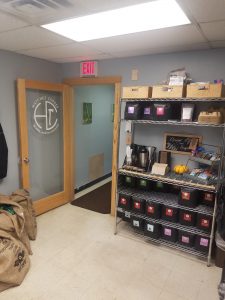 In addition to pursuing plans to outreach coffee to the outdoor community, Hatchet Coffee has made an outreach throughout the Boone community as well by collaborating with Foggy Pines Books and together creating the program, Hatchet Coffee Book Club. The book club meets the last Saturday of each month; coffee is provided by Hatchet Coffee and book lovers review and talk about the book assigned for that month.
Hatchet Coffee also has plans for a free coffee education class to occur every Saturday at 11 a.m., where members of the community can come to learn anything from brewing techniques and roasting styles to coffee tastings.
Hatchet Coffee's desire for community is not only prevalent outside of its doors; it is located within the shop as well. Madison Steele, a barista for Hatchet Coffee, said that her customers and the sense of community she feels are her favorite parts about working at Hatchet Coffee.
"Working at Hatchet Coffee has been life changing," Steele said. "Hatchet opened up a different sense of community in the town that I wouldn't change for the world."
Vincent Perez-Huet, a junior at Appalachian State University majoring in criminal justice, and first-time Hatchet Coffee customer, said he already felt at home at Hatchet Coffee and that there is a sense of belonging as soon as you walk in.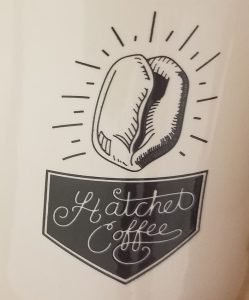 "I loved the cappuccino, you can taste the roast in the espresso," Perez-Huet said, adding that the cappuccino was "very well done."  
Hatchet Coffee is focused on wholesome ingredients, leaning away from sugary syrups and additives and stressing on the flavors of the roast.
"For people in the App State community that like coffee," Perez-Huet said, "the coffee here is way better than what I have had in Boone so far."
Hatchet Coffee is located at 200 Den Mac Drive in Boone, and is open from 6 a.m. to 6 p.m. Mondays through Fridays, 7 a.m. to 6 p.m. on Saturdays, and 8 a.m. to 4 p.m. on Sundays. To see what Hatchet Coffee is up to, or to see future events, check out their website and Instagram page.
Story By: Caroline Clucas, Intern A&E Reporter
Photos By: Lindsay Vaughn, Senior Photographer