As students get back into the swing of 8 a.m classes, midnight study sessions and mountains of homework, Hatchet Coffee continues to serve them their daily fuel: copious amounts of caffeine.
Upon entering the coffee house for a daily pick-me-up, you'll probably come across Dominic Ascanio, whose main position aside from being a barista is overseeing quality management at the cafe. Ascanio started working for Hatchet when the establishment opened their coffee bar a year and a half ago.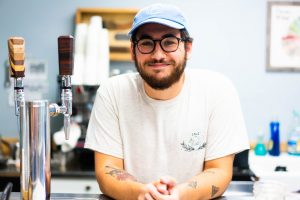 Ascanio said he loved to make coffee at home but wanted to find a local shop that roasted their own beans; upon searching he quickly discovered Hatchet. Soon after searching for a cafe he said the location became the exclusive spot for his coffee fix.
"I would literally sit here at the bar for like four hours just drinking pour over and geeking out about coffee," Ascanio said.
Months passed and Ascanio continued to be a patron of the coffee house. When co-founders Jeremy Bollman and Jeremy Parnell decided to expand their business by including a barista bar, they asked Ascanio to join their team.
"I absolutely love it. We happen to make great coffee but it's only a vehicle to make lasting connections with the people who come in here," Ascanio said.
Will Graham, who is now a barista at the cafe, used to work at the Hospitality House, which is down the street from the coffee shop.
"It was always a cool environment," Graham said. "Everyone was super personable and I think that was what really attracted me to it."
Graham has only been working with Hatchet for the past four months but said he has been a long-term patron at the coffee house, and that being hired to be an employee was just a plus.
"I had already felt a huge connection with this place before I was hired," Graham said. "I felt like this wasn't just going to be another job, but I felt like it was going to be a place where I felt really connected to the community."
To business partners Bollman and Parnell, community is a large part of what they do everyday at Hatchet.
"We are really trying to create a coffee experience that people will enjoy. First as a product, then as a community," Bollman said.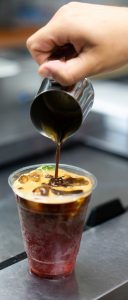 The duo started their journey together at Stick Boy Bread Co. in 2012 where they would bake bread and stay up all night drinking coffee. The two said their main goal was to open a cafe but they wanted to roast their own beans.
Bollman and Parnell then started experimenting with roasting in Bollman's basement a few days a week while continuing to work at Stick Boy. Eighteen months later the team turned into a full blown wholesale roasting company.
Finally, in 2015, the two co-founders accomplished their goal of opening up a cafe.
"We're really interested in having an engaging experience," Bollman said. "Generally we create based on what we love, when we travel and what we try from cuisines in different communities."
"Hatchet's experience begins with where they source their coffee," Bollman said.
Hatchet has made the effort to slowly start building relationships with coffee producers around the world. Producers are those who grow, pick, clean, dry and transport coffee to suppliers in the United States.
"It takes a lot of time but we are slowly trying to build better relationships with those farmers and exporters, so for us that means sending a staff member down to each of these different origins," Bollman said.
Bollman and his staff have already visited Mexico, Guatemala and Columbia to see where the the coffee they hope to roast is being made. Parnell will be going to Peru within the month to learn about the community and witness their coffee production process in addition to choosing which coffees Hatchet will feature.
Back in Boone, Hatchet continues to take part in the community through not only coffee but climbing as well. Hatchet shares their facility with Center 45, a climbing and fitness gym.
"Really I've always been into climbing since I came to Boone back in 2009, so my main focus within the company has really been about growing the brand within the climbing community, helping the climbers stay fueled," Parnell said. "Roasting is just the medium we use to bring everyone together."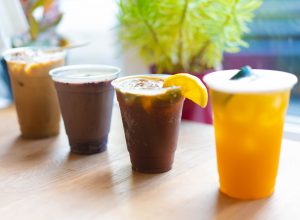 Currently, the cafe is celebrating their series called "Summer of Nitros" where Hatchet's staff creates a weekly flavored coffee inspired by the tastes of summer. This upcoming week, baristas have curated a coffee influenced by their take on a whiskey cocktail, called an old fashioned. The coffee served on draft is a blend of espresso, cold brew and orange bitters.
Hatchet is also expanding their business to include a larger cafe that will be connected to their roastery, which is open to the public during business hours for viewing. This addition will make it more convenient for those picking up some coffee to get a closer look into how their coffee is being made. Bollan anticipates that the new cafe will feature many live performances and will be open by the end of App State's fall semester.
"We saw a need in our community to celebrate our youth culture and our coffee," Bollan said. "We would just love students to come check us out and try something new."
Story by: Savannah Nguyen, A&E Reporter
Photos by: Mickey Hutchings, Photo Editor
Featured Photo Caption: Two Hatchet Coffee patrons indulging the specialty iced drinks from their Summer Menu. The Menu features a variety of chilled drinks with fruit and herb flavors, carbonated sodas, and spices.