"In the Heat of the Night," a radio play adopted from John Balls' 1965 novel of the same name, will come to the Schaefer Center for the Performing Arts on Tuesday at 8 p.m.
The play is presented by L.A. Theatre Works and explores race relations and the Civil Rights Movement when a small southern town is faced with accepting help from a black police detective named Virgil Tibbs to solve the mystery of a local murder, according to a press release from the Office of Arts and Cultural Affairs at Appalachian State University.
"Once a year, L.A. Theater Works takes a show on the road," said company manager and cast member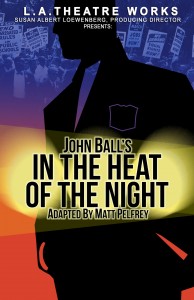 Darren Richardson. "It is the 50th anniversary of the signing of the Civil Rights Act, and [this play] coincides with the focus in America right now on race. We perform at a lot of universities and do an educational outreach program, different classes go on longer because young adults have so many questions."
Travis Johns, a former football player at Wake Forest University, said his early life and current interracial relationship have helped him prepare for playing a character in "In the Heat of the Night."
"I play a character named Pete and he is one of two deputies along with another man called Stan, and they represent the 'Old South,'" Johns said. "My character is really entrenched in his ways and resistant to any type of change in racial perspective. [Pete] really fights for his way of life. It all comes down to fear and fear of the unknown and what that means for him."
The script, Richardson said, uses historically correct yet racially charged language that some venues have asked them to change. The cast members have always refused, often resulting in positive reception and thanks from audience members.
"Race is still alive and well, but we are trying our best to start a dialogue with people and maybe find a way to improve ourselves," said cast member James Morrison.
The performance has seven cast members, and the dynamics of the stage presentation are mixed with radio projection, moving images, sound effects and Radio Theater, Richardson said. The effects are meant to provide an almost complete sensory experience, with some cast members as "utility actors," or members that play multiple parts.
"At one point, I change my shirt on stage and I become a different character," Richardson said. "I do a little voice work with another cast member, so we know how to change our voices, our pitch and our intonation. It's also about asking our audience to dispend their disbelief. It's a hard task, but if you do it right and the audience believes, it becomes a very magical thing."
Morrison, who previously appeared on the show "24" as well as other shows such as "Revenge," plays a character named Chief Gillespie, and said the format of the play has been challenging to adapt to.
"I've been working with L.A. Theatre Works for 30 years, but I've never done something like this," he said. "The real challenge is staying focused on the mic, like in a radio production, but also talking to the person standing right next to you. The traditional fourth wall in a theatre production sort of goes up and down. This is really a highly stylized presentation of a play. That's what makes it so riveting for the audience, is that they can close their eyes and listen to the radio play, but also watch it and see it unfolding visually."
L.A. Theatre Works is a non-profit organization with a main focus on classic plays, Richardson said. The organization holds the largest recorded radio library in the world, and has worked with actors such as George Clooney and Brad Pitt. Four of the actors performing with "In the Heat of the Night" have been involved with the company before.
Morrison believes this play is especially important for those who were not alive during the Civil Rights Movement.
"I'd say this related to things that are happening in [young adults'] lives right now," Morrison said. "Whether with marriage rights or voting rights, or however you want to apply it. This is a part of our history that we cannot afford to forget. We still have a lot of racial unrest and injustice and disenfranchisement, and it's played out in different ways in law in terms of how the law treats black people. People of all ages should definitely see this play."
Story: Kelsey Hamm, Intern A&E Reporter