Homecoming weekend recap for App State volleyball and women's soccer
Volleyball Recaps:
Game One: Friday, October 6 at 6:30 p.m. vs. Georgia State
With many alumni and recruits in attendance for App State (6-13, 1-4 Sun Belt) on their homecoming weekend, the Mountaineers' volleyball played a drama-filled, wire-to-wire match against Sun Belt foe Georgia State (8-9, 2-3 Sun Belt) on Friday night in the Convocation Center.
The Mountaineers had their chances to pick up their elusive first home victory, but ultimately came up just short, dropping the tightly contested match in five sets: 25-21, 24-26, 20-25, 24-22 and 22-20.
"It's tough. I hate them– but these are lessons this group needs to learn because we aren't good enough to be at 70 percent. We just don't have the talent or experience right now," head coach Matt Ginipro said. "We're fighting, I'll never complain about that. They're an awesome group to be around, but we're not good enough in enough positions to where we can take the foot off the gas pedal and I think we did that [tonight]."
After playing well and taking the first set 25-21, the Mountaineers went back and forth with the Panthers in the second before taking control late with a 23-18 lead. Georgia State stormed back and finished the set on a 8-1 run to tie the match at a set apiece.
"We're a really good team but we have to learn how to be 100 percent in everything that we do, on every point," Ginipro said. "We didn't do it in the second set which carried into the third. We've just gotta get consistent with it."
In the third set, the Panthers carried over their energy from late in the second and jumped out to an early 10-4 lead from which App State would be unable to recover, eventually falling 25-20 and trailing the match two sets to one.
"We were terrible in the third set. The majority of their points were our errors," Ginipro said.
Georgia State took control of the fourth set at 12-8 and looked to be pulling away, but the Mountaineers, showing that fight Ginipro talked about, battled all the way back, using a late 8-1 run to force set point at 24-20. GSU called a timeout and scored two quick points before senior middle blocker Courtney Sullivan put it away with a set-winning kill.
"We started the fourth set the same way [we played in the third] but we came back and won it and carried that momentum into the fifth," Ginipro said.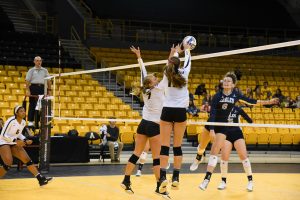 The fans were brought back into the excitement of the game when the momentum tilted back toward App for the decisive fifth set, and the 'Neers quickly jumped up 4-1. Georgia State was able to tie it up at 11, but App State rattled off three straight and gave themselves a commanding 14-11 lead, needing just one point to seal the victory. The Panthers had other plans, coming right back to knot things up at 14-14.  Neither side could win two straight points until the Panthers finally broke out and took the set 22-20, taking the match three sets to two in a heartbreaking fashion.
"Kudos to Georgia State, when they were down 14-11 they did what they needed to do," Ginipro said.
Although the Mountaineers could not quite seal the deal on their first home victory, they showed a lot of fight and resiliency, battling back whenever Georgia State was looking to take control.
App showed flashes of their potential and how good the young team has a chance to be, but showed they are not where they want to be just yet.
"[Consistency] has been our roller coaster all year. We haven't put a consistent performance across the board in a bunch of matches," Ginipro said. "Our ball control group will have a really good day and then our hitting group won't. I see the team that we are, it's just that we haven't strung it for an entire match in a long time."
Sophomore hitter Melissa McMath elaborated: "If we can be the team that we have the potential to be, we can be unstoppable. It's just gonna have to take us working hard, focusing on the process and pushing to make our execution better to try to pull out a win."  
Up 14-11 in the fifth set needing just a single point to chalk up the win, the Mountaineers were unable to finish and it ultimately cost them the match.
"We've gotta learn how to close it out. We were struggling not only statistically but also just with bodies. I had no subs for anybody. We were down to two left sides, a middle and a right," Ginipro said. "When somebody's struggling and we're that thin, it makes it hard."
McMath and freshman outside hitter Lexi Kohut led App with 20 kills apiece while Kohut added four blocks and McMath added three. Setter Ashlyn Brown paced the Mountaineers with 51 assists and senior libero Olivia Loeffler picked up a team-high 32 digs.
"Lexi and I took this game and we said, 'We're gonna go hard, we've gotta go at it.' This past week we just didn't have really good matches. We took this match and we were like 'we've gotta go hard'", McMath said.   
"We gotta have hope. We aren't gonna win every match but we gotta keep fighting," McMath continued. "We just have to execute now. The fight is there. Execution is really the key thing right now."
Story By: Silas Albright, Sports Reporter 
Game Two: Sunday, October 8 at 12:30 p.m. vs. Georgia Southern
With plenty of App State sports taking place this past weekend, one of the most entertaining games took place on Sunday at Holmes Convocation as Appalachian State's volleyball (7-11, 2-4 Sun Belt) hosted the Georgia Southern Eagles (5-11, 2-4 Sun Belt), and picked up their first home win of the season in four sets.
The game had it all, including multiple lead changes, kills, blocks and strong defensive play on both sides of the court. While both teams were evenly matched, the Mountaineers proved they had the drive and pulled away with a statement win at home two days after falling in a tough five sets to Georgia State.
App State proved they meant business from the initial whistle, scoring four unanswered points right off the bat to jump to a commanding 4-0 lead. Despite the early attack, the lead changed a total of three times in the initial set. Thanks to kills from Eagles' freshman Skylar Ball and junior Anna Wenger, the Eagles managed to hold off the Mountaineers to win the first set 25-23.
After a rough first set, App State came alive in the second and third thanks to the power combo of freshman outside hitter Lexi Kohut and redshirt sophomore outside hitter Melissa McMath. The two combined for a total of 45 kills, more than half the teams' kills the entire day.  
"We just went after it, we played our game and used our momentum to keep building and maintain," McMath said.
On top of some stellar offense, these two also played extremely well on the defensive half of the ball, with Kohut putting up a huge block to give App a lead early in the second.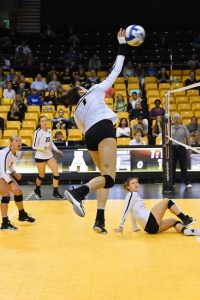 "They (Melissa and Lexi) played a great game," head coach Matt Ginipro said. "We can't lean on them every game, but that will be our team focus this week, making sure everyone is contributing."
App State went on to win the fourth set and the match, thanks to their consistent defense. Redshirt junior libero Olivia Loeffler led the team with 18 digs, followed closely by McMath with 12 of her own.
Overall, the Mountaineers played a more complete game and got more production from areas that lacked it previously.  They got a win they desperately needed at home and gave themselves some momentum for another home standoff against the Chanticleers of Coastal Carolina University.  
"Coastal is really good, they have a ton of weapons, but if we can get our middle connection that will lighten the load for the outside," Ginipro said.
App State will travel to Conway, South Carolina to take on Coastal Carolina Oct. 13 at 6:30 p.m. They will also be hosting the Chanticleers Oct. 15 in Boone at the Holmes Convocation Center.
Story By: Garrett Wold, Intern Sports Reporter
Women's Soccer Recap.
October 6 at 6 p.m. vs. Georgia State 
The latest matchup between Appalachian State women's soccer and Georgia State truly showed the strength of this rivalry as the Mountaineers (2-9-3, 1-4-1 Sun Belt) fell to the visiting Eagles (5-6-1, 3-3-0 Sun Belt) 2-1, in a very eventful game on Friday night.
App State came ready to play with several early chances including a close-range effort by senior forward Sharon Osterbind that was narrowly saved by the Georgia State goalkeeper, as well as a missed header from sophomore midfielder Ava Dawson, both coming in the first five minutes of the match.
The deadlock was finally broken in the 18th minute when Georgia State defender Asha Vilaythong scored on a one-on-one with redshirt sophomore goalkeeper Taylor Ray.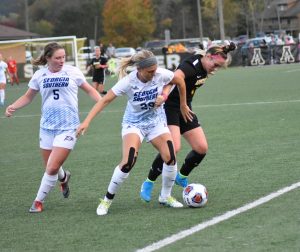 After going into halftime facing a 1-0 deficit, the Mountaineers came out strong in the second and tied the score in the 71st after a powerful penalty kick by senior defender Morgan Mosack after a handball in the box. This was good for Mosack's first goal of the season and the third of her career.
Just a few minutes later, Georgia State's Sarah Price earned the Eagles another goal that proved to be the game winner.
Both squads put on strong offensive displays during the game, each with 12 shots on goal. Junior forward Emmily Cowie was able to use her skills to contribute two of the 12 shots for the Mountaineers.
Up next, App State will travel to Little Rock, Arkansas on Oct. 13 and hopes to improve their chances of making the Sun Belt Tournament.
Story By: Zack Antrum, Intern Sports Reporter
Photos By: Lindsay Vaughn, Senior Staff Photographer and Halle Keighton, Photo Editor.