Horn in the West begins search for talent at home
Performers sung, danced and recited monologues at the Valborg Theatre Saturday in hopes of doing the same all summer this year for Horn in the West's annual auditions.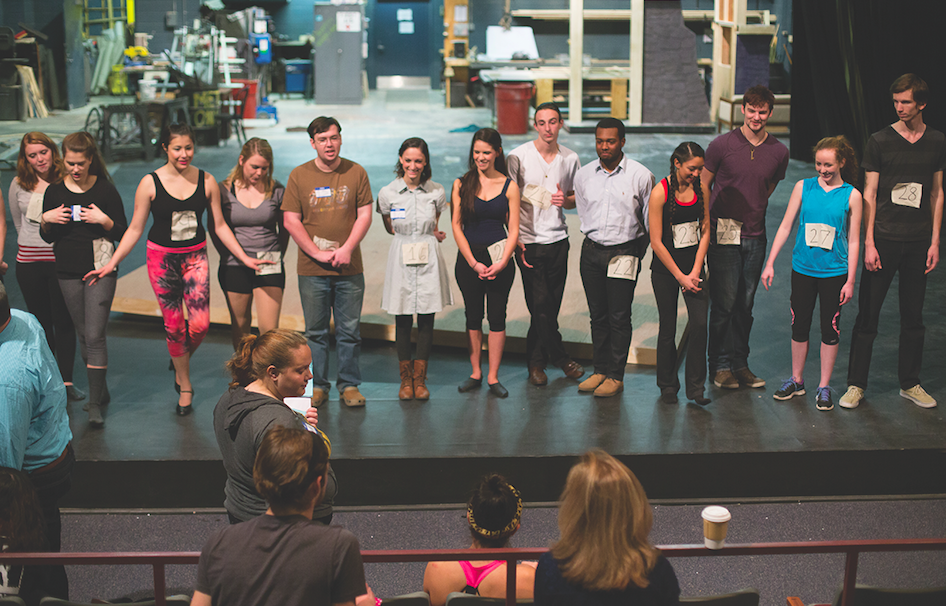 The outdoor Revolutionary War drama, now in its 64th year of production, is looking to fill around 40 spots in their cast this year overall. Last year the  drama  cast around 16 locals and Appalachian State University students from the 60 to 80 people who show up to this first of three mass auditions.
"The local people have a couple of advantages – for one, they're from this place, their heart is in it and we know them – they're not strangers to us," said second-year director Theresa Lee.
She and other organizers are above all looking for talent and stage presence – and the strength needed to light up an outdoor amphitheater in all sorts of weather, six days a week, all summer long. Singers and speakers must be able to sustain their voices above cicadas, and all performers must wear several layers of period-accurate clothing in the heat on a sand stage.
"If you've never done it before, there's really no way to convey what it's like," said senior theater major Jake Dailey. "When I first auditioned for it two summers ago, I remember everyone told me all these things and I said, 'Yeah sure, whatever,' but once I got there it hit me."
Dailey first auditioned on a whim two years ago in hopes of finding relevant summer work that would last the whole summer. He was cast as a dancer the first year and landed a principle speaking role the following while also serving as fight captain.
"First of all, you want to show the technical abilities of being loud and clear and physically capable of doing things, then you just have to show that you're dedicated," Dailey said. "In these things it's very easy to get frustrated or overwhelmed and I've seen people come very close to breakdowns."
That said, he does acknowledge that Horn in the West serves as one of the best places to make connections and network in the theater world with other actors of all levels of experience, in and out of the state.
"It's a really wonderful first or second or third job for theater students," Lee said.
Lee first got involved with the Southern Appalachian Historical Association, which puts on the show, in 1989 after she moved to Boone and started the Daniel Boone Theater for Youth. Five years ago she trained with the stage combat fight master for Horn in the West, although she was not involved with the show yet, in hopes of building her own training for use in her theater classes at the university.
Last year, after she returned to work with the cast, the position opened up and she was chosen to replace the long-running director. First on her list was to make changes to the existing scripts in hopes of bringing the story and its characters more into the 21st century, namely by correcting some historical inaccuracies and misrepresentations of the Cherokee characters in the original script.
This has been done in part through the help of a Nancy Ward descendent and reenactor to help with portrayals, as well as Cherokee representatives from Hickory Ridge living museum, said Alice Neff, costumer for the show who has taken this advice to heart even down to the techniques used to dye her fabric.
"I think we have all learned to love history even more than we did, and I think it's a great way for the audience to learn it too," Neff said. The show depicts a battle that many think of as the turning point of the revolution.
Senior theater major Emily Candelario will be returning for her second year as a performer after first being hired to help with some costume stitching three years ago. She has since performed dual roles of costumer and actor, sometimes filling many roles on stage in one night, necessitating several costume changes each.
"It's a different experience than you can get with any other form of educational theater," Candelario said. "Any professional theater company is going to be different, especially since this is outdoors, and it presents a different slew of problems."
Especially given Boone's summer rain, heat, changing humidifies and shifting temperatures even just over the course of a single night, returning to the show year after year proves to other companies that beginning actors have the wherewithal to stay loyal to a theatre – and that the theatre wants them back.
"You wouldn't go back to Horn if you didn't love it," Candelario said. "You have to love it to put up with the long hours and long days."
Following this weekend's auditions, Lee will travel to Memphis, Tennessee for Unified Professional Theater auditions at the end of this week, where she anticipates 850 people will try out for parts – and expects to see around the same number at the Southeastern Theater Conference auditions the first weekend in March.
The show's cast in the past has featured everyone from 5-year-old twin girls to 40-year-old men, all of varying experience.
"The people that come to see the show – even though the story takes place in the Revolutionary War era –what appeals to audiences is that they can see themselves on stage," Lee said. "They see their own lives."
Casting will be finalized after all the paperwork is finished in mid-March. Technicians will show up June 5 and actors start June 12.
The show for the Horn in the West's 64th season, which has been in the works since last August, opens June 26, and runs Tuesday through Sunday at 8 p.m. until mid-August.
For more information visit www.horninthewest.com.
EDITOR'S CORRECTION: Because of an editing error, this article misstated the location of the Horn in the West's auditions and gave the impression that this summer's show will be the Horn in the West's final show. Auditions took place inside Valborg Theatre, not outside. This summer's show will be the Horn in the West's 64th season, but not its final season. The Appalachian apologizes for these errors.
Story: Lovey Cooper, Senior A&E Reporter