Housekeeper is 'loving and caring'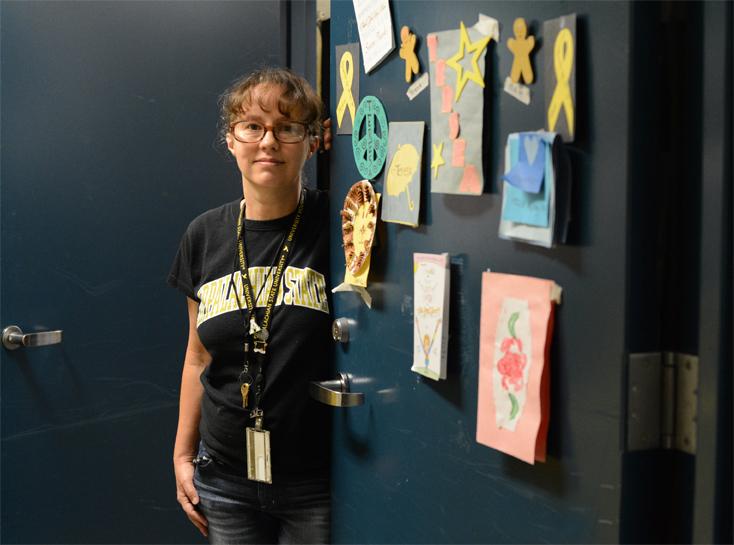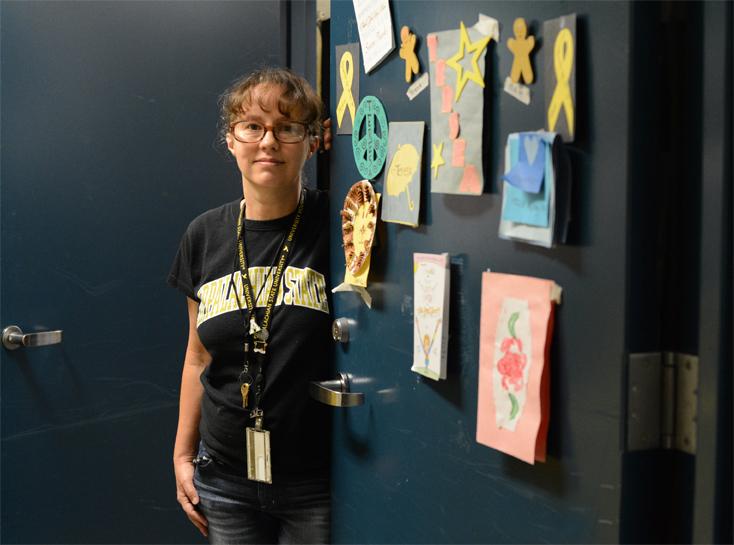 Editor's Note: The following is the first part of a four-part series about behind-the-scene employees at Appalachian State University.
On a sunny day, residents of Frank Hall head outside to enjoy the weather, but before they leave to set up a hammock, they stop to say hello to their housekeeper and ask her about her day.
She jokes with the residents, and her boss brings her a thank you card for helping out a fellow housekeeper.
This housekeeper is Teresa Davis. She has worked at Appalachian for seven years.
"I was looking for a more permanent job then what I had been used to," Davis said. "I had always waitressed and cooked and I tried my hand at housekeeping."
Davis said she enjoyed working as a waitress and cook before her time as a housekeeper, but she decided to work at Appalachian because of the health insurance and retirement.
"I've not had a day that I dreaded coming in," Davis said. "But Mondays are a little scary because the kids had all weekend to do their stuff and so it can be a little hard to come in."
But Davis doesn't just housekeep for Appalachian.
Davis said that to pay the light bill for her home she cleans the laundry room and showers at the campground where she has lived for three years.
Since her husband has gone back to work, Davis said she wakes up around 4 a.m. to drive her husband to his work 20 miles away at the Tennessee line before arriving to work as the housekeeper for Frank Residence Hall.
"I've had my best year in here compared to some of the other buildings," Davis said.
Davis said the housekeeping community at Appalachian works together to help out if a member of the community is in need.
They do things like help out in other buildings and give monetary donations.
"It's really like we are brothers and sisters, that's the way I see it," Davis said.
One of the craziest things that happened to Davis during her time as a housekeeper was the time she found a fire hydrant in the stairwell of Justice.
"Maintenance had to come and carry it out, it still had the dirt in it and everything from where they broke the pipe off," Davis said. "We never found out where it came from."
Davis said the students she has worked with this year in Frank have been wonderful.
"They see me every day sitting here watching the soap operas and they all wave at me and say 'Hello' and 'How are you?'" Davis said. "They are all nice and courteous."
Davis has contributed to the Appalachian community in other ways as well.
She has served on committees and set up efforts on Earth Day in 2010 to see how much power each residence hall uses.
"I love getting into things with the students," Davis said. "I love getting into things with the people I work with."
Davis plans to stay with her job as a housekeeper until she retires, which might be sooner than she had planned because of health issues.
However, she remains optimistic.
"This job will work with me on stuff like that," Davis said. "They want you to do your job too, they just want to help you out."
Facilities coordinator for University Housing Brad Smith said Davis is a perfect fit for working in residence halls because she is such a caring and kind person.
"Teresa is one of the most caring people I have ever met," Smith said. "She really cares about people. She goes above and beyond what's expected for her."
Story: STEPHANIE SANSOUCY, Senior News Reporter
Photo: OLIVIA WILKES, Senior Photographer