Hurricanes blow away Mountaineers
The No. 25 Miami Hurricanes wiped out the Mountaineers 45-10 in front of the largest crowd in App State history in a game that was aired on ESPN.
Just two weeks after pushing then No.9 Tennessee to the limit, the Mountaineers (1-2) were no match for the Hurricanes who had a 549 to 241 advantage in total yards and moved App under a .500 record for the first time since November of 2014 when they were 4-5.
"I feel bad for our fans the way we played today," head coach Scott Satterfield said. "Sometimes you don't match up well or play enough and that's what happened today. As an alumni of the school I was extremely proud of the atmosphere of the game and it's unfortunate we got off to a bad start because it takes the crowd out of the game."
Being hyped up over the last 10 months when Miami (3-0) announced they would be the first "Power Five" team to visit Boone for the first of a home and home series, App State fans electrified the stadium as the game ball was delivered by a skydiver and country singer and Appalachian alumnus Eric Church did the honor of tossing the pregame coin flip.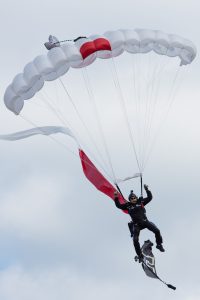 Despite all the pregame hype, fans were abruptly silenced as Miami sophomore running back Mark Walton broke away tackles for an 80-yard touchdown run on the Hurricanes first play of the game giving them an early 7-0 lead.
"We knew we would have to be ready for the offense and we were still trying to make adjustments at the time and that's just something you always have to be ready for as a defense," junior linebacker Devan Stringer who finished with five tackles, said. "It's something earlier in the game where we didn't make adjustments as fast as we needed to."
Hoping to swing momentum right back to their side, junior quarterback Taylor Lamb struggled to get anything going as he started the game one-for-seven passing and eight yards through the first quarter.
"We just got behind the chains and it's hard to throw the ball behind the chains," Lamb said. "I made some bad throws in the first half and we kept falling behind the chains and the penalties would back us up. You can't do that against a good team like Miami."
Things didn't get any better on defense as Miami's fast tempo, no-huddle offense was too much for the App defense and projected first round NFL draft pick junior quarterback Brad Kaaya threw the first of his three touchdowns to tight-end David Njoku to give Miami a 14-0 lead. Kaaya finished the day with an impressive 368 yards on 21-for-27 passing.
"We were out of position with some of those deeps throws," Satterfield said. "There are little things and if you are playing a team that is not as talented, you can overcome that cause you can make up ground, but when you are playing a team with a quarterback like Kaaya who is a high draft pick and you are late getting there you will pay."
Almost becoming one of the biggest momentum changers of the game for App, senior running back Marcus broke away for a 79-yard touchdown that was called back because of a holding penalty on senior wide-receiver Shaedon Meadors.
"We have been pretty good with penalties but today it cost us big time. If you hit one or two plays there, the ball game is different," Satterfield said.
That would be Cox's last play for the day, though. He did not return after limping off the field and later being diagnosed with a lower body injury.
Junior running back Jalin Moore would take the snaps as the back the rest of the game but Miami continued driving and App fell behind 21-0 after Kaaya threw a 55-yard touchdown to wide-receiver Stacy Coley.
"In a big game falling behind 21-0, it hurts," Lamb said. "We had momentum for a little and they then gained momentum and that is a big part of football and we can't play like that against a good team or a bad team."
After a Miami field goal to fall behind 24-0 and App redshirt freshman kicker Michael Rubino missed a 42-yard field goal, the Mountaineers finally held the Hurricanes to their first punt in the second quarter and would go on their longest drive as they consistently ran the ball.
Moore would run the ball for a 30 yard gain bring App to Miami's one-yard line, but unable to rush into the end zone, Lamb fumbled the ball on third down and recovered only giving the Mountaineers a field goal after an 11 play, 74 yard drive.
"As a team, we responded well. We just came back and played hard," Miami defensive-lineman Chad Thomas said. "We had it in our mind that we couldn't give up."
Hoping to get the fans back into the game in the second half, App State had a huge momentum changer when Kaaya was intercepted at the Mountaineer's one-yard line by senior linebacker John Law that was returned 60 yards to Miami's 38-yard line.
"When they ran the play, I was matching him, and he shied out to the flats and when the quarterback threw it, it was my ball, I had to have it," Law said.
The interception led to Lamb throwing a 24-yard touchdown pass to senior tight-end Barrett Burns making it a 24-10 two-possession game.
Finally having momentum back on their side, the Mountaineers allowed a 61-yard throw on third and 10 from Kaaya and were called for a seven yard facemask penalty leading to another Hurricanes touchdown putting App behind 31-10.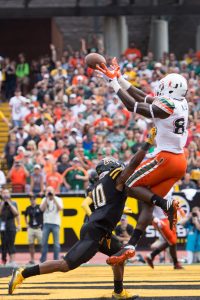 "We came out in the third quarter and did really well. We got the interception by Law and then scored to make it a two possession game," Satterfield said. "Then, we couldn't get anything going after that. From that point on, I think it was out of reach."
The Hurricanes went on to score two more touchdowns as the record crowd began exiting the stadium for a disappointing loss but a strong performance from the Hurricanes.
"I am very proud of our team," Miami head coach Mark Richt said. "We came in very well prepared and played with the type of edge that you have to play against an outstanding team such as App State. They are a team that's super physical and super good at what they do."
App State did not get the type of outcome they expected after months of anticipation, but now they have to turn around and focus on their next opponent.
"Winning the football game is ultimate goal, and this one hurts just like every other one," Satterfield said. "Obviously it was our biggest game as far as attendance goes, a ranked Power Five team, but you still have to go out and play the game. The season is not over and we have a lot of football left to play."
The Mountaineers head back on the road to play Akron next week at 3:30 p.m. in their final non-conference game.
Story By: Jason Huber, Sports Editor
Photos By: Dallas Linger, Photo Editor