During the first week of September, International Appalachian, or INTAPP, hosted information sessions for prospective students to learn about the organization. Applications for membership opened on AppSync on Sept. 4 at 8 p.m. and close on Sept. 13.
INTAPP is a student-run organization that works to promote studying abroad, international relations and recruitment, and leadership.
Emily Sedlacek, senior English and French double major, and the business chair of INTAPP, said that she joined INTAPP because of events the organization hosts. INTAPP hosts Culture Crawl in November and the Coffee Buzz 5K that supports the Landon Hill Study Abroad Memorial Scholarship.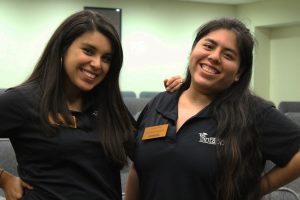 "I was lucky enough after I graduated high school to do some international travel," Sedlacek said. "When I got here, I became a French major and went to a few INTAPP events. In the spring, it will be my third year with INTAPP."
Letissia Akue-ka, junior exercise science major, said that they became interested in the organization because of their personal experiences as a foreign student.
"I moved here six years ago. My high school experience wasn't the best and when I came to App I loved the atmosphere," Akue-ka said. "I want to help other international students have the same experience."
Other students who were interested in joining INTAPP said that they wanted to join because they knew current members of the organization.
"Knowing people who are already a part of INTAPP is kind of what drew me in," Sydney Mesquiti, a sophomore psychology major, said. "I think a lot of it has to do with people welcoming other people onto this campus. I know what it is like to feel alone and scared and not know what is going on."
This year there are 25 spots open for students hoping to become members of INTAPP, Sedlacek said. However, that doesn't mean that 25 new members will be accepted.
"We don't just want quantity, we want quality," Sedlacek said. "We generally want people who love what we're doing, have something to bring to the organization and are committed and excited about it."
Jessica Deal, sophomore psychology major, said that she wants to be involved in INTAPP because of her desire to study abroad.
"I have never been abroad and I want to go my junior year," Deal said. "I'd really like to immerse myself in that kind of culture because I've never done that before."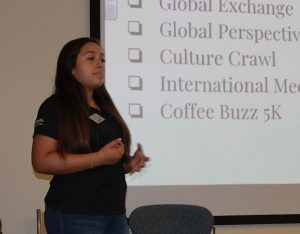 Sedlacek said that international travel is one of the main reasons students get involved with INTAPP.
"You'll hear from a lot of people in INTAPP that we love to travel," Sedlacek said. "We love what we do. I'm really passionate about what we're doing. I think we live in a time where it's important to encourage people to get to know a culture that's outside of their comfort zone."
For students who have applied to INTAPP, the next steps include the "Interaction with INTAPP," on Sept. 13, followed by a one on one interview, and then a group interview with multiple members of INTAPP. According to Selacek, the group interview and the Interaction with INTAPP allow INTAPP members to find prospective members that they believe would be a good addition to the group.
"The interaction is an event that is a meet-and-greet that is very low pressure," Sedlacek said. "It's also It's pretty much an opportunity for those who are applying to get to know us better. We really want to be able to get to know everybody and be able to put a name to a face."
For Chi-Lun Tsang, a senior English major from the U.K., working with INTAPP has changed their overall experience entirely.
"I've had dinner with them, and I've met up with them to hang out," Tsang said. "They're always interested to learn about my culture, and they're nice people all around. I personally feel that without INTAPP, coming to America would have been crazy and difficult."
INTAPP is an organization that seeks to improve international understanding and weaves internationalism into the culture of App State's campus.
"It's not listed as one of our goals, but we try to bring people together," Sedlacek said. "It's important to find your community. For our organization, personality doesn't really matter."
Story by Anna Muckenfuss
Photos by Anna Muckenfuss
Featured photo caption: INTAPP members Issac Medina, Luis Rangel, Cintya Garcia and Anna Rau represented the organization at the interest session.