Jessica Barrios finds ways to support her team while recovering from injury
Jessica Barrios, a guard on Appalachian State's women's basketball team, spent last season overcoming an ACL injury and is now working on recovering from another unfortunate injury.
Barrios was redshirted last season due to her injury recovery, protecting an extra year of eligibility. Now, as a redshirt sophomore, Barrios suffered a torn meniscus, again forcing her off the court.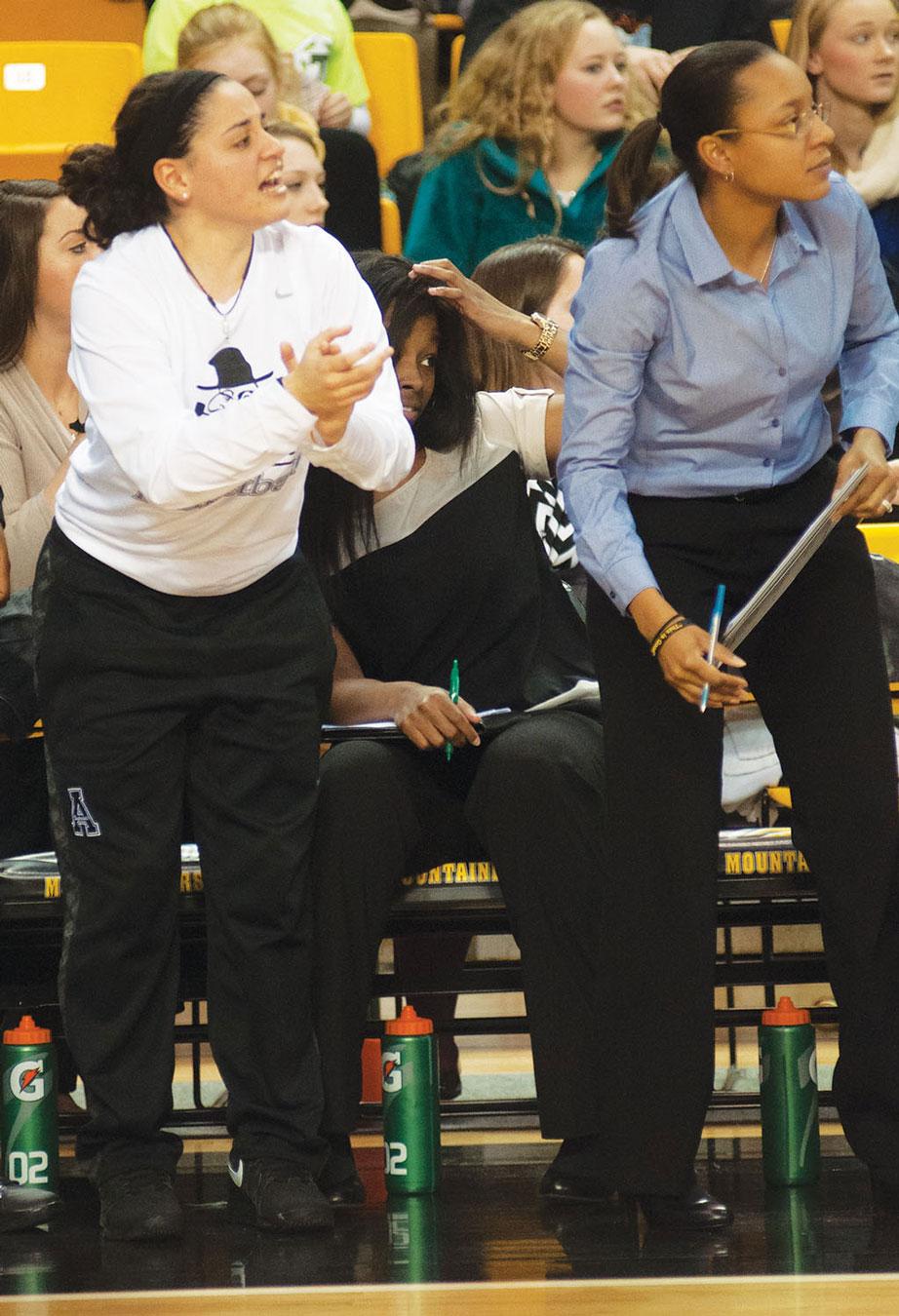 Barrios has made only one appearance this season, which came in a victory over Lees-McRae.
Her time off has made her anxious to make a return to the court for the Mountaineers.
"Recovery only takes three weeks and I work hard so I'm trying to make those three weeks into two," Barrios said. "Hopefully next week the doctor will clear me. I worked my butt off. I still don't feel 100 percent, but eventually I know I will."
With only nine SoCon games remaining before the conference tournament begins, Barrios said she expects to return before the tournament starts.
Head coach Darcie Vincent is confident that Barrios will come back full force from her injury.
"I think my expectation has always been the same with [Barrios] no matter what it is," Vincent said. "She's a phenomenal person, a great leader, she has a tremendous amount of work ethic and love for this game. I'm not surprised that if the doctor told her to take five weeks off, [Barrios] will be back in three. Even how she prepared coming back from the ACL injury, it's the same thing. She's just phenomenal. She doesn't even know that a glass could be half empty."
Even during her time off from the court Barrios still continues to support and help her teammates grow. Her willingness to be there for her teammates has earned her the respect of the returning Mountaineers as well as the new ones.
"Jess is one of those players that even when she's not playing you know she's there," junior forward Maryah Sydnor said. "She's always supporting, she's always communicating, she's always just helping you out on the court. She's a natural and true leader and it's just more respect to her. I love Jess, I'll listen to her, I'll bend over backwards for her and I think that's how most of our team is because she has gained that respect."
Barrios said she is proud of the progress the new members of her team have made this season, and hopes to join them on the court before the end of the season.
"I feel selfish sometimes, not being able to practice and dress for games and not being able to help my team in other ways besides yelling gets me every time," Barrios said. "I try to hide it, but it does get to me. It's hard."
Story: Jess Lyons, Sports reporter
Photo: Addison Wemyss, Intern Photographer