Jim Fox named new basketball coach
Jim Fox, former Davidson associate head basketball coach, was named the 16th head coach of Appalachian State University's men's basketball program Tuesday,  announced by Athletic Director Charlie Cobb.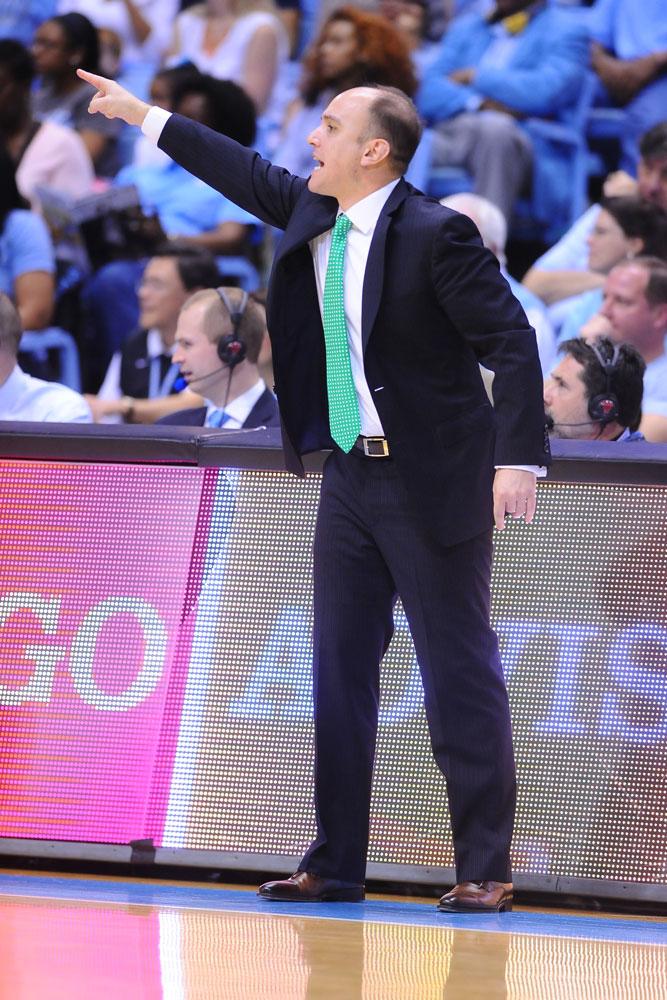 Fox replaces former head coach Jason Capel, whose contract was not renewed after going 9-21 this past season.
Fox comes to Boone after 13 seasons at a Davidson program that went to the NCAA tournament six times, the NIT twice and the CBI once during his tenure. Fox was also part of an Elite Eight run in the 2008 NCAA tournament.
He also helped Davidson win six Southern Conference championships and will lead the Mountaineers into new territory as App State joins the Sun Belt Conference in all sports July 1.
Cobb said Fox was chosen from a list of 10 potential head coaching candidates.
"We spent a lot of time thinking, and we came out with [Fox]," Cobb said. "I'm excited he is here, and he brings outstanding credentials to App State. He is the agent of change we have all been looking for."
Fox worked under head coach Bob McKillop throughout all of his time at Davidson. The Wildcats went 288-130 in Fox's 13 seasons with McKillop.
"Jim was a significant factor in our success and will be a superb addition to the Appalachian State program," McKillop said in a statement from App State athletics. "He has a clear understanding and respect for what Appalachian State represents after having played against them through the years."
During his 13-year tenure, the Wildcats had 27 all-conference players, six conference players of the year, three league freshmen of the year and four All-Americans. Most notable among his recruits is former Davidson star and current NBA All-Star Stephen Curry, who plays professionally for the Golden State Warriors.
"Coach Fox is a great leader that knows how to connect with his players both on and off the App State athletics. "He knows the game, puts the time in to make himself better and will get the most out of each player he coaches. App State is getting a gem."
The 40 year old Levittown, N.Y., native graduated from New York State University at Geneseo in 1995 with a degree in political science. Fox started out his coaching career as the associate head coach at St. Dominic High School in Oyster Bay, N.Y., from 1996-2001.
He was the head coach of the program's first team and led the squad to a 55-1 record over four seasons.
During his time coaching in the high school ranks, Fox helped coach 20 future college basketball players as the head coach and director of the Long Island Lightning AAU Basketball Club. McKillop's son Matt Mckillop, who went on to be a three-year starter at Davidson, played for Fox at the AAU level.
"I couldn't be more excited," Fox said. "I've been at Davidson for 13 years and there's anxiety, but once I put on the black and gold polo, it felt good."
Fox said there is doubt in players' minds surrounding a new coach, as well.
"The first thing I told them was, 'Guys, we are a family. You're my guys,'" Fox said. "There's such a fine line in college basketball between being good and being great and I have to get them to believe that we are not that far off. They want to do it."
Fox said he can tell the Mountaineers want to achieve greatness and that he needs the community's support in establishing a winning culture within the basketball program.
"This is my call to arms to the season ticket holders, to the alums, the boosters and everyone listening on the radio: I need your help and to get behind us," Fox said. "I want to be mayor of Boone by the time September rolls around. I want to get you excited about what we are going to do here."
Story: Bryant Barbery, Intern Sports Reporter
Photo courtesy of Davidson Athletics  |  Tim Cowie