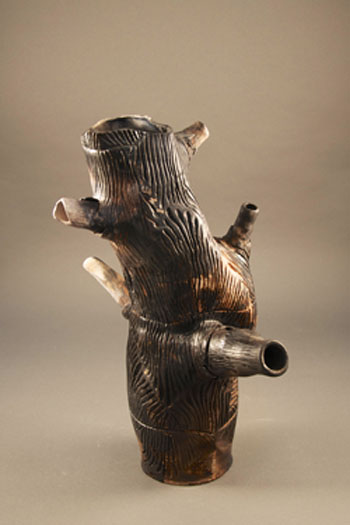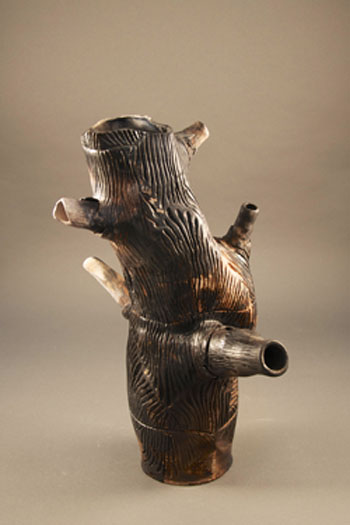 Editor's Note: The following is the third part of a three-part series on students in Art Expo 2013.
Boone resident and junior Laurie Kirkpatrick has loved art for as long as she can remember, but only recently discovered her favorite medium: clay.
The studio art major's pit-fired ceramic piece "Symbiosis no. 2" was picked by a jury to be featured in the 2013 Art Expo, an annual exhibition of selected student artists' work.
This is Kirkpatrick's first time showing at the Expo.
The piece features a surface of deep blacks, pinks and whites, which are created by the pit firing process. The title of the piece refers to the biological term mutualistic symbiosis, meaning two living organisms that cannot live without each other.
"I chose to represent this through the relationship between the bark beetle and a type of tree fungus," Kirkpatrick said. "The bark beetle carves incredibly intricate patterns into the tree trunk while eating the fungus from it."
The common theme of her work that is explored through symbiosis was inspired by the strong relationship she shares with her mother.
"It is an incredibly strong relationship that can hardly be expressed through anything but a biological need – which is why I chose the phenomenon of symbiosis," she said.
Kirkpatrick said two wonderful and creative parents raised her. Her father owns a construction business with the slogan, "Building art you can live in," and her mother is a full-time artist. Born and raised in Boone, Kirkpatrick has been involved in and loved art for as long as she can remember.
"I have always been encouraged to pursue what I love to do and that the rest will follow suit," Kirkpatrick said.
At Watauga High School, she was encouraged to take classes relevant to her interests.
"Art was all I wanted to do and all I wanted to learn about," Kirkpatrick said.
Her artwork manifested itself through mostly two-dimensional paintings and drawings until she found her calling for clay in a throwing class at Appalachian State last summer.
"I am so fortunate to have gone to a liberal arts college, because here I have had the opportunity to explore topics that I love, and realize that I love learning about topics such as sustainable development and biology, as well as art," Kirkpatrick said.
The featured piece is similar to her recent work, although since its creation she has been working in porcelain, improving her pottery throwing skills and exploring functional works.
"I am working intuitively and I trust that themes will develop as I go along," Kirkpatrick said.
After graduation, Kirkpatrick hopes to continue her education or become a full-time artist.
The exhibit is on view until March 16 in the Turchin Center for the Visual Arts.
Throughout the month of February, the public may vote on their personal favorite piece and the Plemmons Student Union Art Committee will purchase the winners' pieces for display in the Turchin. The public reception and awards ceremony for selected artists takes place Friday, March 1.
Story: LOVEY COOPER, Senior A&E Reporter
Photo Courtesy: LAURIE KIRKPATRICK