Junior guard Frank Eaves rises up to lead Mountaineers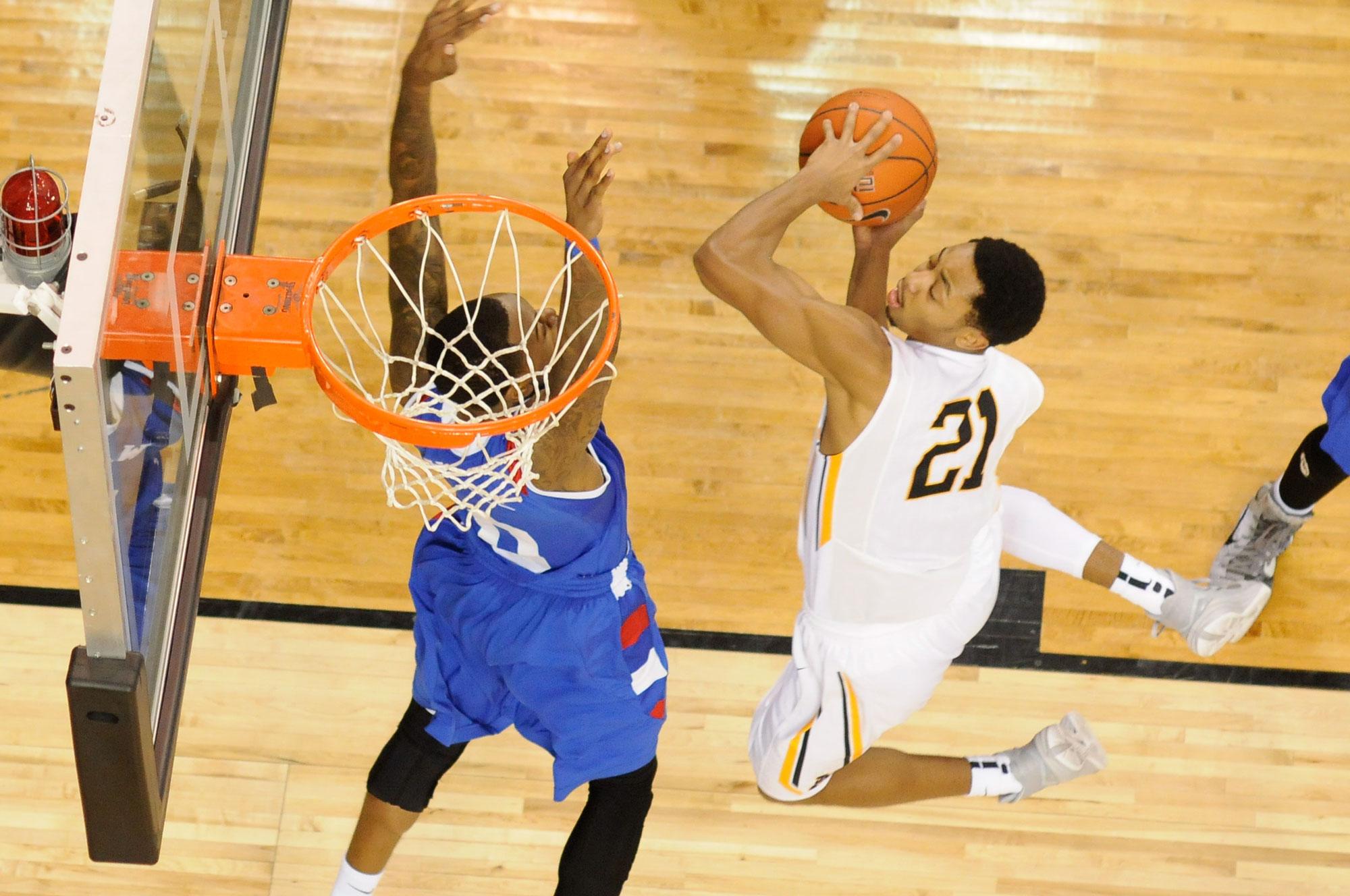 At the beginning of the season, App State men's basketball faced many questions.
Head coach Jim Fox was entering his first year in the position after spending 13 years as an assistant and associate head coach at Davidson College, the team lost seven contributing players for various reasons and had a complete overhaul of the assistant coaching staff.
With so many question marks and new faces, the team needed guys to step up. In particular, the team needed an explosive guard to fill the void that former point guard Mike Neal left behind.
This season, junior guard Frank Eaves has answered all of those questions with an exclamation point at the end.
After being a quiet contributor as a freshman, Eaves increased his numbers even more as a sophomore. In fact, it seemed success was to come for Eaves from the beginning as he scored 16 points in his collegiate debut against Montreat in 2012 – the most points by a freshman in his first game since Kellan Brand's 19 against North Greenville in 2006.
This year as a junior, the Greensboro native has truly come into his own.
Eaves leads the team in several different statistical categories, including scoring, free throws, steals and minutes. He averages 18.1 points and 3.9 rebounds in just over 33 minutes per game.
Eaves has doubled his minutes and rebounds per game and more than tripled his points per game from last season.
The Mountaineers recent success during a four-game winning streak has been largely thanks to Eaves, as well.
In App State's most recent win over Texas State, Eaves set a career-high with 31 points.
Eaves was awarded his second Sun Belt Conference Player of the Week honor of the season after his performance in the win over Texas State. The other award came during the week of Nov. 25.
Eaves said most of the credit for his sudden success goes to his teammates and coaches.
"The system that coach brought in, it works for me very well," Eaves said.
Teammate and fellow guard, Chris Burgess, cited Eaves' work ethic and dedication as a player and leader as keys for his recent success.
"This offseason, [Eaves] worked really hard," Burgess said. "He really came out with a new attitude. Now he's got a chance to really show his talent and he's really showing it. That comes with the hard work. He's always in the gym working."
Burgess also added that Eaves possess a unique ability to not only lead the team, but also make those around him better.
"He's always trying to get other people in the gym," Burgess said. "He wants everyone to do [well] and to work hard. All he's really focused on is winning games. He's a leader on the court and he pushes everybody."
Fox said Eaves has one thing that can make or break an up-and-coming player – basketball knowledge and the ability to quickly learn.
"[Eaves] is someone who has a good basketball IQ," Fox said. "He understands what we need him to do and he really uses the system well. He always has worked hard and that's showing out."
Eaves and the rest of the Mountaineers will hit the court again Thursday against Georgia Southern on the road as the team looks for their fifth-straight win. The game is set to begin at 7:30 p.m.
Story: Brooks Maynard, Intern Sports Reporter
Photo: Justin Perry, Web Manager