The kava and kratom craze
A colorful chalkboard sign outside of Noble Kava states that they are open, and welcomes customers inside, advertising the specials for that day. There is a bar in the back as well as several tables and couches spread around the lounge area. People talk with freshly ladled kava and kratom drinks in their hands while others quietly do work.
Kava is a root from southern Asia that relaxes and calms the nerves of its consumers. According to Noble Kava employee Dion Cooper, the beverage can relieve symptoms of anxiety, stress, restlessness and sleeplessness. As a legality for work, Cooper said it is generally a safe beverage to consume, but people should not drink alcohol 24 hours after having kava.
"Kava specifically has a very relaxing, I almost say 'melt into your seat' experience," Cooper said.
Since kava has a reverse tolerance, new customers get their first shot for free. Cooper said that it usually takes about two weeks of regular kava drinking in order to feel the full effects and that the first time people drink it, they are unlikely to feel different because not enough of the root has been built up in the person's system.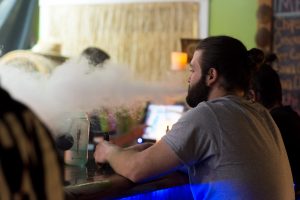 Cooper has worked at Noble Kava for over a year and a half now. Before he got the job, he was a regular at the bar and would help the manager out periodically.
Cooper likes the kava bar because it serves as an alternative space for people 18 years old and older to visit and hang out.
"I think kava is a really good unwinder," Cooper said. "It's good to drink after you've had a stressful day at work or if you just want to take a load off and relax. In my opinion, it's a much better alternative than drinking alcohol or anything like that."
Quan Forney, a sophomore computer science major, tried kava for the first time a month ago because some friends convinced him to.
"It tasted like dirt mixed with water, but it looks like Yoohoo," Forney said.
Forney was glad that he tried it, but said that he would not have it again. He did not feel any effects from the shot that he took, and did not understand why people would drink it regularly.
Unlike Forney, freshman criminal science major Shay Kallam felt some of the effects from kava after drinking it for the first time over the summer.
Kallam does not consider herself to be a regular at Noble Kava. She said she only drinks it when she has nothing else to do and wants to try something different.
"[I think people drink kava because] it has a nice after effect and makes you feel calm," Kallam said.
Sophomore international business and economics major Eli Schwarz has been a regular at Noble Kava since the first week of his freshman year.
Schwarz likes kratom much more than he likes kava.
"I don't know why people drink kava," Schwarz said. "They say that kava will give you an effect if you drink it enough, but I have never felt one before. It just tastes bad."
Kratom is another popular drink that Noble Kava serves, and has different effects than kava does. The difference between the two is that kava is made from the roots of a plant, whereas kratom is made from the leaves of a different plant in Asia.
There are different veins of kratom that are served. The white and yellow veins typically give people energy, whereas the red veins calm consumers down.
"I get energy and I feel more talkative," Schwarz said. "If I have a social event, then I will drink the white vein so I can feel more relaxed. For presentations with my club, a lot of times I will drink the yellow or white vein."
Schwarz was able to feel the effects of kratom immediately after he drank it. Unlike kava, kratom does not have a reverse tolerance.
"I prefer kratom because I feel more from it," Kallam said.
Kratom has not been FDA approved and will be illegal in the United States starting Sept. 30. Since there has not been enough research conducted about the product, companies are not able to disclose the side effects people typically feel after consumption as factual.
"People use [kratom] a lot while studying," Cooper said.
Schwarz is upset about kratom becoming illegal, and said that he will probably stop going to Noble Kava, but is willing to try their new alternatives to the beverage.
Cooper is also upset about kratom becoming illegal, and said that he typically drinks a cup of white vein kratom every morning.
"It's definitely going to put a hamper on things," Cooper said. "We're first and foremost a kava bar. We have a bunch of other products. We're actually going to be looking into getting some other products that have similar effects to kratom so that way we are not completely out of that thing."
Although Schwarz is upset that kratom will be illegal, he believes that the FDA and pharmaceutical companies need to research kratom more before making it legal again.
Every night, Noble Kava has different specials and events. Sundays are board game nights and Wednesday nights serve as study hall. Thursday nights are open mic night and live music is on Friday nights. People who participate in the different events each night are eligible for specials they are running. For example, people who perform at open mic night get buy one get one free kava shots.
Schwarz liked seeing all of the recurring customers, the different people, Noble Kava's selection of board games, and the free Wi-Fi, which provided him with a setting besides the library to do homework in.
Noble Kava is planning on moving into a larger piece of property at Winkler Square across from Hardee's on 114 Clement St. Although Sept. 15 was supposed to be Noble Kava's last day in their location on King Street, they reported on Facebook that they made a deal with their property manager and will remain open a little longer before they move.
Although kratom will soon be illegal, kava will remain in Boone in the foreseeable future. Kallam believes that it is something that people should try at least once in their lives.