Keller Williams returns to the High Country
Keller Williams returns to the High Country for the first time in four years Thursday, bringing his one-of-a-kind performance to fans at Appalachian State University.
The show will take place at Legends and is brought to students by Appalachian Popular Programming Society concerts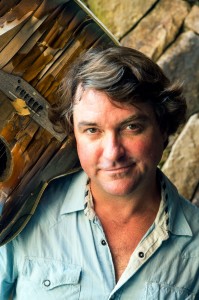 council.
Williams has been performing since childhood, starting in his church choir at a young age and moving on to playing acoustic guitar with a band in his teenage years. Realizing he was more profitable on his own, Williams eventually departed from the band and started his career as a solo performer.
In order to distinguish himself from other solo artists, Williams began using the technique of live phrase looping in his performances. Live phrase looping allows him to record himself playing an instrument, which he is then able to loop and playback as he joins in on other instruments.
Williams's music has been known to combine a variety of genres, effortlessly flowing an acoustic sound with elements of electronic, jam and dance grooves.
"He's considered within the music industry one of the foremost guitarists out there," said Randy Kelly, the APPS program coordinator. "It's great acoustic music done clearly and perfectly and with a pleasant beat that makes everybody feel good. I've never seen anyone come to a Keller Williams show and not leave with a smile on their face."
Williams considers himself to have a weekend warrior mentality, focusing largely on performing at music festivals year round. He has performed at events such as the Bonnaroo Music and Arts Festival, Summer Camp Music Festival, Lockn' Music Festival and more locally, Merlefest.
In addition to performing solo, Williams often collaborates with musicians to achieve a different sound. His more popular collaborations have been the Keller Williams Incident, Keller & the Keels and Keller Williams with Moseley, Droll and Snipe.
"I've seen Keller play a number of times and every time I see him I'm impressed by how much energy he brings to the stage," said Alexander Adzima, a senior construction management major. "He always looks super happy up there. He also is very creative. He will make up songs on the spot and improvise the lyrics."
Williams said he is looking forward to returning to Boone and reconnecting with old friends and new faces.
"I definitely think there's an element of coolness that flocks to Boone and it's a special east coast city that's unlike other cities," Williams said.
Keller Williams performs Oct. 2 at 9 p.m. at Legends. Tickets are $12 for students in advance and $16 at the door.
Story: Aleah Warner, Intern A&E Reporter