Kobani adjusts to new role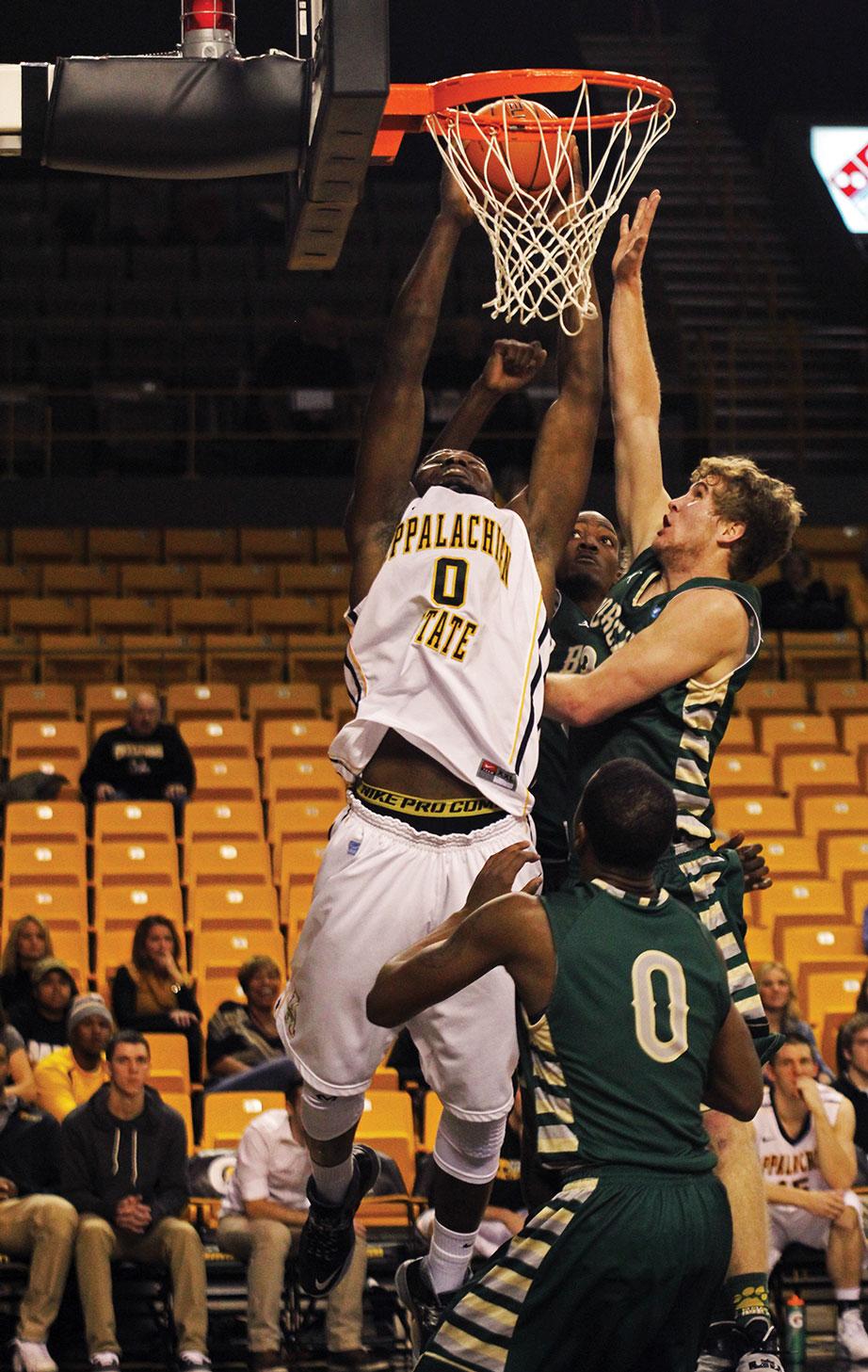 For true freshman forward Mike Kobani, the adjustment from high school basketball to NCAA hoops hasn't been easy.
As a senior at High Point Central in High Point, Kobani averaged 12 points and eight rebounds per game with 61.6 percent shooting.
"It's not easy being a freshman," sophomore teammate Michael Obacha said.  "The transformation from high school to college is very difficult. Obviously, he's working his way very quickly, and he's been very helpful in the games.  Most of the games when [senior forward Tommy Spagnolo] and I are in foul trouble, he's there."
Through App State's 19 games this season, the 6-foot-8-inch Kobani has played in 12.
In those 12 games, Kobani has averaged 6.2 points per game while collecting 3.7 rebounds per game.
Despite the modest totals, Kobani's teammates know how effective he has been.
"He's been great," Spagnolo said. "He works hard every day and he's got this opportunity, and I think he's really taking advantage of it."
When junior forward Jay Canty broke his hand just four games into Southern Conference play, the team needed a collective effort to pick up some of Canty's scoring load. Kobani has worked to fill that void.
"I didn't know who was going to be in that position to step up because [we have senior forward] Tevin Baskin and [sophomore forward Rantavious Gilbert]," Kobani said. "So, I'm just fortunate that my number was called."
Fourth-year head coach Jason Capel called upon Kobani to play 15 reserve minutes in the team's first game after Canty went down with the injury.
Kobani served as a key role player in the home matchup against Georgia Southern, finishing with nine points and seven rebounds. The freshman's performance helped earn the Mountaineers their first SoCon victory.
In App State's following game, a road matchup at The Citadel, Kobani collected a career-high 18 points on a red-hot 9 for 10 shooting performance. His play, along with performances from the rest of the Mountaineers, earned them an 80-67 win.
"The coaches kind of trusted me in the game," Kobani said. "The guys I'm playing with, certainly the point guards, looked for me every time I was open. That's one of the big reasons why I had a good game."
Out of high school, Kobani was ranked as a three-star prospect by noteworthy recruiting services Scout.com and Rivals.com. His teammates see the potential and ability, both during games and at practice.
"All Kobani needs is confidence," Spagnolo said. "He's incredibly talented. He's [got] a huge body and he's athletic. So, all it is confidence."
Story: Nick Joyner, Senior sports reporter
Photo: File photo, The Appalachian