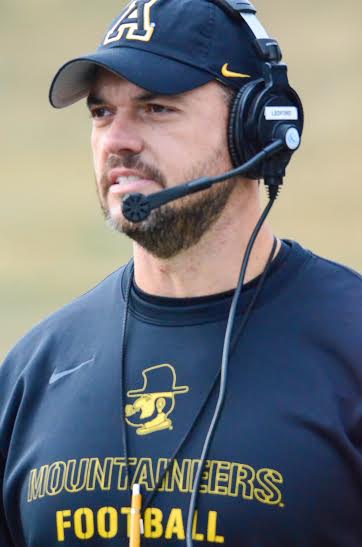 Appalachian State football coach Scott Satterfield announced today that his co-offensive coordinator and offensive line coach Dwayne Ledford has accepted a position with NC State.
"We wish coach Ledford nothing but the very best," Satterfield said in a statement earlier today. "He has been a big part of our recent success and will be missed both professionally and personally."
Ledford was in charge of the running game at Appalachian State, a major portion of the offense and a catalyst for the team's success this season. Under Ledford the Mountaineers ranked sixth in the nation in rushing offense, averaging 271.5 yards per game. Last season the story was similar, as the Mountaineers finished second in the Sun Belt in rushing, and eighteenth in the nation, averaging 241.8 yards per game. The 2014 Mountaineer offensive line also ranked sixth nationally in sacks allowed, surrendering on average less than one sack per game.
Satterfield also added that the coaching search for Ledford's replacement has already begun.
"A lot of great coaches have already expressed interest in joining our staff and we expect to have the position filled quickly."
Story by: Lee Sanderlin, Associate Sports Editor