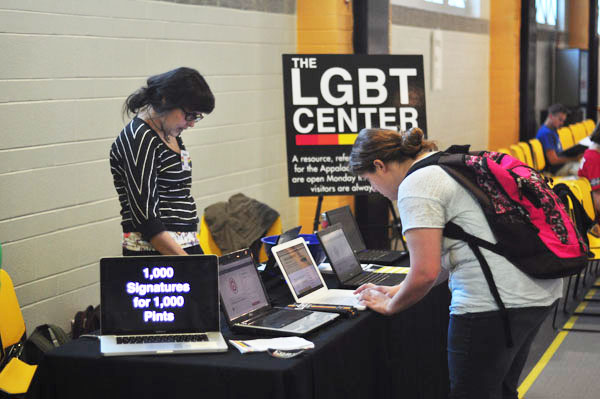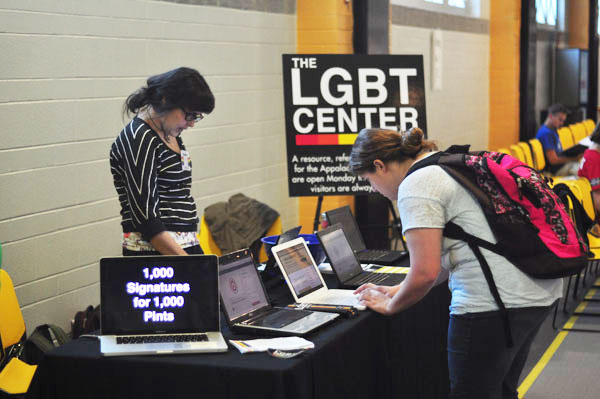 The LGBT center reached 617 signatures Wednesday during its annual "1,000 Signatures for 1,000 Pints" event.
The center switched to an online petition for its third year. In previous years, the center had petitioners sign an index cards that were then mailed to the FDA, junior anthropology major Elaine Blevins said.
This event brings awareness to a law that says gay men cannot donate blood, LGBT graduate assistant Marc Rasdorf said.
The petition was posted on change.org.
"[The electronic petition] is certainly more cost effective," Rasdorf said. "I think it's easier to participate with an electronic format. An electronic format, in my eyes, is also a lot more sustainable."
It cost the LGBT center around $300 each year to send the index cards previously, Blevins, who is in charge of the event, said.
The petition was available for 12 hours during the blood drive, Blevins said.
Volunteers set up a table with laptops and walked around the convocation center with iPads trying to get students to sign the petition, Blevins said.
The ultimate goal is to get the ban repealed, Belvins said. But the goal of Wednesday was to inform people of the ban since most people don't know about it, she said.
"With advances in modern medicine, I think they're screening most blood these days," Rasdorf said. "So why this ban still exists, I'm not quite certain, though it would appear to have some aspect of homophobia to it."
Senior sociology major Matt Ramsey said he plans to sign the petition.
"I love [the online petition]," Ramsey said. "I hate to be stereotypical, but if you are a gay male and you're denied giving blood, you're not going to go to the blood drive. This way you can sign it in the student union, Facebook, or in boring classes. "
But junior sociology major Emilee Gribben said the ban is "offensive."
"It kind of compares a gay man to prostitution," Gribben said. "You're not allowed to give blood if you've had sex for money."
With the repeal of the "don't' ask, don't tell" policy, gays should be able to openly donate blood also, sophomore political science Albert Lindsey said.
"The military buys blood from the Red Cross all the time, just having people serving openly in the military and then denying them to donate blood to their brothers and sisters in arms, to me that's just wrong," Lindsey, who previously served in the military, said.
Story: CHELSEY FISHER, News Editor
Photo: JOEY JOHNSON, Staff Photographer