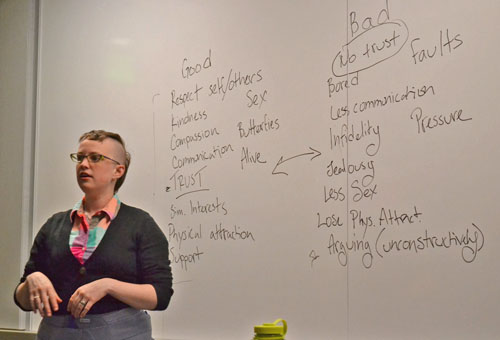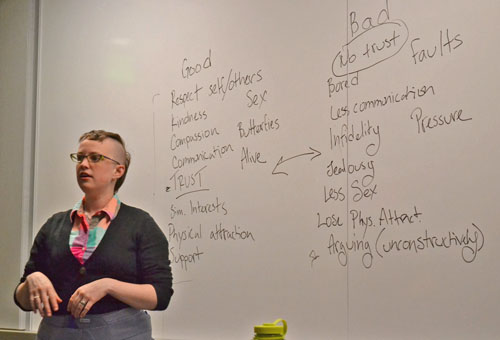 Appalachian State University's LGBT Center sponsored a discussion on sexual assault in the LGBT community to raise awareness and prevention Monday night.
The discussion started with an interactive period dealing with what constitutes intimate partner violence.
Karen Arthur, graduate student in the clinical mental health counsel, led the presentation with Angela Brooks-Livingston, an Appalachian alumna and employee of Daymark Recovery Services.
"There are a lot of people who are excited about this discussion because it is the first event we have had that is of this nature," said Elaine Blevins, a senior anthropology major and a key part of organizing the event.
Ben Wacker, a junior French and education major, said that sexual assault in awareness for non-heterosexual relationships is very important.
"This is an important event for LGBT because it brings awareness to an issue that some people don't always look into," Wacker said. "The truth is that violence exists in all relationships."
The attendees of the discussion were all engaged and were eager to ask questions.
Arthur and Brooks-Livingston talked about statistics regarding sexual assault in the LGBT community and spoke of the myths that exist in discussions of violence in LGBT relationships.
"It is a very difficult topic to discuss for a lot of people," Arthur said. "But it is very important for our campus community to address sexual assault in diverse communities where perhaps the exposure isn't at a level that it should be."
At the conclusion of the discussion, Arthur presented all of the options for anyone in the community suffering from any form of sexual assault.
Legal options as well as help lines and safe havens for discussions and advice were provided.
Arthur said that the event went well and that is should open up healthy discussion regarding sexual assault in the LGBT community and beyond on Appalachian's campus.
"It is very important for us to continue to discuss and be aware of violence of all kinds," Arthur said. "No one in the LGBT community or anywhere else deserves to be forced to live in fear of violence in their relationship."
Story: CORY SPIERS, Intern News Reporter
Photo: MARK KENNA, Intern Photographer