The title of recent Appalachian State University graduate Ana Caicedo's documentary seems to reflect both her career – she graduated in December 2014 with a journalism degree – and the subject of her journalistic documentary, local artist Tommy Lee, aka Sir Tom Foolery.
Caicedo will screen "Listen to Your Dreams" Feb. 21 at 5 p.m. at Appalachian Mountain Brewery.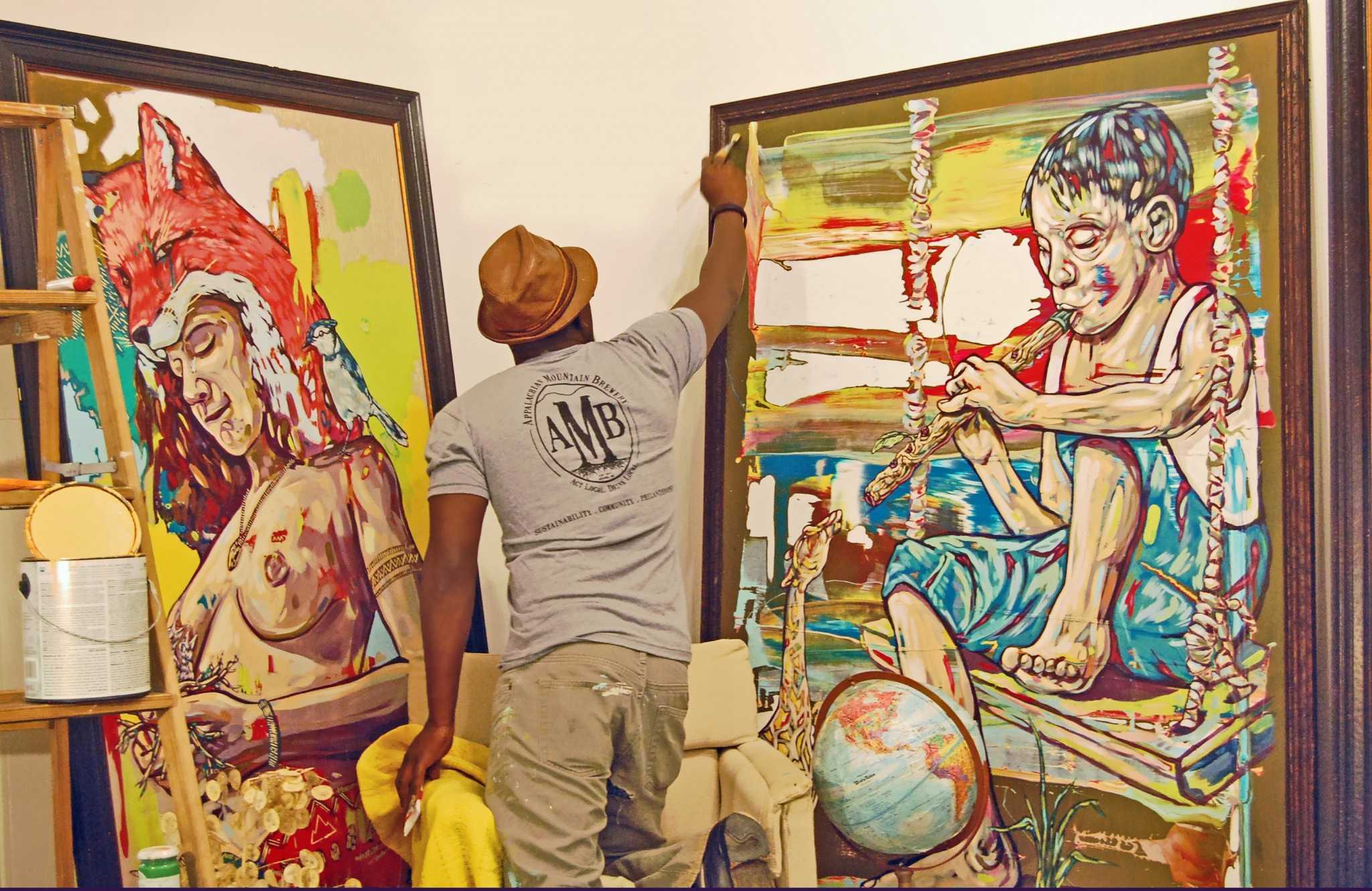 This project has been in the works for around seven months, and for more than three, Caicedo followed Lee around filming the 18-minute documentary, which she initially began as an independent study project for her media studies minor at Appalachian. Throughout the three months, Caicedo accompanied Lee to his studio, interviewed his clients and his friends and took a road trip to Atlanta to interview his family.
"For seven months I tried to find a bad side of Tommy and it's very difficult," Caicedo said. "He is definitely a spirit child. It's incredible. I have no idea how he does it."
Caicedo has been a fan of Lee's work since her freshman year at Appalachian, when she attended her first Art Crawl in Boone and saw one of his large, mural-style paintings hanging in Nth Gallery.
"I kept going back and I couldn't find the artist," she said.
She studied abroad for a semester in Madrid and when she returned to Boone she looked for the painting at Nth Gallery and it was no longer there. Then, one day she walked into the recently-opened Appalachian Mountain Brewery and the painting she loved so much was hanging on the wall. Caicedo asked an employee there about the artist and was pointed to Lee, AMB's creative director, sitting a few tables away.
Caicedo later got in touch with Lee through Facebook; she sent him a long message one day out of the blue asking if he would be interested in being the subject of a documentary.
"I honestly thought it was one of my friends who was joking with me," Lee said. "I was like 'sure, yeah,' a half-hearted 'cool, yeah no problem.' Turns out it was actually serious."
Lee said the idea that his life could be interesting enough to be the subject of a documentary took some getting used to, but working with Caicedo made the process easy and fun.
"It never felt like I was being interrogated," Lee said. "It was like I was having a conversation with a friend."
The screening will be free, though a donation box will be set up and merchandise – Lee's T-shirts and prints of his art – will be sold, with all proceeds going toward helping Nth Degree Gallery in downtown Boone financially through the winter months. Caicedo has also set up a silent auction, which will include one of Lee's paintings, to help raise funds for the gallery.
"I really wanted to make it a charity and give back to artists in the community," Caicedo said. "The Collective closed, so Nth Gallery is the only independent art gallery in the community."
Lee rents a studio space in the gallery, and he agrees that the space is important to Boone's culture.
"The Nth has made moving to Boone a saving grace," said Lee, who moved to Boone in 2010 from Atlanta. "It allowed me to develop as an artist; the space to develop. So many artists in this community had their first experience being a professional artist [at Nth Gallery.]"
"The fundraiser is not just about raising funds but also for the community to rally around – see the art legacy in this community."
The screening at AMB will include music by special guest Look Homeward, a North Carolina-based folk band, and food will be provided by Farm to Flame, the food truck owned by AMB. Appalachia Cookie Company has also signed on to contribute to the event. In collaboration with Lee they are in the process of creating a special "Sir Tom Foolery" cookie, which David Holloman, the owner of Appalachia Cookie Company said will be a chocolate cookie with cherries, wine and walnuts.
For more information about Lee, visit sirtomfoolery.com
STORY: Emma Speckman, A&E Editor