Since forming in January, Boone-based band Bootstrap Slick has strived to make a name for themselves in the High Country with a unique alternative folk sound by playing at local venues including Galileo's and Black Cat.
The band was formed by Appalachian State University students Hayes Cummings and Seth Jarrett.
The band's lineup, in addition to Jarrett, the vocalist and mandolin player, and Cummings, the guitarist, consists of two new members, Jackie Barnes on violin and Lindsey Willis on percussions.
Jarrett, a junior sustainable development major, originally began playing piano and trombone at a young age. It wasn't until college that he switched his focus primarily to the mandolin. Cummings is a senior classical guitar performance major and started playing guitar at age 12. Jarrett and Cummings were roommates when they began playing music and writing songs together.
"I really got interested in this kind of music within the last couple of years, and we started playing and going from there," Cummings said.
Looking to appeal to a larger crowd, the band added Barnes a few months later, and Willis, a senior art performance major with a decade of experience with percussions,  joined early this summer.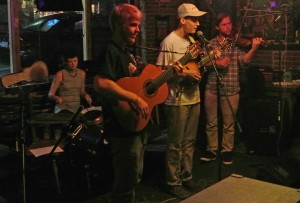 The band uses each individual's talents to incorporate elements of bluegrass, classical and jazz influences into their music. Jarrett said they jokingly consider themselves "gypsy-folk-jamgrass."
Barnes, a senior classical violin performance major, began playing violin in high school and decided to pursue it in college.
"I got kind of bored playing music by dead people," Barnes said. "So I kind of wanted to do my own thing and started improvising with them, and that's where I am now."
Bootstrap Slick identifies with the gypsy genre in order to give themselves the freedom to experiment with their sound.
"You call it gypsy, and you can add anything you want," Barnes said. "Like Lindsey, she plays with a skillet. You can really add whatever influence you want when you call it gypsy music."
Jarrett said he hopes to move forward with the group and play in locations outside of North Carolina in years to come.
Bootstrap Slick's upcoming performances include a show in Boone at a 5K race hosted by Split Rail Records on Sept. 27.
Story: Aleah Warner, Intern A&E Reporter
Photo: Tim Hobert, Intern Photographer