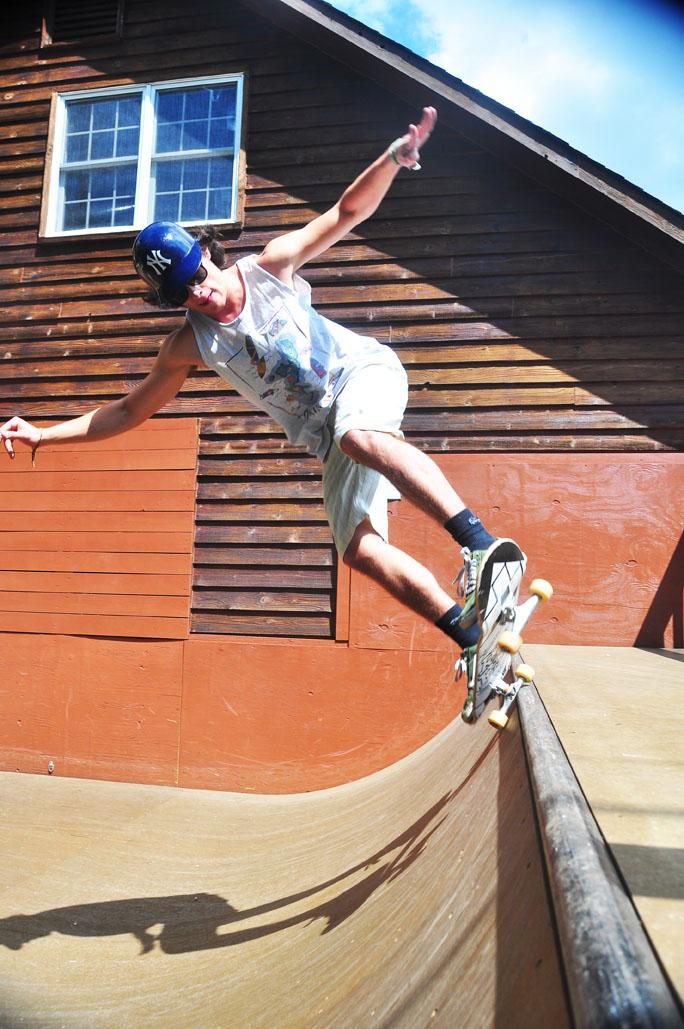 Skateboarders in Boone now have a place to skate.
Recess Ride Shop, which opened a mini-ramp earlier July 21, was built to be somewhere that skaters could go "hassle-free," JP Pardy, owner of Recess, said.
"We've been talking about building one next to the shop for a couple of years and just never really did it," Pardy said. "Finally, we decided, 'Hey, we need a ramp, we need somewhere to skate. There's no where anyone can go, so let's kind of do this thing.'"
Splawn, a senior finance and banking major, also works at Recess and skates the mini-ramp daily.
As far as skateboarding, "the policy's outdated and the town is outdated," Splawn said.
The university Policy Manual states that "the use of skateboards, skates, roller blades or similar devices is prohibited on property owned or controlled by Appalachian State University."
The Town of Boone also has an ordinance in effect banning skateboarding on sidewalks as well as the streets.
According to the policy, skateboards include "coasters, toy vehicle or similar device."
The ordinances are not only limiting on the sport, but also on Recess's business, Pardy said.
"It's hard to sell skateboards when skateboarding is illegal," Pardy said. "If it wasn't for snowboarding, we probably wouldn't even be here."
University Police Officer, Lt. K.C. Mitchell said he understands both sides, but he's tasked with enforcing it.
"As far as people doing tricks, if they have a place to go, that'd be great," Mitchell said about a skate-park. "It still doesn't address the use of them as transportation, though."
Some main concerns are about damaging property and safety for everyone, he said.
"When you're riding your skateboard on campus, or across town, it's a perfect means of transportation," Pardy said. "And the fact that you can't do that is kind of crazy."
Pardy suggested that Appalachian adopt the "Four Wheel Rule," a boarding policy currently in place in UNC-schools such as N.C. State and UNC-G that allows for skateboarding as long as all four wheels remain on the ground while riding.
The Recess mini-ramp is open to skateboarders during store hours 10 a.m. to 7 p.m. on weekdays and 11 a.m. to 6 p.m. on Sundays.
A day of skating is $3 or $25 for a month. A helmet and waivers for skaters under 18-years-old is required.
Story: DANIEL STEVENSON, Intern News Reporter
Photo: JOEY JOHNSON, Intern Photographer