Hidden away on the bottom floor of Plemmons Student Union across from Crossroads lies a small, student-run art gallery. The Looking Glass Gallery provides a space to showcase art created by Appalachian State students, alumni, faculty and staff. From Feb. 20 to March 10, the Looking Glass Gallery will be a showcase to raise awareness of social problems that are important to App State students and alumni artists.
Looking Glass curator Ariel Moran and Plemmons Student Union art collection manager Doe Lee have pulled art from previous collections and other artists around campus to create an exhibit discussing a wide variety of social justice issues, titled "Approach: Art for Social Justice."
Moran said since the submission period was only about a month, the art created was not specifically for this exhibition.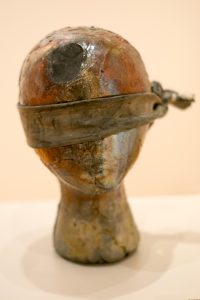 "I think that these artists just focus on these topics generally. They just find them of interest, and they maybe have worked with them across a variety of classes," Moran said. "Some of these pieces are more recent than others, there are certainly some that I know the artists had been holding on to, because they are so interested in these topics."
The exhibit was designed to be an accurate representation of the attitudes of students on campus.
"We wanted to create an exhibition to represent the different perspectives and attitudes of Appalachian, and their views on different social justice issues around the world," Lee said. "We wanted to see how different student artists would represent that."
Moran said that herself and Lee were very open about accepting submissions for the exhibit.
"Social justice is broad. It's really just another term for controversy," Moran said. "For example, there is a piece called 'Appropriation,' which is not political in any form really. It's more of a piece on how cultural appropriation runs wild in America."
Moran said that the goal was not to talk about the political climate specifically.  The art is based how one specific student was feeling, and the purpose is to showcase important topics that people maybe don't think about every day.
"The overarching goal is to just get it out there and talk about it, and don't let it be an elephant in the room, don't let it divide us," Moran said. "We need to create a dialogue with it, and learn from each other. Change will come out, but you have to start talking about it first."
Moran said personal experiences can shape the way a person creates and views works of art.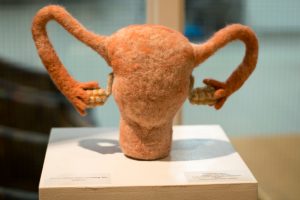 "There is also appropriation in the art world.  Appropriation definitely plays a role in how you interpret the work," Moran said. "There's a piece called 'They Told Me We Were All Dead,' by Raven Moffett, and her background or heritage is Native American. Pieces like that are like primitivism, like taking a more simplistic culture and treating it like it's a spectacle. It's not always political. We chose the strongest pieces basically."
Moffett contributed four pieces to this exhibition, "They Told Me We Were All Dead," "Sex Object," "Necessary Control" and "Shame." Moffett's contributions covered a wide variety of issues.
"My art as a whole speaks a lot to my own personal issues, which I feel are social justice issues," Moffett said.
Moffett's piece "Shame," which is composed of cyanotype printed on panty liner, deals with issues of taboo surrounding menstrual flow and how it affects women in modern society.
Moffett believes that "Necessary Control," which is another cyanotype depicting a gun, is particularly pertinent in our current political climate.
"It was the first of a series of images that I had made, looking specifically at objects," Moffett said. "The series was based on objects that people ascribed danger to our society, and I think this first one is really relevant."
"Sex Object," which was a collaboration between Moffett and other artists, is a statement about how in our culture, female's hair can play a role in them being viewed as feminine and that others have some sort of control over women. Moffett also discusses how hair and styling can portray female empowerment.
"My friends and I have had long hair, and it has contributed to us being viewed as inherently sexual beings," Moffett said.
"They Told Me We Were All Dead" relates to Moffett's Blackfoot Native American heritage. Moffett was on the receiving end of an appropriating comment while in the ninth grade.
"My friend, who is African American, both his parents are from Nigeria, heard that I was Native American. He turned to me and said 'Oh, I thought all your people were massacred and your race no longer exists,'" Moffett said. "That kind of validation, even between minority groups, is something I'm very concerned with."
This piece is also part of a series documenting Native American people around Moffett's age.
"The goal is to say that we're here, we have a voice, it's just not being represented in mainstream society," Moffett said. "The invalidation that I faced even claiming my heritage, I feel, is very prevalent on this campus and in American society."
Moffett is concerned with where people are getting their ideas about cultural appropriation, and that people are perhaps unaware of how cultural appropriation harms other's cultural identity.
"It's our job to showcase the issues facing Appalachian students, and let people know that these are issues that are prevalent and need to be talked about," Lee said. "Not talked about in a hateful way, but just in a discussion, and hopefully these art pieces will accomplish that."
There will be two more exhibitions this semester at the Looking Glass Gallery.  The Looking Glass Gallery is open Monday through Friday from 7 a.m. to 11 p.m., Saturday 9 a.m. to 11 p.m. and Sunday 12 to 11 p.m.
Story by: Steven Caughran, A&E Reporter
Photos by: Lindsay Vaughn, Staff Photographer