Rewind two years and a week to Ann Arbor, Michigan. In the fourth quarter and on his own four-yard line in the largest college football stadium in America, Taylor Lamb stepped onto the turf replacing then starting quarterback Kam Bryant to begin the first drive in his career against the Michigan Wolverines, the team that put App on the map nine years ago. Nineteen plays and 96 yards later, Lamb managed to put his first seven points on the board for Appalachian State.
Although the Wolverines refused to budge even the slightest bit, Lamb did manage to stake his claim to the starting QB position as a freshman. The squad struggled through the first half of the schedule, however, with Lamb putting up impressive numbers to solidify his role on the team.
Fast forward to present time. "I was just a wide eyed kid and didn't know quite what was going on out there," Lamb, the now 6-foot-2-inch, 200lb quarterback, said.   
Lamb, now an experienced redshirt junior, reminisces on what his first taste of college football was like.
"I came in fighting for the job and didn't get it," Lamb said. "I came in at Michigan in the fourth quarter and it just felt natural."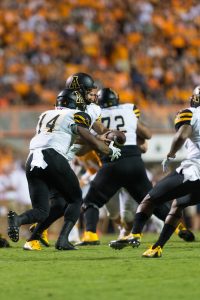 Now, alongside his trusty sidekick senior running back Marcus Cox, Lamb is looking to do big things for the Mountaineers this season.  Against No. 9 Tennessee last week, Lamb completed 15-23 passes for 108 yards against one of the best defensive lines in the country. One of which, a 33-yard pass to Marcus Cox up the sideline, was the only score of the second quarter and gave App a 13-3 lead before halftime. Although the pocket time for Lamb wasn't ideal, it was enough time to show how lethal he can be when given a chance.
In addition to his arm, Lamb managed to outrun his Volunteer counterpart and rush for 27 yards. Having edged the Volunteers into overtime, the experienced quarterback keeps one thing in mind when looking into the season: new year, new team.
Having a nearly brand new receiving core, the passing game could fall on either side of the scale.  However, if statistics hold up, Lamb should have no problem putting the ball in the hands of young talent. In App State history, Lamb ranks in the top 10 in nearly every category.Excluding the Tennessee game, the quarterback is ninth in passing yards (4,768) and eighth in completions (351). Alongside those numbers, he is also third in touchdown passes (48), seventh in total offense (5,687) and fourth in passing yards per game (190.7). Sporting News ranks the Black and Gold quarterback as the nation's No. 19 quarterback.
Quarterback coach Frank Ponce considers his star a very relaxed guy.
"He knows where everybody is supposed to be, so he calms everybody down and makes sure everybody is doing the right thing," Ponce said. "He's a coach on the football field and I think that's one of the biggest aspects that he has."
No coach is perfect however, and this quarterback learned that the hard way last season. Lamb accredits the Clemson game for teaching himself a few valuable lessons.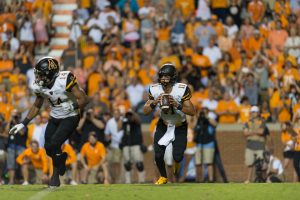 "They taught me some things about what I can do and what I can't do," Lamb said. "More so what I can't do."
Throughout the offseason, Lamb focused on two main things: dropping weight to get faster and not turning the ball over. Now that the season has arrived, five pounds are gone and the mobile QB looks to improve on his nearly 3-to-1 touchdowns-to-interceptions ratio.
Not only does he look to improve as a player, but he also looks to help the Mountaineers to their first ever Sun Belt Conference championship. Last season, the team made and won their first ever bowl game against Ohio yet falling short weeks before, unable to clench the conference title.
This year Lamb and the team look for a different outcome.
Story By: Noah Gerringer, Sports Reporter