As a prominent woman in leadership with a long resume and list of achievements, Appalachian State University's chancellor, Sheri N. Everts, has a lot to be proud of.
Everts, who has been working her way up the ranks of higher education since 1994, has held a number of leadership positions, including being named Appalachian's first ever female chancellor last year. Before that, she was Illinois State University's first female provost.
She has also received many prestigious awards and honors, including being named one of Illinois' Most Powerful and Influential Women by the National Diversity Council of Illinois in 2010, and receiving the Chancellor's Commission on the Status of Women Outstanding Achievement Award from the University of Nebraska at Omaha in 2008.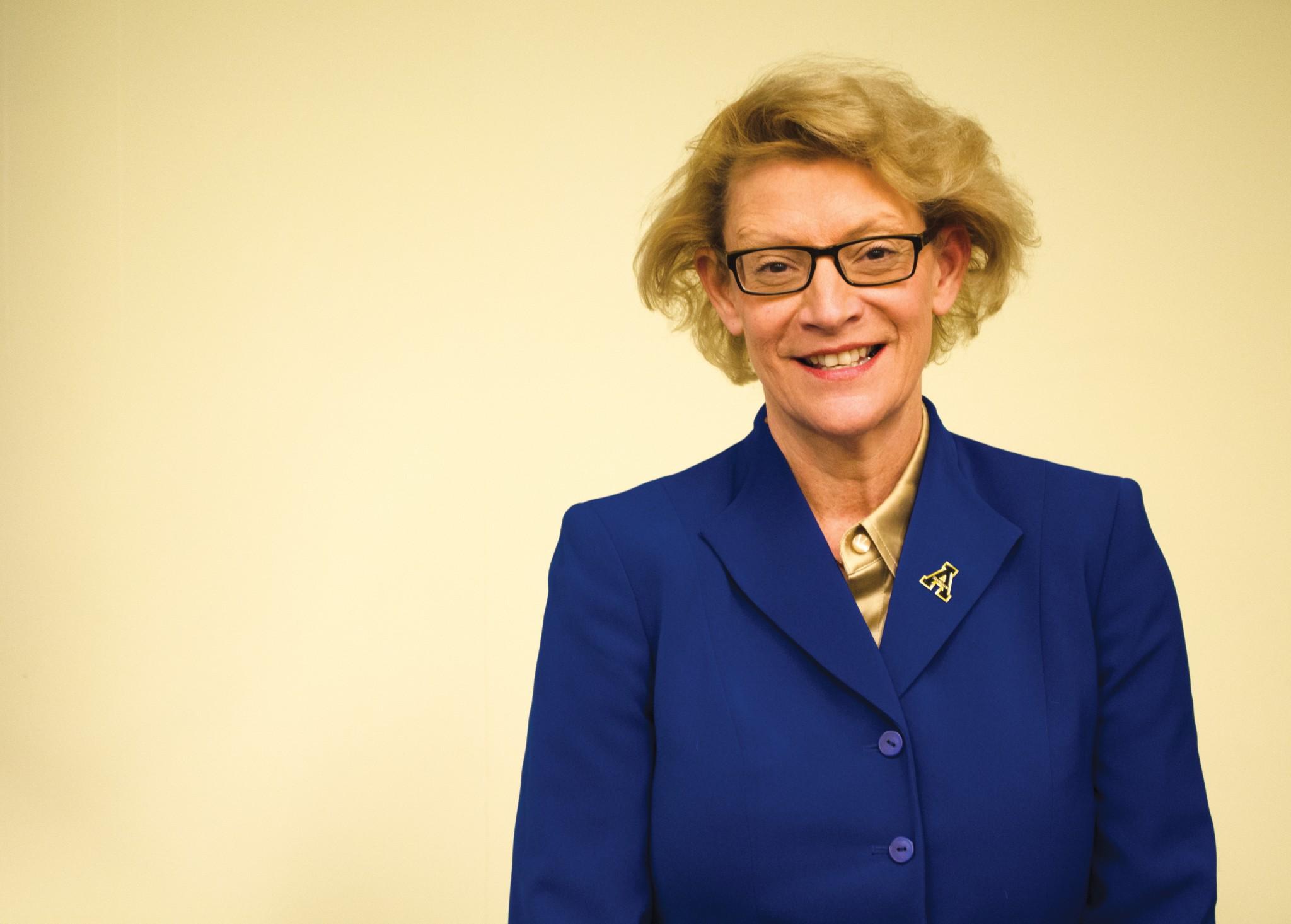 But while Everts takes pride in these accomplishments, she considers something else to be her biggest success so far: raising her children.
"I've raised two kind, intelligent, talented young adults," she said. "I'm very proud of them. They're great people."
Everts' children are her 28-year-old daughter, Elizabeth, and her 30-year-old son, Justin. She also has two stepsons since marrying her husband, Jay Noren, who are ages 36 and 41.
"I think time management is one of the most difficult issues for any particularly busy person to handle," Everts said. "How do you juggle a lot of balls in the air? How do you keep a lot of plates spinning? How do you focus on what it is you need to focus on at that particular time?"
While in the middle of her career and the formative years of raising her children, Everts said staying focused on whatever she was doing at that particular time kept her grounded.
"If I was reading a book to my children at night – which I did every night – then that's when I tried to be present in that moment," she said. "If I was running a meeting on the new search for a provost, then I tried to be present in that moment and not worrying about the homework assignment that my son needed to finish for science."
In November 2014, Everts gave a lecture on leadership and diversity as a part of a Women's Studies Distinguished Lecture Series, during which she said she has felt objectified and perceived as unequal to her male counterparts at times throughout her career. But Everts said she does not like to focus on these moments, but instead what she's learned from them.
"Each and every challenge has provided me with a learning opportunity," she said, "whether it's how could I handle that better in the future, how could I be part of the solution and how could I respectfully disagree with someone who may have a different opinion."
Everts said she encourages young women pursuing roles in leadership to believe in themselves.
"That's absolutely key," she said. "Everyone has challenges, but can you find a way to learn from those and to be better as you move forward?"
But for those who may not yet believe in themselves, Everts said mentors play a key role in formulating confidence and success. One of her personal role models is Nancy Belk, who was the chancellor at Illinois State University during Everts' time there, and was also the first female chancellor at Southern Illinois-Edwardsville in 1994.
"[She was] someone who told me that I had characteristics that were exactly what were needed in a chancellor," Everts said. "That was really helpful to me. I know now a little better what her schedule must have been like."
Everts also believes in the power of informal mentors, such as faculty mentors, who may not even know they're mentoring you. She recalls an English professor who taught her as an undergraduate who she "wanted to be."
"I remember how warm and welcoming she was, how much she wanted me to succeed," Everts said. "And it wasn't just me, it was everyone in her class."
Everts said she thinks diversity in the workplace – and on campus – is important because it reflects society, though is by no means limited to diversity of gender. She is currently heading the Chancellor's Student Advisory Committee for Diversity Recruitment, started to address Appalachian's lack of racial diversity and how to improve upon this.
"We live in a diverse world and I think it also enriches our learning opportunities when we sit next to a person who is different from us in some way, shape or form and we learn from and with each other," she said. "I've learned so much from people who are different than I am and if I don't spend time with them, how will I do that?"
Story: Laney Ruckstuhl, News Editor