Mallow expected to star in new leadership role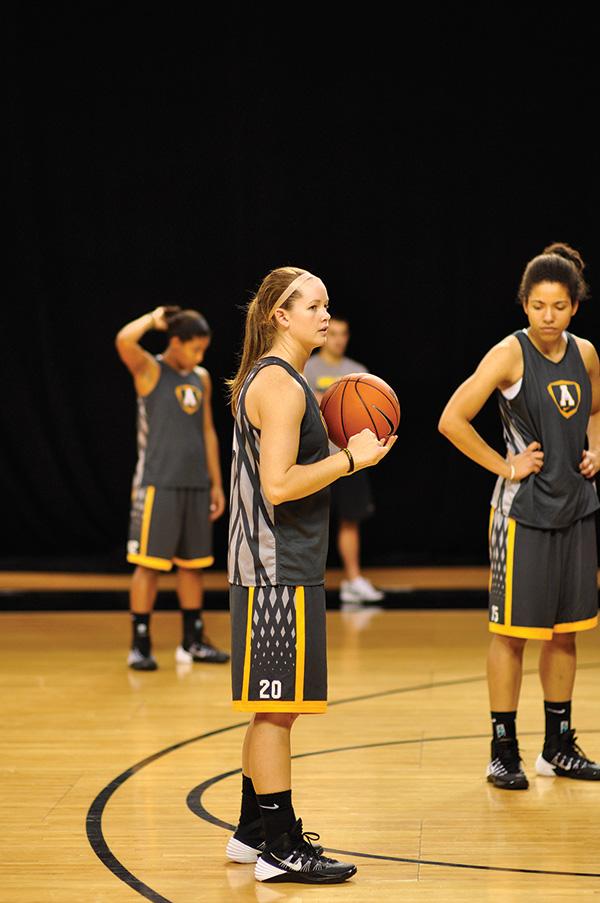 Katie Mallow, a junior 5-foot-9-inch guard on Appalachian State's women's basketball team from Snellville, Ga., is beginning her third year on the team with an entirely new perspective.
Now that Mallow is no longer an underclassman on the team, head coach Darcie Vincent expects her and Maryah Sydnor to fill the shoes of the graduated seniors.
"She's a good guard, she's a great competitor and she plays with a ton of energy," Vincent said. "She loves to play this game and she knows now that she's made some plays for us that have been very big for us in the past two years as a freshman and sophomore in certain games."
Vincent said Mallow has been waiting for this moment.
"She's the second best player on our team right now and she's beginning to step into that role and really enjoy that role," she said.
In the past two years, Mallow has appeared in 64 games, played 1,150 minutes and started in 13 games at App State. Now that she's filling the shoes of the upperclassmen before her, Mallow has already started in both home games this season, scoring 34 points in 80 total minutes between the three games.
"I just want this to be a breakout year for myself," Mallow said. "I need to just be with the team and lead them as a scoring guard. Obviously [Sydnor] is our top scorer, but she needs help and I need to be there."
Vincent has high standards for Mallow this season as an upperclassmen guard and relies on her energy and all-around skill to drive the team this season.
Mallow was recruited to the Mountaineers as a 3-point shooter, but has developed a variety of skills since then that Vincent hopes will help unite the team.
"The first thing about Katie, I swear to goodness, this kid is the most energetic and loving," Vincent said. "Everything's rosy. She just has to be happy. She's giddy, she's fun and everyone is drawn to her personality-wise, and that's just how she plays on the court, too."
Vincent said she's confident she'll continue to improve.
"The more her confidence keeps getting better and the more she wants it for herself she'll improve," Vincent said. "There's not a skill set that Katie doesn't have."
Mallow is considered the second best player on the team, but that doesn't mean she can't see any room to improve. She takes the time to recognize where she needs to grow as a player for herself and for the team.
"I just learned to improve my game in more than one aspect," Mallow said. "I came in recruited as a 3-point shooter and I learned in college you can't rely on one aspect. I really tried to step up my one-drill pull-ups and just getting out and transitioning and getting points from different places on the floor and playing defense, because on this team if you screw up the defense, you won't be in the game very long."
With only four upperclassmen on the team this season, Vincent is putting the pressure on Mallow and Sydnor to become the leaders for the Mountaineers.
Mallow has already stepped her game up from last season and plans to take on the responsibilities to lead the team into their last Southern Conference season.
Story: JESS LYONS, Sports Reporter
Photo: JUSTIN PERRY, Photo Editor