Matics' heroics propels App State to tenth straight Sun Belt win
Often times when a team plays an opponent better than themselves they improve as a result. The Troy Trojans (2-6, 1-3 Sun Belt) faced high-caliber opponents in NC State, Wisconsin and Mississippi State this season, while Appalachian State (7-1, 4-0 Sun Belt) has only had to face No. 3 Clemson.
Head coach Scott Satterfield said all week that this Troy team was no joke, despite their 2-5 record. And while to most teams, Ronald Blair's first career interception 55 seconds into the opening quarter for a pick six may have set the confidence back a bit, for Troy it didn't.
The Trojans were able to force a three-and-out on the Mountaineer's first two offensive possessions and they responded with a seven-play drive for 75 yards in only two minutes and 11 seconds.
This was the closest game the Mountaineers had all season, as the two teams kept trading blows like a boxing match. What made for such an intense matchup is how opposite the teams approached both offense and defense.
Defensively, Troy was able to bring more pressure than the Mountaineers are used to seeing. Their coverage was also something that played a factor in the App State's offensive play calling.
"They did a lot of different stuff, especially on third and long, they did some stuff we hadn't quite seen before," Lamb said.
Their defense was able to bully the Mountaineers offensive line, recording three sacks for the game, matching the total number of sacks the team had surrendered all season prior.
"What they do really well on defense is they can utilize their front four and if they do bring pressure, they're just bringing one linebacker so they can play coverage in the back end then keep everything in front of them," Satterfield said, alluding to the reason why the Trojans are dangerous on third and long situations.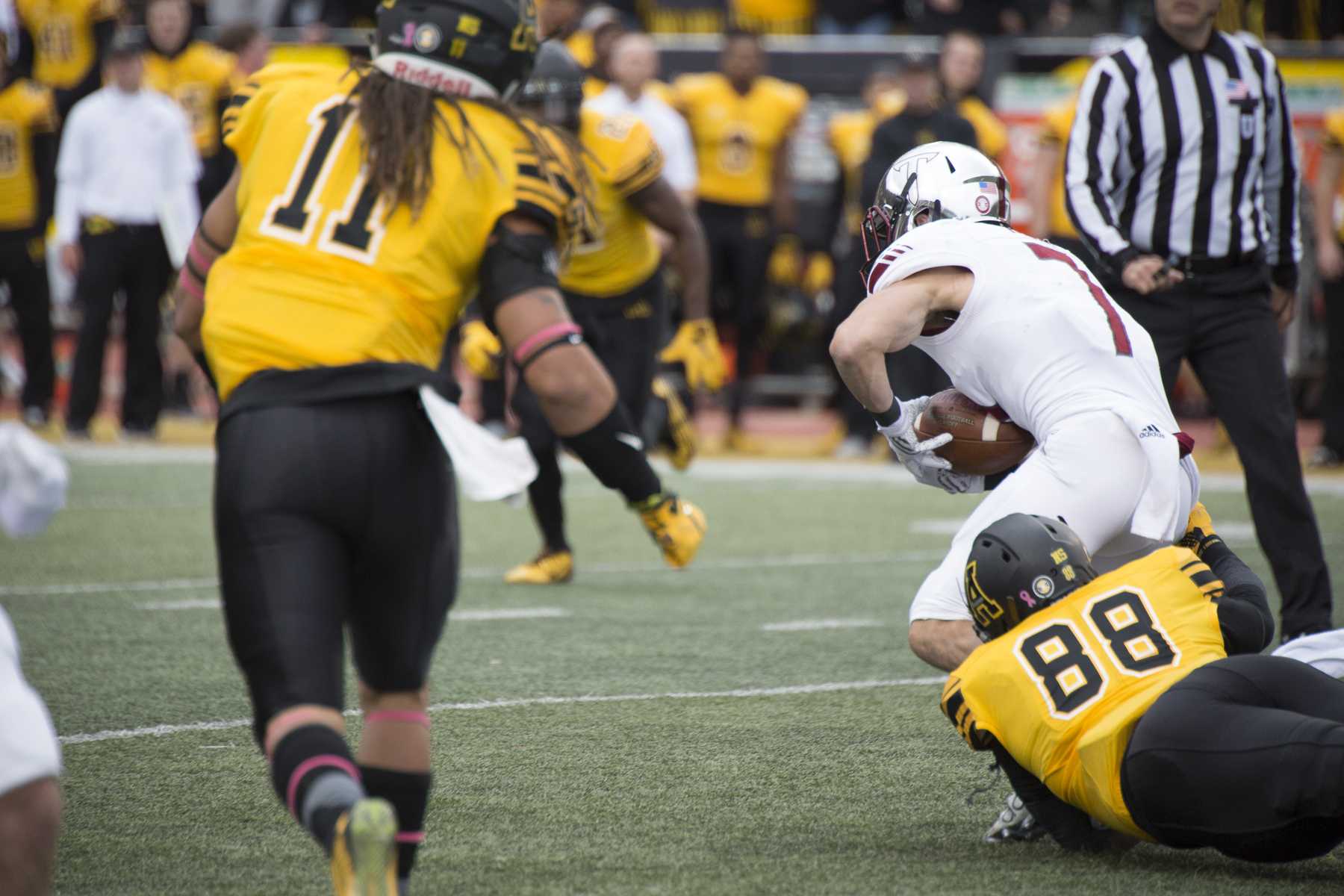 Offensively, what the Trojans were able to do most effectively was to control the pace while on offense. Several of their scoring drives had duration of under three minutes and went for no less than 41 yards.
"Once we made a couple adjustments on the sidelines with things that we see that we'll pick up made it easier for us, but at the same time they had some success even when we made our adjustments," Ronald Blair said of their hurry-up offense.
"We had to get the calls in as well as try to read a run or pass and that's what kind of threw us off," linebacker Keenan Gilchrist said. "Once they started getting rolling it was just hard to stop them."
Even with the preparation, the tempo at which Troy ran the offense was something the Mountaineers defense hadn't seen before this season.
"They said it was going to be fast tempo all week. We didn't realize how fast that tempo really was," defensive lineman Stephen Burns said. "Once they got a first down they really tried to up the tempo as fast as they could. I think that threw us off guard a lot."
As the half came to a conclusion, the Mountaineers had control of the game 17-10 expecting to get the ball back. What they didn't expect was an onside kick only to be recovered by the Trojans. The Trojans then proceeded to further trick the Mountaineers by throwing a screen to wide receiver K.D. Edenfield, who then threw a 45-yard bomb to Jarvis Bently to put them at the 1-yard line. Quarterback Brandon Silvers was then able to punch home a touchdown to tie the game at 17-17.
During the next Troy possession, the Mountaineers defense showed even with some struggles, they were still the dominant force in the game. Tae Hayes picked off quarterback Brandon Silvers and ran 18 yards to the Troy 41 for the Mountaineers second interception of the game and the first of Hayes' career. The Mountaineers capped off the drive with a 2-yard Barrett Burns reception to give them a 24-17 edge.
With the Mountaineers up, the Trojans would again convert on a quick drive for seven plays, 75 yards, in 2 minutes and 53 seconds with two long completions to receivers Teddy Ruben and Bryan Holmes to put them inside the red zone.
The Mountaineers would answer back with a 75-yard drive of their own with some nice running by Marcus Cox and completions to receivers Bobo Beathard and Malachi Jones. Taylor Lamb's 1-yard rush touchdown puts the Mountaineers up 31-24 at the end of the third quarter.
Several possessions later, up by a touchdown, the Mountaineers found themselves in the dangerous third-and-long they didn't want to be in against this Troy team. A drive that could have taken the wind out of Troy's sails kept the Trojans moving, as Lamb threw an interception to William Lloyd just under the 12-minute mark of the fourth quarter. Troy then stuck to their status quo and took the ball down the field in 11 plays for 70 yards to again tie the score at 31-31.
As time wound down, it was evident that the game was headed to overtime. The temperatures had dropped and there was light precipitation.
Troy would have the first possession and would use the combination of passing and running that had worked all game to give them the first score of extra time with an Andre Flakes 3-yard touchdown run.
The Mountaineers would answer with Lamb faking the handoff to Cox to run to his left past the defensive end for a 2-yard touchdown run. The following possession for the Mountaineers resulted in a field goal to up the score to 41-38.
Again the Trojans would answer but were halted to just a field goal as well. Their next possession, the Mountaineers showed that their defense would be the deciding factor as it had been up to that point all season. With the Trojans possession coming down to fourth and two, they called a timeout at the Appalachian State 5-yard line with the score 41-41.
After Satterfield prepped his team for a potential fake, the Trojans did attempt a fake field goal, only to be stopped dead in their tracks by linebacker Keenan Gilchrist and defensive lineman Stephen Burns.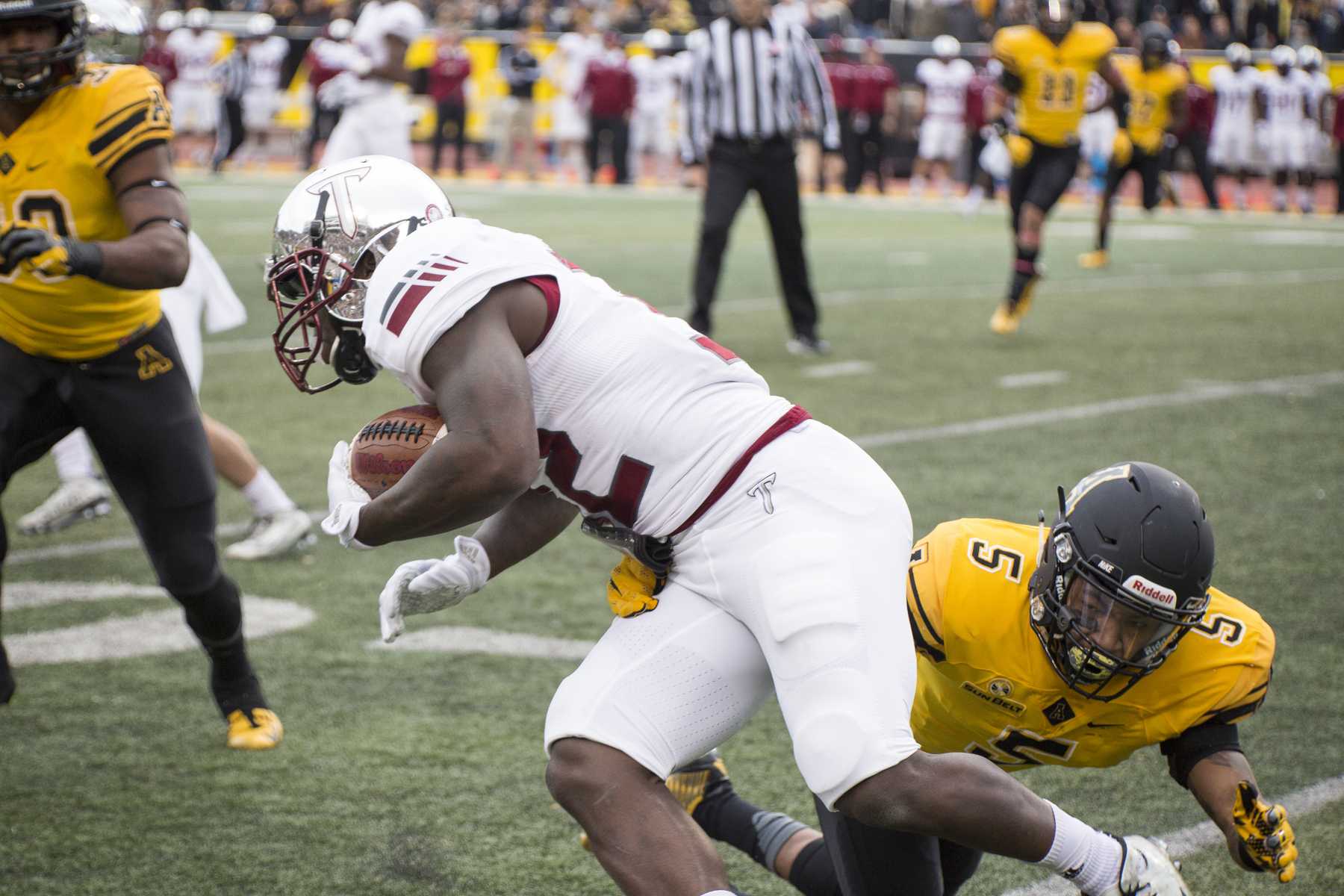 Just six plays and 18 yards later, senior kicker Zach Matics tapped a 24-yard field goal to end the suspense and give the Mountaineers their seventh victory of the season.
"I've been waiting for it ever since I got off a plane after Southern [Mississippi]," Matics said of the field goal. "I don't want to be selfish, but I was really hoping [Marcus Cox] didn't score so I could kick the field goal. I love Marcus to death, but I feel like I've been preparing on another level since last year and I was prepared for tonight."
App State's victory was the first triple overtime the team competed in since defeating Furman 26-23 in 1991.
They'll take the field at Kidd Brewer Stadium once again Thursday as they square off against Arkansas State (5-3, 4-0 Sun Belt) to decide who will be the conference champion. Kickoff is set for 7:30 p.m.
Photos by Chris Deverell