Playing in a new conference always has a different feel. App State men's soccer has experienced that change after competing in their first full season of Sun Belt conference play last year. They finished 7-8-3 (1-2-2 Sun Belt), putting them fifth in the six-team conference.
Entering the 2015 season, the team will look to replace forward Stanley Broaden, a graduate, who left behind a legacy at App State.
In 2014, Broaden led the team with seven goals, a third of the team's season total of 21 goals, and 14 total points. The team must now look to find other options on the team to match that production.
With only three seniors graduating from last season, there should be many places on the team to look to replace Broaden, as well as the team's leading defensive player last season, Patrick Harrow.
In a poll released on Aug. 18, Sun Belt coaches voted for App State to finish fourth in the conference this season, slotting them one spot higher than their finish last season.
One of the top players to watch this season will be senior midfielder Alex Herbst, who led the 2014 team with eight assists and finished second on the team with eight total points last season, behind Broaden.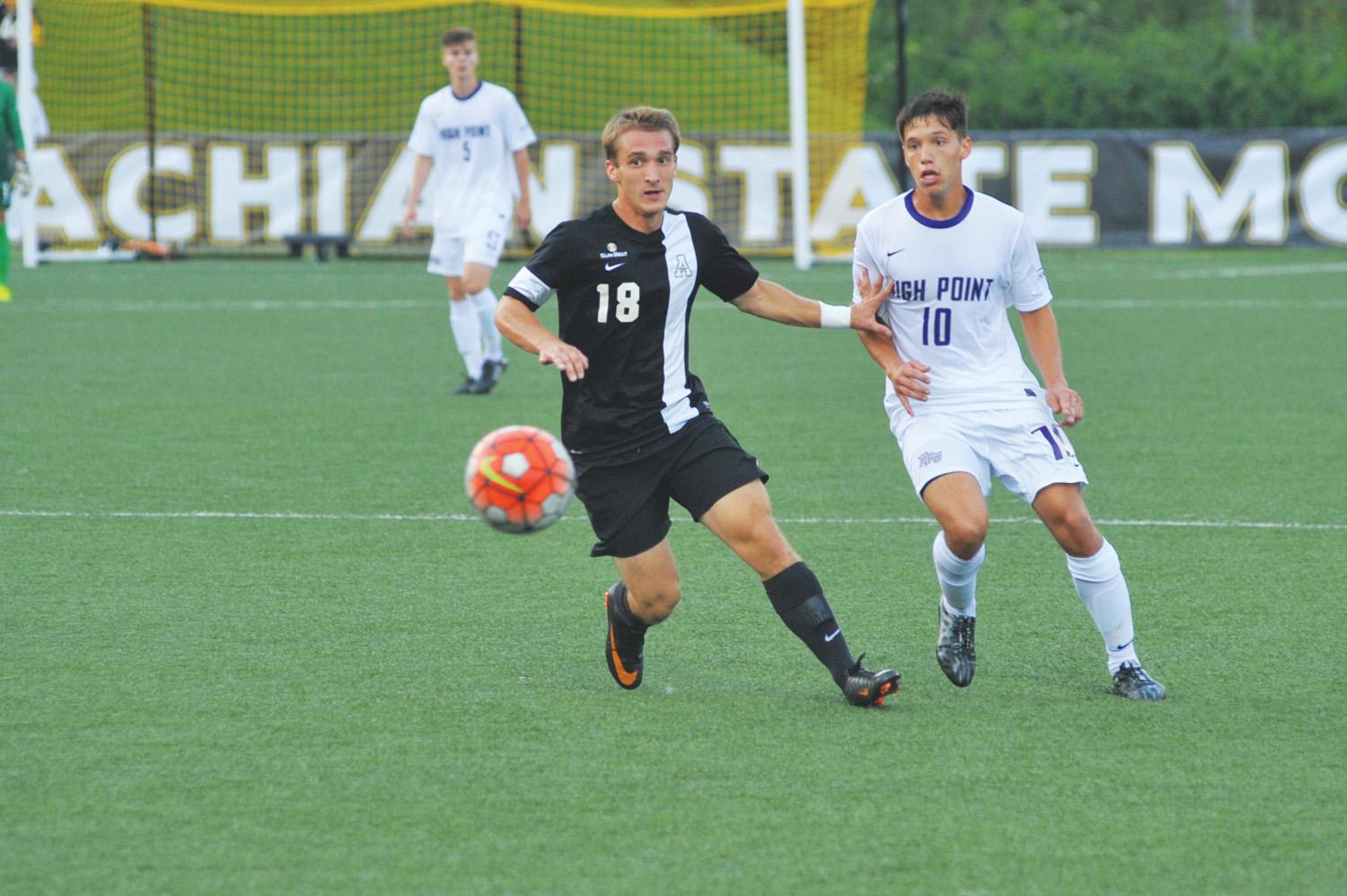 Senior mid-fielder Alex Herbst chases down the ball during Saturday's home game against High Point. The Mountaineers secured a 5-1 victory over the Panthers. Photo courtesy of Dave Mayo | Appalachian State Athletics
Herbst should help fill the void of points by keeping the ball controlled and, while he is not a scorer, he will be helping with assists. He was named to the Sun Belt preseason all-conference team along with two other App State players, junior forward Stephen Chapman and senior defenseman Alex Beranger.
The 2015 team finished its preseason with a 5-1 win against High Point on Saturday after a 3-1 win against Wofford on Aug. 16. Chapman showed he can help replace Broaden's production as well with six total goals, two against Wofford and a whopping four against High Point. He only had three goals and six points total last season as a sophomore.
The men's soccer team may have a new look this season, but they definitely come in with more experienced depth at each position.
Senior midfielder Donovan Japp brings midfield depth alongside Herbst. Japp had one goal, and four assists last season, and is poised to help lead the team in 2015. Senior defender Alex Beranger should help hold a strong App State defense in place.
The depth isn't only on position players, as there is now more experienced depth in goal behind last year's starter redshirt-senior Paul West. Sophomore Jake Chasteen started the Mountaineers first exhibition game, and senior goalkeeper Jaron Bradley is also coming back and can help bring a veteran presence to the goalkeeper position. App State has to come into the 2015 season with a strong mindset now that they know their conference opponents.
Losing their most productive player, Stanley Broaden, to graduation will hurt them, but this team has much more depth in each position compared to years past and should be able to compete with Hartwick, the 2014 Sun Belt Champions and favorite in 2015.
The App State men's soccer team opens regular season play Friday at North Florida.
Story by: Jason Huber, Intern Sports Reporter