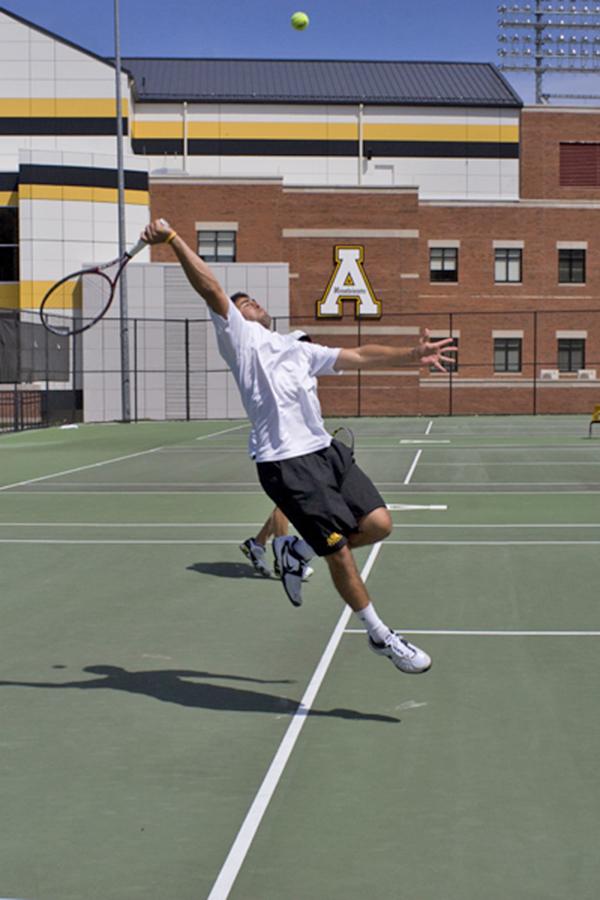 Coming off one of the best seasons in team history, men's tennis suffered a disappointing 4-2 loss to Samford Saturday – the team's second loss to the Bulldogs this season.
After taking the doubles point for an early lead, the Apps lost their first three singles matches, putting them on the brink of elimination. A three-set win by No. 6 Matt Saltsgaver kept App alive, but the Bulldogs proved to be too much.
In the decisive match, senior Philip Kloc found himself down 2-5 in the final set before winning four sets in a row to take a 6-5 lead. But his opponent, Carson Kadi, won the next two sets, giving Samford the clinching fourth point.
"I knew that would potentially be my last match," Kloc said. "I just dug deep, did whatever I could and left my heart and soul on the court."
Not all was lost over the weekend, though – a dramatic 4-3 win over Elon Friday gave App 15 wins on the year, the most the team has managed during the Bob Lake era.
The win looked like it might not happen halfway through the match. Elon was poised to upset the Mountaineers, holding a 3-2 lead with two matches to be decided.
A three-set win at No. 2 singles by Kloc tied the match, and after dropping his first set, Saltsgaver won the final two sets. The win sent App to the semifinals for the first time since 2008.
"We played really well this weekend," Lake said. "The guys fought back in both matches. We had a great win on Friday and a great season."
"I can't complain," Kloc said. "We had a good year and the team gave all it could give, so you can't be too upset."
Although the team fell short of its ultimate goal, five App players were named to all-Southern Conference teams. Saltsgaver was the only singles player selected and earned second team honors for No. 6 singles. Two pairs of doubles players earned second team honors: Kloc and junior Sebestian King at No.1 doubles and seniors Alain Humblet and Alex Marcov at No.2.
Humblet also became the third Mountaineer to receive the Don Bunch/Buddy Hartsell Sportsmanship Award.
Story: JORDAN DAVIS, Intern Sports Reporter
Photo: Courtney Roskos, Intern Photographer