Unlike the 2007 matchup between App State and Michigan, there was no magic to be found in Ann Arbor, Michigan Saturday as the Wolverines defeated the Mountaineers 52-14.
The Wolverines dominated the game early and often, making the statement that there would not be a repeat performance from the Mountaineers in their second trip to Michigan Stadium. Michigan led 35-0 at halftime and doubled App State's 280 total yards with 560 yards by the end of the game.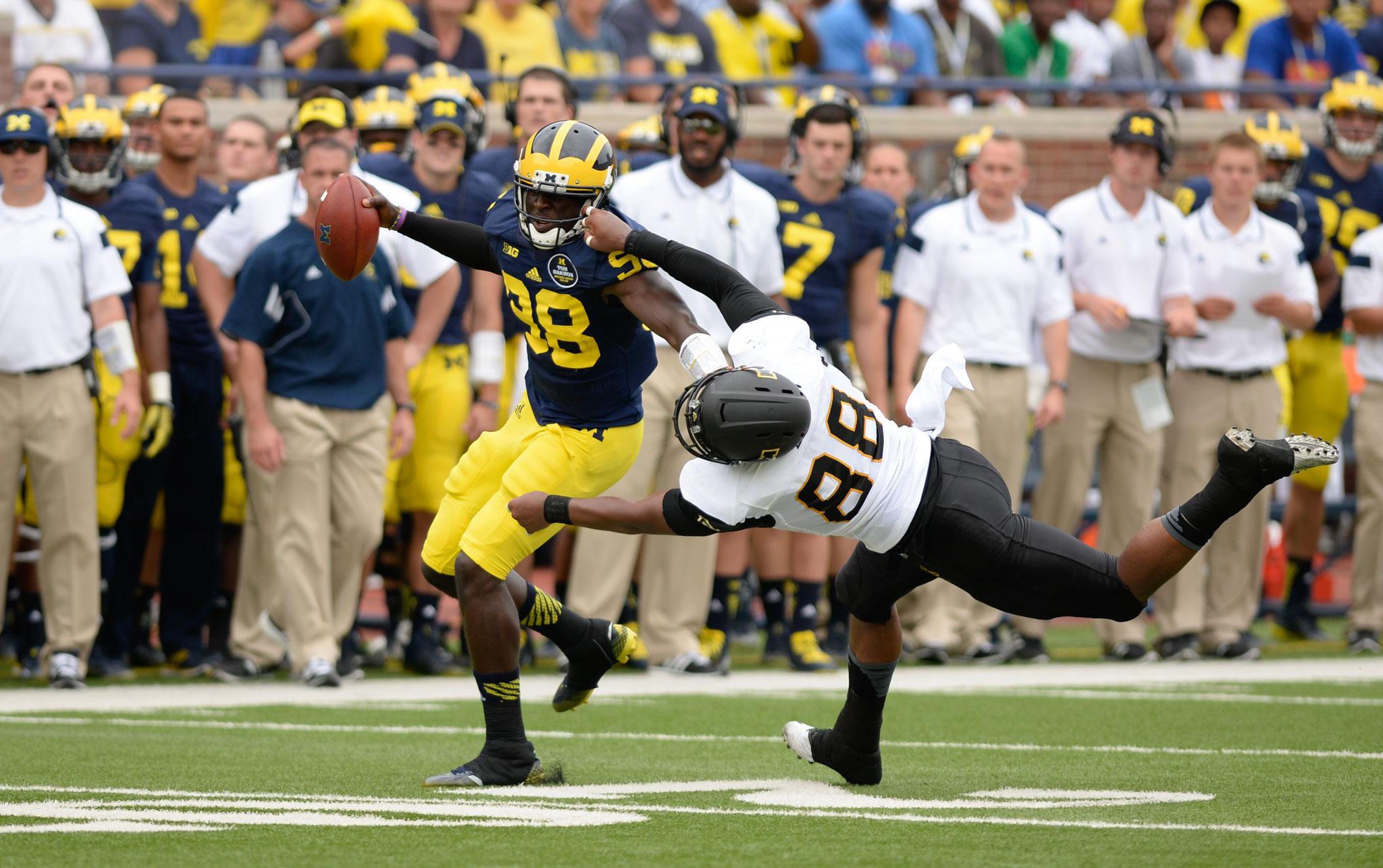 "We're going to learn from this [game] and improve the rest of the way," said Appalachian head coach Scott Satterfield after the loss. "We knew coming in that we'd have to play near-perfect football [to win], and we obviously didn't."
App State's offense struggled during the majority of the game, finally finding the end zone on its first drive of the third quarter.
The third quarter drive resulted in an 8-yard touchdown pass from junior quarterback Kam Bryant to junior wide receiver Simms McElfresh, which prevented the shutout.
After a combine 28 rushing yards on the drive from freshman running back Terrence Upshaw and sophomore running back Marcus Cox, Bryant connected with freshman wide receiver Jaylan Barbour for a 34-yard gain, putting the Mountaineers on the Michigan 8-yard line.
After a 3-yard rush by Cox and a sack, Bryant then found McElfresh in the corner of the end zone for the score.
Bryant finished the game 8 of 19 for 58 yards and one touchdown before being pulled at the end of the third quarter. He was replaced by redshirt-freshman Taylor Lamb, who proceeded to lead App State's best drive of the day: a 19-play, 96 yard drive that resulted in a 1-yard touchdown run by Cox.
Lamb finished the game 9 of 14 for 69 yards along with a six-yard rush.
"They're just a good team," Bryant said in reference to Michigan. "They came out there and were physical with us. I didn't execute well and like I said, I'm always the first to point at."
Bryant struggled to establish a downfield passing game early on, resulting in an unbalanced attack on offense.
Despite the unbalanced attack, the running game of Upshaw and Cox proved to be a bright spot for the Mountaineers' throughout the game.
Upshaw, who started his first career game in place of Cox, gained 109 yards on 18 carries, including a 17-yard run during the second quarter.
"Being my first start, and because it was at Michigan, I tried to remain focused and relaxed as much as possible," Upshaw said.
 Cox, a 2014 Doak Walker Award candidate, did not make the start because of a knee injury sustained during practice last week. He finished the game with 11 carries for 47 yards, resulting in 156 combine yards for the running back duo.
"For [Upshaw] to rush for 109 yards and Marcus to rush for 47 yards – that's a definite positive from this game," Satterfield said. "I was pleased that we were able to run the ball like we did."
Unlike the Mountaineers, Michigan's offense was firing on all cylinders for the majority of the game. The Wolverines scored early and consistently, finding the end zone on their first two drives and nine out of their first 11 total.
The Wolverines scored quickly on their first possession of the game, driving 63 yards and scoring on a 9-yard touchdown pass from redshirt-senior quarterback Devin Gardner to junior wide receiver Devin Funchess.
The Gardner-Funchess connection would become a familiar sight for the rest of the first half. Funchess finished the game with seven catches for 95 yards and three touchdowns. He was the first receiver in Michigan history to have a trio of touchdown receptions in a season opener.
"[Funchess is] a tough matchup for anybody," Satterfield said. "You put the combo of speed and size on him and he'll be hard for anyone to cover."
Gardner was nearly perfect on the day, finishing 13 of 14 for 173 yards and three touchdowns.
In addition to the passing attack that the Wolverines unleashed, their running back duo of sophomores De'Veon Smith and Derrick Green compiled 289 yards on the ground along with three touchdowns.
Satterfield said that there were not many positives that came from the Mountaineers defense Saturday.
"Defensively, we've just got to get better, especially on third downs," Satterfield said. "We've got to tighten down on coverage."
"We're going to put [this game] in perspective and come out ready to play next week," Satterfield said.
App State will face Campbell on Sept. 6 at 6 p.m. for the home opener.
Story: Gerrit Van Genderen, Managing Editor
Photo: Justin Perry, Web Manager