Mile walk in heels brings awareness, funding to OASIS
Ready, set, go. Sunday afternoon Sigma Kappa sorority hosted Walk a Mile in Her Shoes, an event to raise money and awareness for the nonprofit organization OASIS.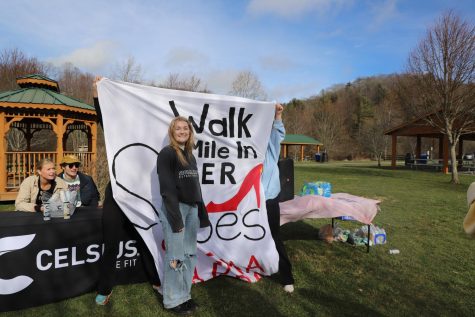 Fifty men showed up, high heels in hand, to walk a mile around the Greenway to show their support for Sigma Kappa's cooperation with OASIS. All men donated money to OASIS prior to participating in the event, said Sigma Kappa's community service chair Grace Douglas.
Sigma Kappa sorority sisters also donated products to OASIS's want list, which included items such as menstrual products and toiletries. 
Douglas introduced OASIS representatives Dennis Dillon and Iris Summerlin who opened the event with a reminder of the purpose of the event.
"Remember in solidarity the seriousness of intimate partner violence and domestic violence," Dillon said. 
OASIS, located in Watauga and Avery Counties, works to end domestic violence by providing free and confidential services such as a 24-hour crisis line, medical and legal advocacy, crisis intervention counseling and many other services. 
"We really appreciate all the awareness you're bringing," Summerlin said.
While the heels "can never truly give anyone a grasp on what a victim goes through and feels," Vice President of Philanthropy Courtney Whaley said the event helps start the conversation about the reality of domestic violence and sexual assault.
"Hopefully nobody gets injured from walking in heels," Dillon said.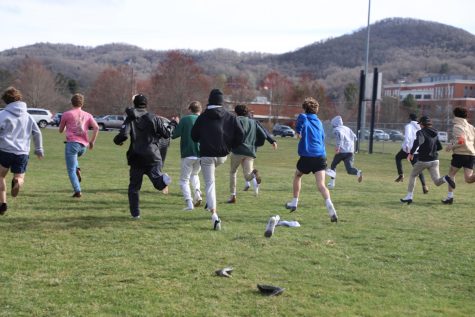 All 50 men walked and ran around the one-mile gravel track at the Greenway, finishing with smiles on their faces as Sigma Kappa sorority sisters cheered them on from the sidelines. The walk itself took less than 10 minutes, with some participants stumbling through the gravel at the end.
Participant Harper Galloway smiled and gave a thumbs up as he walked the gravel track with an energy drink in hand. 
Some men left their heels behind as they flew off their feet in an effort to make it to the finish line fast enough. 
Race and event participant Griffin Muzzarelli represented Greek organization Lambda Chi Alpha and said the event supporting OASIS was an important one because "it's for everyone."
Muzzarelli's organization is just one of the on-campus organizations that joined Sigma Kappa and OASIS in an effort to raise money and spread awareness in support of ending domestic violence and sexual assault.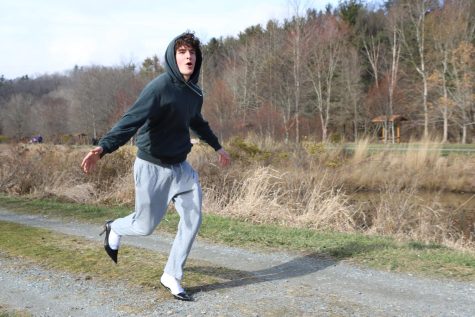 "We learned how to walk in high heels today," said James Pierson of Lambda Chi Alpha. "It's pretty taxing."
To get other organizations involved in the event, Sigma Kappa chose to award the organization with the most participants money toward their organization's philanthropy. The winning organization was Lambda Chi Alpha fraternity.
"I'm so happy with the turnout," Douglas said. "OASIS is a wonderful organization that deserves to be recognized."
Douglas said it's important to the sisters of Sigma Kappa to create stronger ties within the community so the organization can continue to give back.