Mitch Purgason: Your favorite athletes' tailor
The realm of pro sports often involves a degree of professionalism and style, aspects often well visualized by the pregame walk into the stadium. Athletes often don high-end or luxury suits, with media outlets typically highlighting the entrance of impact players. However, the custom suit business was not often a unique one. Then came App State alum Mitch Purgason.
Purgason creates personalized custom suits for athletes, celebrities and businessmen under his brand Stitched By Mitch. Purgason now maintains a steady and reputable client base of household names, though the road to success was far from easy.
As a student at App State, Purgason was unsure of what he wanted to do following graduation. As a member of the basketball team, he suffered a hamstring injury in practice his sophomore year that derailed his plans.
"I was so obsessed with it that I never really thought about anything else," Purgason said. "I didn't really think about what I wanted to really do with my life." 
However, with a major in management and entrepreneurship, he was able to find some answers.
Required to start a business for a class assignment, Purgason started a clothing business, along with co-founders Ryan Sommerville and Merrick Marquie, aiming to provide cheap, custom suits for students. Despite setbacks and difficulties, the new business saw $30,000 in revenue in the spring of 2015 at App State.  
With the business finding some success in Boone, then seniors, Purgason and Sommerville embarked on a trip to Atlanta to present their business to a high-up executive. Instead of receiving a new investor or client, they received some harsh critiques and enough money to get back to Boone. 
Instead of growing angry or unmotivated, Purgason said he took the critiques and listened to them. 
"That was probably the best learning lesson I ever got, just because the whole time we had to take it and couldn't talk back," Purgason said. 
The meeting also provided some insight into working with a new kind of customer; businessmen, celebrities and athletes. All of which are now the primary clients of Purgason. 
"That was the first time we were taught how to get better with that kind of client," Purgason said.
Purgason graduated in 2015, with that experience paying off only three years later. Doug Middleton, an App State alum and now NFL veteran, purchased a few suits and wore them pregame, providing a large platform to display his work. 
Pregame clothing worn by athletes is something Purgason had paid attention to for years, dating back to the NBA in the early 2000s. 
"Kobe started wearing really nice suits, looking really clean. LeBron and Dwayne Wade started making more fashion statements, and it's just exploded since then," Purgason said. "So, I sort of paid attention more."
The idea also sprouted from Purgason's time as an athlete, getting ridiculed for a pregame outfit in high school. 
"I wore a gray sweatshirt, gray sweatpants, a gray hat, gray Jordan's like gray everything," Purgason said. "And I just got s— on."
Today, Stitched By Mitch has over 75 clients in the NFL, including Christian McCaffery, George Kittle and Josh Gordon. He has also made suits for NASCAR drivers like Bubba Wallace, as well as businessmen such as Mark Cuban and Dan Schneider. In 2022, Purgason appeared on Forbes Magazine's "30 Under 30."
One unique aspect of Purgason's business is the individual experience he provides to clients, having never made the same suit twice. 
"You're usually wearing them at the most important events of your life," Purgason said. "So, I think the way you dress and the personalization and all that stuff really affects your legacy."
Prior to creating a suit for a client, Purgason often will ask various personal preference questions, such as favorite colors, sports teams, cocktails, books, movies and more, and incorporate the elements into various aspects of the suit. 
"You can combine something creative, something meaningful, significant, very personal, in details on the inside," Purgason said.
The success Purgason has seen was not without periods of difficulty. Sommerville, who left the business in early 2018, was around to see this firsthand. 
"Starting a company is the hardest thing that I've ever done in my life," Sommerville said. "It is so much more difficult than the public perception would give folks credit for."
While a student at App State, Sommerville also started Beans 2 Brew, the coffee shop in Peacock Hall, and was very involved in the Center for Entrepreneurship. Even with his resume and career successes, Purgason's commitment and work ethic still impresses him. 
"Very rarely will you ever see someone start a business in college and continue to pursue it, you know, 10 years later," Sommerville said. "Just like an incredible amount of resiliency."
Sommerville was involved more heavily on the supply chain side, leaving sales for Purgason to tackle.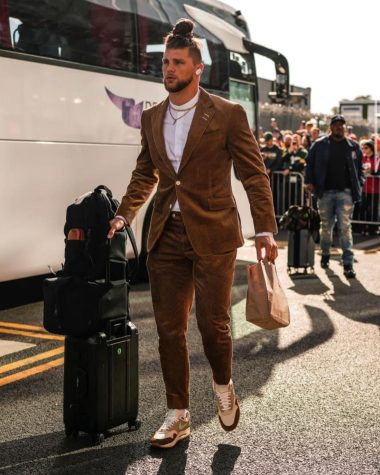 "He was always kind of the engine behind the sales side," Sommerville said. "Which I would argue is the most necessary component of that business."
With Marquie having already left post-graduation for other ventures, Sommerville's departure meant Purgason was left solely in charge of the business, having been chief sales officer in the years prior. Rebranding it to Stitched By Mitch, he began building his client base to where it stands today. 
Sommerville's departure also left the supply chain aspect of the business something for Purgason to have to cover. 
"I know that he had a pretty turbulent road, probably in the first couple of years, and kind of securing reliable supply chain relationships," Sommerville said. "It's a pretty stressful situation when you basically measure someone for a wedding or some important event, and s— goes belly up with the supply chain."
While Purgason and Sommerville have gone into separate business ventures, as Sommerville is now with venture capital firm Antler, both credit App State's Erich Schlenker with helping guide them through their difficult college endeavors. Schlenker, who is the managing director of the Center for Entrepreneurship, was there to answer questions and give advice to the trio during the early days of Stitched By Mitch. 
"He's just such a great guy. Erich wants to see people succeed," Purgason said. "He will do anything he can to help them succeed."
Schlenker spends a large amount of his time helping entrepreneurial students, and like Sommerville, he knew Purgason was a standout. 
"Mitch was that unique student who has an entrepreneurial mindset," Schlenker said. "You get a sense when you're around him, that when he puts his mind to something, it's going to happen."
Though many are not able to find such success as quickly as Purgason did, Schlenker remains committed to helping everyone who walks in his door. 
"I care about these kids, these students. I want the best for them," Schlenker said. "You can shine a flashlight in the direction that somebody wants to go, so they trip and fall a little less often."
As Purgason continues forward with Stitched By Mitch, he plans to continue innovating and expanding on the original idea they put together at App State. A current project he hopes to achieve is "experiential retail," an idea of which he is still working out. The idea would potentially involve a showroom that incorporates virtual or augmented reality. 
Additionally, Purgason wants to continue to build on the scope of athletes he brings on as clients. He recently broke into the NHL, NBA and MLB, with the hopes of expanding that base going forwards. 
Regardless of how his future endeavors go, Purgason says his motivation remains firm. 
"If you have failures or setbacks, you kind of forget the whole reason why you're doing it to begin with," Purgason said. "Because it's fun."