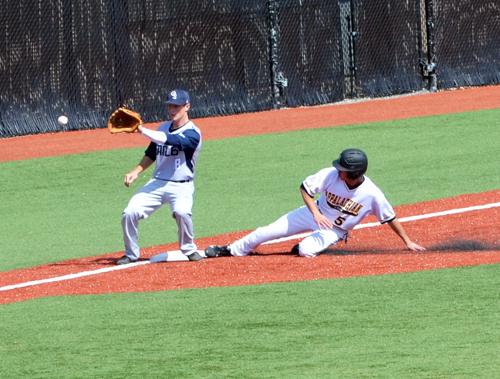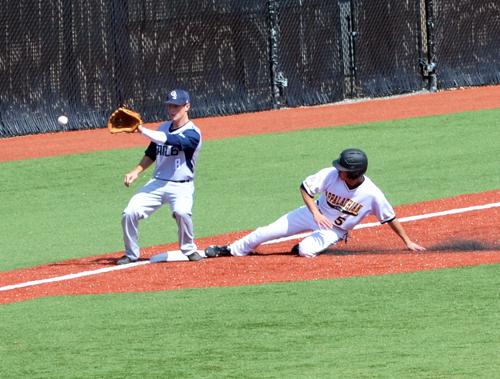 The Appalachian State men's baseball team came away victorious against the first-place Georgia Southern Eagles in a marquee conference home series, winning two out of three games this weekend at Beaver Field at Jim and Bettie Smith Stadium.
Will Callaway and Jaylin Davis combined to go 6-for-8 with eight RBIs and five runs to lead the Mountaineers to a 9-5 win over the Eagles in Friday afternoon's series opener.
Callaway went 2-for-3 with a career-high five RBIs, and Davis (4-for-5) equaled his career highs with four hits and three RBIs in the victory, according to goasu.com.
Starting pitcher Jamie Nunn gave up only one earned run on five hits and struck out six batters over seven innings. The win gave Nunn (6-2) his conference-leading sixth win of the season.
In the second game of the series Saturday, Sam Agnew-Wieland threw his second consecutive complete game shutout to give App State a 2-0 win over Georgia Southern.
Agnew-Wieland (5-2) pitched a five-hit shutout win Saturday, March 30, against Wofford, and allowed just two hits, struck out nine and needed only 102 pitches to complete the shutout Saturday.
The right-handed junior had a dominant stretch of 19-straight batters that did not register a hit between the first inning and the seventh inning.
"Every SoCon win is a big win, no matter if our opponent is at the bottom or the top of the standings, but we're glad we won the series against Georgia because it shows that we're playing good baseball right now," Callaway said.
The win Saturday increased the Mountaineers longest winning streak of the season to five games.
However, the streak was broken on the final game of the series when Georgia Southern scored three runs in the top of the ninth inning for a come-from-behind victory and beat App State 8-7 Sunday afternoon.
"We put ourselves into a hole on defense in the beginning of the game and didn't come out as ready to play as we should have," head coach Billy Jones said after the loss. "We managed to fight back and give ourselves a chance in the ninth inning, but just couldn't get the victory."
The loss prevented App State (17-10, 8-6 SoCon) from taking a half-game lead at the top of the SoCon and also from sweeping the Eagles for the first time since GSU (20-11, 10-5) joined the SoCon in 1992, according to goasu.com.
App State begins a nine-game road trip Tuesday when the team travels to UNC Asheville for a non-conference faceoff. The ballgame is set begin at 6 p.m
Story: MATTHEW SMITH, Sports Reporter
Photo: CHELSEY FISHER, Managing Editor